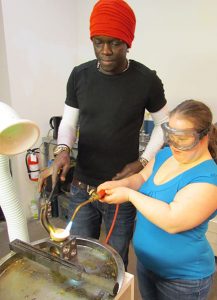 Sylla, a jewelry designer and metalworker located in Calgary, Alberta, melts silver and gold so that it can be shaped into the wearable art he for which he is known. When Sylla and his wife, Marie, moved the studio to a new building, an HVAC specialist recommended they not rely solely on building ventilation for protection from metal fumes.

Melted or heated silver and gold can produce fumes – and it's never a good idea to breathe any fumes or dust created when metal is worked. [Over-exposure to silver fumes is unusual, though, because it can permanently change the color of one's eyes and skin.]
Protect Visitors from Hazardous Metal Fumes
Sylla and Marie are often hosting visits from community groups. It was important to them that visitors are not exposed to any harmful fumes. In the photo, Sylla works with a visitor to the studio. The Model 200 Floor Sentry pulls fumes away from them as they heat the silver. The system utilizes two types of filtration, a carbon pre-filter, and a HEPA filter, which is up to 99.97% efficient on particles 0.3 microns and larger.
---
Sylla Designs' Recommendation
Marie says, "Your company was highly recommended by the building HVAC contractor. We use the unit principally when melting the metal [silver or gold] and anytime we are using our torch to warm up the metal when we are shaping it. It is pretty quiet and convenient to reposition where we need with the flex arm. Definitely a great choice for our business!"
You can see more of Sylla's work at http://www.sylladesigns.com.
---
This unit is a good fit for artisans who follow a variety of steps to produce their art. Its flex hose can readily be positioned to service one area of a workbench, then repositioned to provide ventilation to another task area. Because of its lightweight [approximately 10 lbs.], the chassis can be moved throughout the studio.
Also, this unit provides fume and particulate control for processes that involve the emission of particles and fumes, including soldering and light grinding, and the extraction fumes from chemicals, solvents, epoxies, and lasers.
There's more information – including a video and another testimonial about the Model 200 Floor Sentry – on our website.
---
Contact us today to protect your jewelry making studio from hazardous metal and soldering fumes!



Call us today at 1-800-799-4609
---
Follow us on our social media pages to learn about the latest workplace safety trends and solutions. Facebook and Linkedin and are on Twitter as @SentryAir.