The following excerpt was taken from OSHA's website regarding methylene chloride: "Methylene chloride, also called dichloromethane, is a volatile, colorless liquid with a chloroform-like odor. Methylene chloride is used in various industrial processes, in many different industries including paint stripping, pharmaceutical manufacturing, paint remover manufacturing, and metal cleaning and degreasing. The most common means of exposure to methylene chloride is inhalation and skin exposure."
Unfortunately, a December news release issued by OSHA described recent safety violations at an Illinois truck repair facility for overexposing workers to methylene chloride. Exposure primarily occurred while workers were reconditioning bucket trucks. When combined with several other violations, the total proposed in penalties was $133,000.  In a statement by OSHA's area director in Peoria, Mr. Tom Bielema said "employers using chemicals in the workplace must take all precautions to protect the long-term health of workers."
Workplace Exposure Limits
The following table outlines regulated and recommended exposure limits to methylene chloride as well as potential routes of exposure and side effects.
The International Agency for Research on Cancer classifies methylene chloride in group 2A – Probably carcinogenic to humans.
OSHA Permissible Exposure Limit
25 PPM (Time-Weighted-Average, 8 hours)

125 PPM (Short-Term)

ACGIH Recommended Exposure Limit
50 PPM (Time-Weighted-Average, 8 hours)
Physical Description
Colorless liquid with a chloroform-like odor
Exposure Routes
Inhalation, skin absorption, ingestion, eye contact
Symptoms
Irritation to the eyes and skin; weakness/exhaustion, drowsiness/dizziness; numbness; nausea
Target Organs
Eyes, skin, cardiovascular system, central nervous system
Economical Engineering Safety Controls
While allocating budget monies towards fume extraction equipment may not be top priority, it is a vital investment to mitigating potential safety violation fees.
The upfront cost of a quality fume extraction system is quickly recouped in increased worker satisfaction, reduced downtime, and the peace of mind knowing employees' health is better protected.
At Sentry Air Systems, we design and manufacture high quality fume extraction and air filtration products, and are uniquely experienced in tackling a myriad of chemical vapor applications.
Our approach to product design is simple: Make a product that is highly effective, requires minimal maintenance, and is easy for customers to implement into their work environment.
It is an added bonus that our products are also competitively priced and feature low energy power consumption.
Our line of chemical fume extractors come equipped with granule activated carbon filters that adsorb chemical molecules before recirculating cleansed air back into the ambient room.
Specialty impregnated carbon filters are also available for applications involving aldehydes, acid gases, and ammonia.
Listed below is a sampling of our chemical fume extractors. We invite you to visit our website to see the full listing.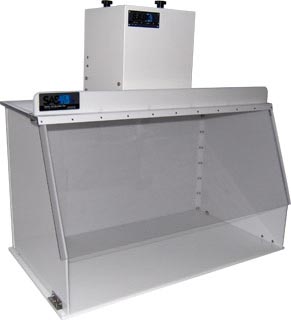 Ductless Fume Hood
40″ Wide Ductless Fume Hood
Model # SS-340-DCH
Designed to pull harmful fume and particulate up and away from the operator's breathing zone and into the filter chamber.
Other standard sizes available
Custom sizes and options available
Variable Speed Control, included
Fluorescent Light, included
Velometer, included
Magnehelic Gage, optional
Clear anti-static vinyl curtains, optional
Hour Counter, optional
Spill Tray, optional

Wall Mounted Fume Extractor
Model 200 Sky Sentry
Model # SS-200-SKY
This source capture system features a free-hanging, self-supportive flex arm that can easily be maneuvered by the operator to their desired location. Installation is made easy with the included wall-mounting kit.
Flex Arm, included
Wall Brackets, included
Variable Speed Control, optional
Hour Counter, optional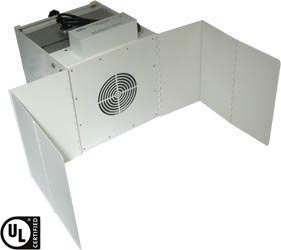 Horizontal Negative Pressure Fume Extractor
Model 300 Winged Sentry (optional lid)
Model # SS-300-WS
Offers a unique design and horizontal airflow pattern and features adjustable "wings" to assist in directing contaminated air towards the unit's inlet and into the filter chamber. This design offers hood-like containment with the footprint of a larger hood.
Variable Speed Control, included
Wing Flaps, included
Clear Hinged Lid, optional
Hour Counter, optional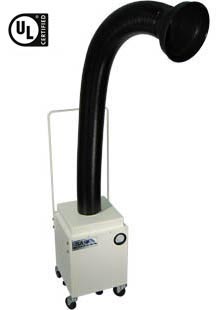 Portable Fume Extractor
Model 300 Portable Floor Sentry
Model # SS-300-PFS
One of our most popular unit, this source-capture fume extractor features heavy-duty locking casters for easy mobility, a flame-retardant and self-supportive flex arm, and high-quality filter media.
Variable Speed Control, included
Portability Handle, included
Magnehelic Gage, optional
Hour Counter, optional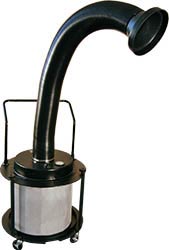 Portable Fume Extractor with Carbon Filter
Model 300 Roundaire w/ Activated Carbon Filter
Model # SS-300-RND-DCF
This portable fume extractor comes equipped with a 32 lb. disposable granule activated carbon filter; ideal for high volume applications. The granules work to adsorb harmful chemical molecules and trap them before circulating cleansed air back into the room.
Variable Speed Control, included
Heavy-duty Casters, included
Portability Handle, included
32 lb. Refillable Carbon Filter, optional
Industrial Hygiene Report
SAS commissioned an independent study to determine the effectiveness of our Model 300 Winged Sentry w/ Lid, when equipped with activated carbon filtration, for the collection and removal of methylene chloride vapors.
The results of the study found a 92.6% efficiency rate for the removal of methylene chloride from the air. Results based on the experiment described in the full report.
Full Report – Control of Methylene Chloride in the Workplace – August 2011
Contact Sentry Air
For more information about controlling methylene chloride vapors in the workplace, or to receive a quote on our fume extraction equipment, please call 800.799.4609, email sales@sentryair.com, or fill out the feedback form below. A technical sales representative will contact you to discuss your application and recommend a solution.
Previous Blogs