The Criminal Justice College — ranked as one of the top five by the Journal of Criminal Justice — at Sam Houston State University (SHSU) offers a MS degree in forensic science designed to be a hands-on experience with state-of-the-art facilities.
Two SHSU alums at Sentry Air were pleased to donate a portable clean room (PCR) hood to the digital forensics lab at the university.
Portable Clean Rooms Use for Forensic Science & Data Recovery
Digital forensic scientists are often required to remove electronically stored information [data] from phones, computers, and USB drives. Mechanical tolerances are small, very small: a spec of dust on a hard drive or its head can damage the data stored on the drive, making it difficult to recover.
Our PCR hoods can be configured to restrict particles as small as 0.12 microns in diameter [a human hair is about 75 microns] from entering the hood, providing an exceptionally clean airflow within the workspace.
---
How do Portable Clean Rooms Work?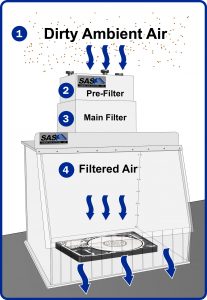 1. A powerful fan pulls dirty ambient room air into the filtration system.
2. A MERV 8 Pre-Filter processes the air and captures some of the particles.
3. The air passes through a final HEPA or ULPA filter, removing up to 99.97% of particles as small as 0.3 microns (HEPA) or up to 99.9995% of particles as small as 0.12 microns (ULPA) from the ambient air.
4. The system discharges the filtered air into the work area of the hood in a vertical laminar flow pattern, creating a reduced particulate environment.
---
Portable Clean Rooms Options
Our Portable Clean Room hoods are available in a range of widths from 12 inches to 40 inches. They can be fabricated from a variety of optional materials, including those that are ESD-safe.
Proud to work with industry leaders
Sentry Air is pleased to support Sam Houston State University and the specialized role of the forensic science organization in the community.
---
Contact us
Contact us today to find out more information about our Portable Clean Rooms and the benefits of using them for forensic science and data recovery!
Visit Our Website • Call us at 1-800-799-4609 • Email Us • Fill out our Contact Form