Laser use in Veterinarian offices
Laser surgical instruments are commonplace in today's veterinary practice. Because laser instruments can vaporize the tissue, there is concern about the content of the smoke plume they produce.
OSHA says such surgical plumes "have contents similar to other smoke plumes, including carbon monoxide, polyaromatic hydrocarbons, and a variety of trace toxic gases" (Ref. 1). Also, OSHA notes that although there has been no documented transmission of infectious disease via surgical smoke, the potential for generating infectious viral fragments, for example, may exist.
Source Capture Laser Fume Extraction
In the scenario OSHA describes, a source capture fume extractor for removing the plume from the veterinary operating room is an appropriate recommendation for veterinary practitioners concerned about operating room safety. For those laser instruments that include a suction nozzle with an internal fan and an exhaust port, our units can connect directly to the instrument, pulling the plume into filters that help to prevent contaminants from spreading to the wider work area. The plume can also be contained by placing the source capture hood of a Sentry Air Portable Floor Sentry adjacent to the site of the surgery to capture the plume as it is created, directing impurities into the unit's filter system. Filtration media for these systems depends upon the application being performed, but typically involves HEPA filtration [up to 99.97% efficient on particles 0.3 microns and larger] and Activated Carbon filters. Activated Carbon Filters adsorb chemical fumes to remove them from the airflow.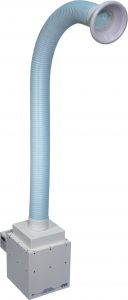 Model 200 Portable Laser Fume Extractor
SS-200-PFS
This approach to safety in medical environments is also used in other practices. Here's a link that describes source-capture fume extraction by a podiatrist who uses a laser to treat his patients. You can read his testimonial as well as that of a lab manager who says our portable SS-200-FS Floor Sentry is "extraordinarily effective" at lowering exposure to anesthetic and dental acrylic used during surgical procedures.
The Model SS-200-FS Floor Sentry has several features that make it a good fit for medical workspaces. Its self-supporting, flexible source-capture arm can be placed directly adjacent to the source of fumes. With up to 100 CFM of air volume, the Model 200 Portable Laser Fume Extractor provides fume extraction for small vet operating rooms.
---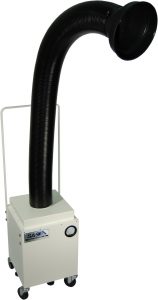 Model 300 Portable Laser Fume Extractor
SS-300-PFS
A Greater Air Volume, Stackable Filters Solution
Like the Model SS-200-FS, our larger Model # SS-300-PFS Floor Sentry provides laser plume capture and filtration of airborne contaminants during veterinary laser surgery.
The unit's greater air volume capability ranges from its high rate of 350 CFM (cubic feet per minute) to 50 CFM at its lowest setting. This source-capture fume extractor includes heavy-duty casters for easy mobility. Multiple filters can be housed inside the filter chamber for applications that emit both particulates and fumes; media options include HEPA, ASHRAE filtration [up to 95% efficient on particles 0.5 microns and larger], Activated Carbon, and specialty-blended filter media [i.e., acid gas, mercury, aldehyde, ammonia].
---
For information on source-capture options for your laser procedures, give us a call at 1.800.799.4609, email us at sales@sentryair.com, or fill out this simple online form to have a Sentry Air Systems Applications Specialist contact you to discuss your process.
---
Resources:
1. Occupational Safety and Health Association. "Laser/Electrosurgery Plume." Safety & Health Topics. http://www.osha.gov/SLTC/laserelectrosurgeryplume/index.html
2. Sentry Air Systems. "Laser Fume Extractors."
http://www.sentryair.com/laserapp.htm