40″ Wide Powder Containment Hood
Compounding pharmacists are responsible for procuring and
establishing a variety of safety engineering controls and precautionary
measures in order to protect themselves and their staff members from the
hazards of working with non-sterile compounding ingredients. One major
occupational hazard that presents itself during these compounding procedures is
the potential for inadvertent drug inhalation (especially when working with powder
ingredients). [For more information on the hazards of compounding and excerpts from OSHA's Technical Bulletin on the subject, visit this blog entry.]
Torpac, Inc, a manufacturer of custom capsules, soluble
containers, and capsule filling systems for compounding pharmacies, offers a
full line of compact, benchtop capsule fillers (Models include: ProFill 100, Profill OE, ProFiller 3600, ProFiller 3700, and Profiller 3800. These models have replaced the Profill 3006, 3007, 3008, and 324.)
Sentry Air Systems offers Portable Powder Containment Hoods as a respiratory engineering control that comfortably houses these benchtop capsule filling machines and allows ample room for operator and machine movement.
These quiet and energy-efficient ductless hoods are equipped with powerful fans and HEPA filtration (up to 99.97% efficient on particles 0.3 microns and larger), which allows them to meet several state pharmacy board regulations for engineering controls in pharmacies.
Profill 3007/Profill 3008
Source: Torpac.com
The pictures below features a Profill 3007 capsule filler that is housed within a 50" Wide Customized Powder Containment Hood (customized feature: sash height was increased from 8" to 16").
For a testimonial featuring this pharmacy, click here.
Torpac, Inc. recommends certain powder hood requirements for this capsule filler model, as indicated below. Black dimensions are for the standalone filler. Blue dimensions are recommended for fillers that are mounted on vibrators.
Base Image from Torpac, Inc. literature
Sentry Air Systems offers a variety Powder Containment Hood options that meet these requirements. Pictured below is a 30″ Wide Powder Containment Hood (outer dimensions shown) [
click here for PDF brochure
].
If you prefer a larger hood to accommodate additional equipment or workspace for a second technician, Sentry Air offers larger models:
40
",
50
",
60
",
70
", and customized options (click each size to view a product brochure [PDF]). Typical custom modifications include custom material, size [including sash height], cutouts, dual-entry configuration, increased air volume, and accessories for hanging equipment.
A video featuring the ProFill 3007 model in a 50″ Wide Customized Powder Containment Hood:
ProFiller 3700 & 3800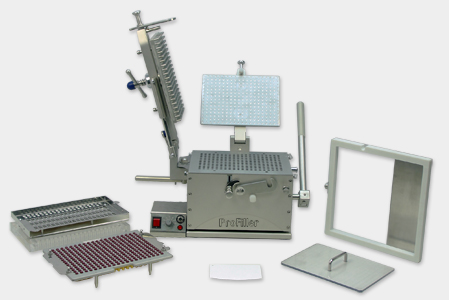 ProFiller 3700 pictured above. Source: Torpac.com
The ProFiller 3700 and 3800 are updated versions of the ProFill 3007 and 3008. The recommended powder hood dimensions are very similar. The major differences are the following:
The suggested "Opening Required for Operation" is 11″-15″, as opposed to the 15″-17″ recommended for the ProFill 3007 and 3008. In both cases, the first number listed is a "functional" dimension and the second number listed is "optimal."

The optional Vibrator for ProFill 3007 and 3008 adds approximately 4″ to the height of the overall machine. The updated Vibrator for the ProFiller 3700 and 3800 only adds 0.5″ of additional height.
These changes are noted in the following diagram:
Sentry Air's 30″, 40″, 50″, 60″, and 70″ Wide Powder Containment Hoods meet these requirements:
For additional information on this simple and efficient solution for powder control during capsule filling, please give Sentry Air a call at
1.800.799.4609
, email us at
sales@sentryair.com
, or
fill out this simple online form
to receive additional information from a Sentry Air Systems Applications.
Additional Information
View our Pharmaceutical Compounding Catalog online (
PDF
):