Model 550 Dual Stand Assembly
Micro-Pleat Series 1 Particulate Filters
Model # SS-550-STHD2-MP1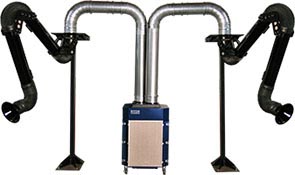 The Model 550 Dual Stand Assembly is an industrial-strength fume extraction system designed for two simultaneous workstations. Our Model 550 Heavy Duty Industrial Fume Extractor anchors this system and is flanked by two Fume Extractor Stands with choice of either (2) 7' Hybrid Arms or (2) 10' HD Arms. This configuration provides operators with powerful airflow and source-capture fume control without the need for exterior venting or make-up air generation.
The Fume Extractor Stands mount to the floor and can be placed at varying distances from the Model 550. The stands underwent stringent third party engineering testing and are proven to withstand the rigors of an industrial work environment. The HD Extractor Arms mount to the Elevated Fume Stands and extend up to 10 feet from the center of the stand's mounting plate. The arm has three bend locations for multiple positions and angles, allowing greater flexibility and placement. Built and tested for industrial users, the HD Extractor Arms direct contaminated air into the Model 550's filter chamber before the operators' breathing zone is compromised. This configuration is also available with two 7'L Hybrid Arms.
The Model 550's MP1 filter media is MERV 16 rated and captures significant amounts of particulate. MP1 filter replacement is minimal because they are cleaned with pressurized air and reused. This particular filter media underwent stringent testing for the capture of harmful hexavalent chromium fume CR(IV), a known human carcinogen. Test results show a significant reduction in CR(IV) fume to a level substantially below OSHA and NIOSH recommended limits. This configuration is also available with 240 lbs. of activated carbon for the adsorption of VOCs and other organic compounds.
Disclaimer: Ductwork not supplied by Sentry Air Systems. This configuration is designed for a maximum of 12' of ductwork and up to (4) 90° elbow connectors.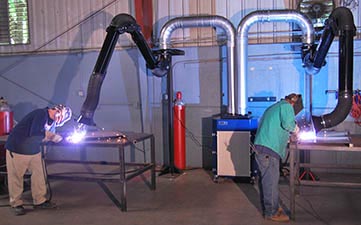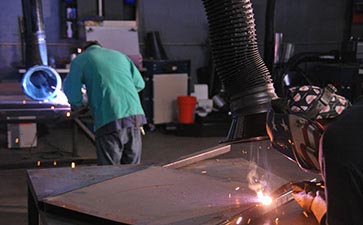 Specifications
Cabinet Dimensions:

30" D x 30" W x 42.5" H

Arm
Dimensions:

Cabinet Weight

Approximately 360lbs with Filters Installed

Stand Weight:

133 lbs.

Stand Dimensions:

Total Height: 91"
Platform Base: 16" Wide x 22" Depth
Platform Top: 23" Wide x 19" Depth

Motor:

1.5 HP

Available Filter
Efficiencies:

(4) Micro-Pleat Series 1 Particulate Filters (MERV 16 efficiency rating)
(4) 42 lb. Activated Carbon Filters (efficiency varies depending on application)

Air Volume:

Hybrid Arm: 1300 CFM High (650 CFM Per Arm)
HD Arm: 1390 CFM Low (695 CFM Per Arm)

Electrical:

115/1/60, Approximately 10.7 amps
220/1/50, Approximately 5 amps

Sound Level:

Approx. 72 dba @ 3' from inlet

Warranty:

Limited one-year warranty from date of shipment for the fan/motor.
Limited two-year warranty from date of shipment on defects to parts/assembly due to materials or workmanship.

Patented Design:

U.S. PATENT #61563228 Pending
All specifications are nominal and subject to change without notice. Not intended for explosive or highly flammable applications. (i.e. when the Lower Flammability Limit is exceeded for any given chemical). Please consult the specific MSDS for questions regarding flammability limits.