Source Capture Mist Collector
The Source Capture Mist Collectors offer a compact and powerful solution to filter oil mist, water mist or coolant mist produced from industrial processes. This line of units mounts to the machinery to capture the oil from the source. Commonly these units are used for CNC mist elimination but can also be used for air filtration on other machines that produce oil, water or coolant mist. These unique and simple units provide ease of installation due to no external exhaust or ducting is required for air output. The source capture mist collectors features quiet operation, energy efficiency and minimal maintenance.
Source capture mist collectors filter the air through a three filter system: cleanable mist pre-filter, carbon pre-filter and main filter with customizable options. The unique washable mist pre-filter collects mist and drains the oil back into the system for repurposing, depending on the application. The carbon pre-filter acts as a MERV 7 layer that protects the HEPA filter. The main filter is available as a ASHRAE, HEPA, or ULPA filter.
200 Series
300 Series
400 Series
450 Series
How does a Source Capture Mist Collector work?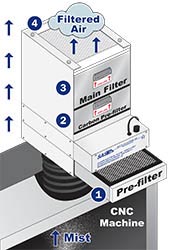 - Step 1 - Pre-filter – Mist enters mist pre-filter. Depending on the application, collected oil, coolant or water drains back into the machinery to be reused.

- Step 2 - Carbon Pre-filter – Air is filtered through a carbon pre-filter where large particulates are captured.

- Step 3 - Main Filter- Air is purified by passing through a final filter. This final stage will capture fine particulates. Filter choices include:
ASHRAE Filter (up to 95% efficiency on particles down to 0.5 microns)
HEPA Filter (up to 99.97% efficiency on particles down to 0.3 microns)
ULPA Filter (up to 99.9995% efficiency on particles down to 0.12 microns)
- Step 4 -
Filtered Air – Filtered air is discharged back into work area
Mist collectors filter the air in machine shops in order to remove harmful oil mist from CNC machines, milling and grinding processes. These systems are commonly used for CNC machine shops to eliminate oil mist. However, they can also be used to collect and filter systems with coolant mist, water mist or other oil mist.
Source Capture Mist Collector features and benefits
Washable mist pre-filter
Reliable, low maintenance system
Quiet operation
Low power consumption
Small footprint
Long filter life
Portable and lightweight (Models 200 & 300 only)
Simple, quick, "no tool" filter change
Main filter media made of all flame retardant materials
Source Capture Mist Collector Accessories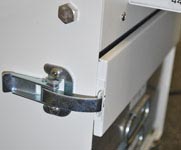 Quick Change Pre-Filter
SS-300-QCPF
Allows easy access to pre-filters.

Remote Control Box
SS-300-RCB
Controls unit operation remotely.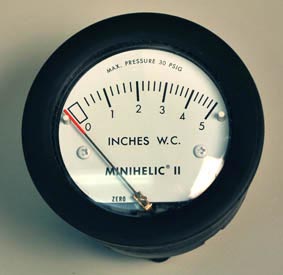 Magnehelic Gage
SS-300-MAG
Monitors filter saturation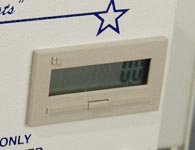 Hour Counter
SS-000-HC
Displays hours unit has
been in operation.
REPLACEMENT
FILTERS