Mounted Fume Extractor with Four Arms
Mounted Sentry Quad
Model # SS-300-MSQ
The Mounted Sentry Quad fume extractor is an effective choice for operations that support multiple work tasks in a single area.
Each of this unit's four self-supporting flex arms can be individually arranged to help protect workers from the respiratory hazards of co-located but individual operations, such as soldering, adhesive processing and packaging powders. This system's strong fan pulls airborne contaminants into appropriate filter sets that capture both particles and fumes before they spread throughout surrounding areas. The included variable-speed controller manages an airflow rate of 10-85 CFM per flex arm.
Sentry Air offers a variety of filter types, including HEPA filters [up to 99.97% efficient on particles 0.3 microns and larger], ASHRAE filters [up to 95% efficient on particles 0.5 microns and larger], Activated Carbon, and specialty-blended filter media for acid gas, mercury, aldehydes, and ammonia.
This flexible dust and fume extractor can be mounted on, under, or above work benches and shelves, which frees up valuable floor space. This system is an ideal solution for workers located at the same bench but performing different tasks. Larger models [Model # SS-400-MSQ/SS-450-MSQ] provide airflow rates from 175-235 CFM for each arm at high speed. All models offer an optional 220-volt pigtail.
Specifications
Cabinet Dimensions:

15.5"L x 13"W x 15.75"H

Arm Dimensions:

4" Round - 48", Each

Weight:

40 to 55 lbs.

Cabinet Material:

16 ga. carbon steel w/ polyester epoxy coating on all surfaces

Motor:

Fractional Horsepower

Available Filter Efficiencies:

HEPA Filter - Up to 99.97% efficient on particles down to 0.3 microns in size.
ASHRAE Filter - Up to 95% efficient on particles down to 0.5 microns in size.
ULPA Filter - Up to 99.9995% efficient on particles down to 0.12 microns in size.
Activated Carbon & Specialty-Blended Filters - Efficiency varies per chemical.

Air Volume:

Variable Speed Control Standard
85 CFM High, Down to 10 CFM Low Per Arm


Electrical:

115/1/60, 2 amps
220/1/50, .75 amps

Sound Level:

61 to 66 dba (Blower Speed: Low to High)

Warranty:

Limited two-year warranty from date of shipment on defects due to materials or workmanship.

Patented Design:

U.S. PATENT #5,843,197
U.S. PATENT #8,353,745
All specifications are nominal and subject to change without notice. Not intended for explosive or highly flammable applications. (i.e. when the Lower Flammability Limit is exceeded for any given chemical). Please consult the specific MSDS for questions regarding flammability limits.
Accessories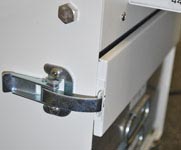 Quick Change Pre-Filter
SS-300-QCPF
Allows easy access to pre-filters.

Remote Control Box
SS-300-RCB
Controls unit operation remotely.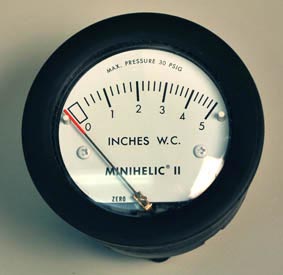 Magnehelic Gage
SS-300-MAG
Monitors filter saturation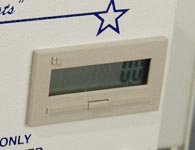 Hour Counter
SS-000-HC
Displays hours unit has
been in operation.
REPLACEMENT
FILTERS