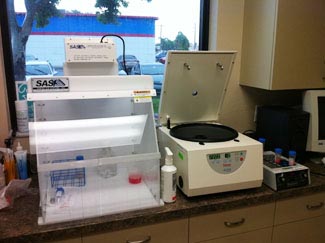 18" Portable Clean Room
SS-218-PCR

"We are currently using the hoods [18" Wide Portable Clean Room Hoods] in Veterinary and Physician offices to separate stem cells from fat tissue. The doctors need something that is portable, light weight and requires minimal space. The Sentry Air Systems portable cleanroom hood allows us to ensure sterility of the samples we produce."

Stemlogix is a regenerative medicine company committed to providing Veterinarians with the ability to deliver the most viable and potent stem cell therapy possible to dogs, cats and horses at the point-of-care.
Kristin
Stemlogix, LLC
www.stemlogix.com
Weston, FL

"We are using your portable laminar flow hood to work with fungi living inside tropical plant tissues; it's amazing to create a sterile workspace in a notoriously microbe-ridden environment like the Peruvian Amazon."
Gabriel A. Miller
Postdoctoral Fellow
Harvard University