Fume Extractors and Particle Collection Systems for 3D Printing Applications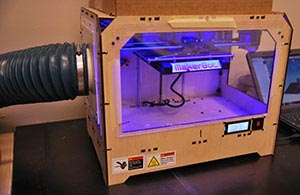 With the popularity and availability of 3D printers growing exponentially, big businesses and home office professionals alike are using these printers to create an endless possibility of objects. As with all new technologies and manufacturing processes, the initial excitement may overshadow important health and safety related cautions. For example, studies have found that Ultrafine Particles (UFP) are emitted from desktop 3D printers during operation. This occurs when the feedstock filament is heated before being laid down in very thin layers. This filament can be comprised of a host of material including styrene, acrylonitrile butadiene styrene (ABS) and polylactic acid (PLA). While UFP is practically invisible to the naked eye, it is vital to implement a source-capture respiratory engineering safety control to capture these microscopic particles. If UFP is inhaled, there is a likelihood that the particles will deposit in the lungs and in the head's airways; allowing travel through the olfactory nerve and into the brain, ultimately causing adverse health effects. For more detailed information, read our blog post on 3D printing.
Sentry Air Systems offers source-capture filtration units capable of capturing and filtering UFP. Below are just a few examples of popular configurations. It is recommended that you speak with one of our sales consultants to determine the most appropriate fume extraction system and setup.
Fume Extractors for 3D Printing Fumes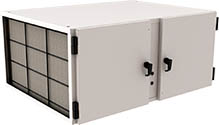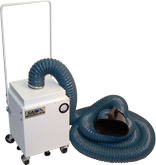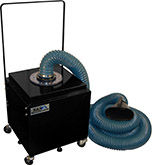 Particle Scanner Testing @ Houston Children's Museum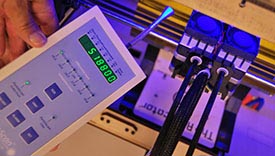 The laser particle counter registered 518,800 particles per cubic foot inside the printer cabinet while it was printing. The particle scanner readings register at 0.3 microns and larger in particle size.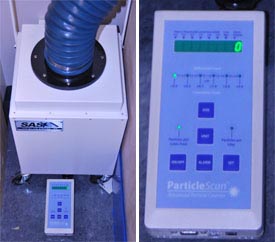 The outlet is where cleansed air, filtered by both a particle filter (HEPA-High Efficiency Particulate Air) and a chemical filter (10lb activated carbon), is put back into the room.
The particle counter registers 0 (zero) even though the 3D printer is in operation and producing particles.
Testimonial from Axonics Modulation Technologies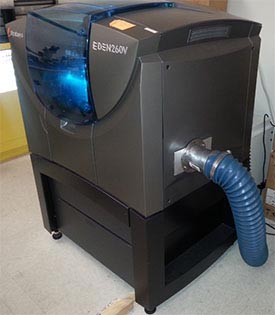 "We have a 3D printer in a large lab space that emits fumes as it cures. It made the room smell like chemicals and made the large lab space very unfavorable to work in. It resulted in a lot of complaints from coworkers. I worked with Adam on how to set up the unit to filter the air coming out of two different exhaust outlets on the 3D printer. Based on my needs, he set me up with a flexible dual hose and gave me information on how to connect the hoses to my printer's exhaust outlets. With the carbon and HEPA filters, we can run the 3D printer all day and the air smells chemical free! We run the unit 24/7 and after about 14 weeks we had to change the carbon filter, however the HEPA filter is still going strong."