Fume Hoods
A fume hood, also referred to as an exhaust hood, is essentially a critical piece of equipment enclosing five sides of a work area, and allows for users to work on potentially hazardous materials. The principle functions of a fume hood are:
Protection for the user/personnel against toxic fumes and particulates
Protection against the experiment or application by recirculating clean air back into the fume hood and removing the harmful contaminants
Protection against the environment by trapping the fumes, toxins and particulates into the filter, and leaving clean air to be released into the immediate area
Controlled environment for chemical reactions, fires, and spill containment
Typically, there are two main types of fume hoods that are utilized in majority: ducted and ductless (or, recirculating) fume hoods. By concept, the principle functions for both fume hoods are the same; airflow is pulled in from the open side of the hood (typically the front), but then differ in concept by the ducted fume hood pushing air out of the building and the ductless fume hood dispersing through a filtration system and recirculating air back into the room.
Ductless Fume Hoods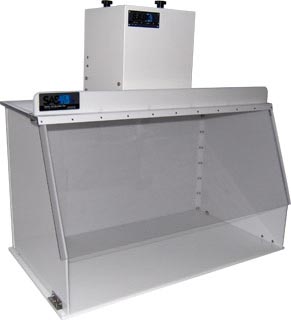 Ductless Fume Hoods, also known as Ductless Containment Hoods or Fume Hoods, are self-contained workstations that help to protect the operator's breathing zone from harmful airborne fumes and particulate. These containment systems are used for a variety of applications, including chemical fume control, powder & dust removal, solvent vapor control, pharmaceutical powder filling, light grinding, acid gas fumes, anesthesia gas containment, epoxy fume control, and many more applications that produce particulate and fume.
Ductless Fume Hoods are equipped with a powerful fan that pulls the air in through the hood's inlet and into the filtration system. This system is designed to keep harmful airborne contaminants away from the operator's respiratory zone while they work within the hood. Various filter media is used depending on the chemical vapors/and or particulate that are generated (such as HEPA and ULPA filters, Activated Carbon, or specialty-blended media like ammonia, mercury, acid gas, and aldehyde). Because the air is recirculated, no exterior-ducting or make-up air is necessary when using a ductless fume hood.
Stainless Steel Fume Hoods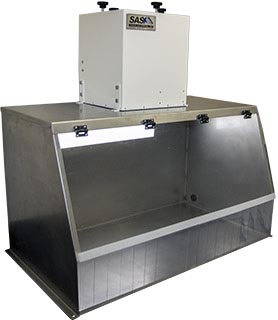 The Stainless Steel Fume Hood is designed to pull harmful particulate away from the operator and dispense the toxins into a high quality filtration system. This fume hood utilizes powerful air flow in a sturdy, compact enclosure for optimal protection from hazardous fumes, spills, and contaminants.
Typical uses for a Stainless Steel Fume Hood are chemical fume control, pharmaceutical compounding containment, soldering applications, light dust removal, biological applications, solvent or epoxy use, and many more applications that require the removal of fumes and particulate.
Custom Fume Hoods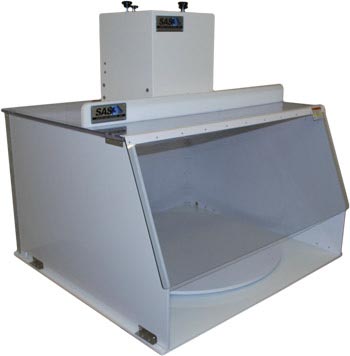 At Sentry Air Systems our Research & Development team has extensive knowledge and expertise in the design, engineering, and fabrication of various "customer-specific" hoods. Custom specifications can be applied to Ductless Fume Hoods, Portable Clean Room Hoods, Ductless Spray Booth Hoods, and Ducted Hoods.
Whether you have specific requests for size, hood material, air volume, access area, application-specific additions or amendments; Sentry Air Systems will have a solution for you.
Ducted Fume Hoods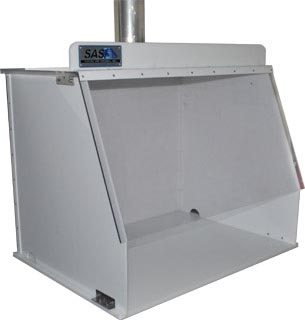 Ducted Fume Hoods, often referred to as Ducted Exhaust Hoods or Ducted Hoods, are designed for applications that require an exterior-ducting fume hood. These hoods are available in several sizes and are extremely compact and lightweight. They are built using stringent quality control measures and feature hinged folding side panels, a high-density polyethylene base, a clear polycarbonate top, and a hinged sloping front lid.
Typically, Ducted Fume Hoods may be used in chemical laboratories– especially those dealing with large volumes of volatile organics, heavy powder use, chemicals with low odor thresholds, and in a variety of other processes that require fume extraction and exterior exhaust. Ducted Fume Hoods can be an effective and economical tool for providing a safe workplace environment by removing hazardous and toxic compounds in a wide variety of commercial, medical, laboratory, and industrial applications.
Portable Spray Booths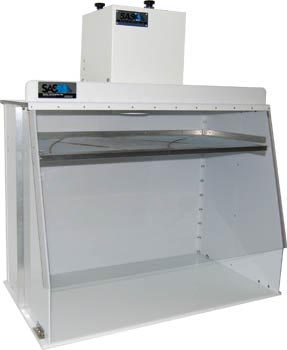 Our Portable Spray Booths are built with stringent quality control measures, superior craftsmanship and utilize powerful fans combined with a variety of pre-filters, HEPA filters, and activated carbon filters. The strong suction at the inlet will provide an effective source capture and containment of overspray particulates. This results in protecting the operators breathing zone as well as preventing unwanted spray particulate and odors from entering the general work area. The SAS ductless spray booths and paint hoods are highly compact and are extremely energy efficient. Typical Portable Spray Booth uses may include light spray painting, aerosol sprays, epoxy overspray, airbrush spray painting, and a variety of other processes. In addition to our standard portable spray booths, we offer custom spray booths built for those customers that have specific application requirements.
Walk in Fume Hoods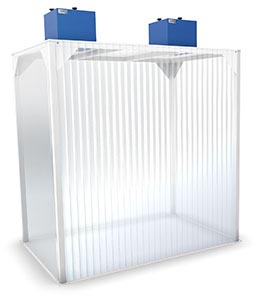 In certain applications, the workpieces can be larger or cumbersome to work within small benchtop hoods and may not be practical to source capture through a standard fume extractor due to size. In these types of situations a Walk In Fume Hood allows the operator to isolate the application in a larger chamber without having to expose the entire environment. Typical applications include: solvent parts cleaning and other chemical fumes, light grinding, welding fume extraction, acid gas fume control, packing, powder processing, particulate containment, and a variety of other applications that involve fumes and dust.
These are ideal on manufacturing floors where a specific process is generating fumes or particulate and operators do not want to cross contaminate the other work areas. The concept of a Walk In Fume Hood also creates a mini "dirty-room" or sub-assembly room that is much cheaper, mobile, and easier to erect than a conventional room. The modularity of the walk-in hoods allows flexibility between ductless or ducted fume exhaust.
Size Availability
Ducted Fume Hood - 18" | 24" | 30" | 40" | 50" | 60" | 70"
Ductless Fume Hood - 18" | 24" | 30" | 40" | 50" | 60" | 70"
Stainless Steel Fume Hood - 30" | 40" | 50"
Portable Spray Booth - 30" | 40" | 50" | 60"
Applications
| | |
| --- | --- |
| Aerosol Spray | Agriculture |
| Automotive | Chemicals & Solvents |
| Food & Beverage | Forensics |
| Laboratories | Medical |
| Soldering | Pharmaceutical |
| Plastics | Product Testing |
Resources