Our Ductless Spray Paint Hoods are receiving raving reviews about their performance and safety features. Here are two testimonials from different customers about their Sentry Air experience.
Spray Painting Custom Radio Controlled Aircraft Canopies
I purchased my Sentry Air Systems spray hood to control the fumes and particulates when spray painting custom radio-controlled aircraft canopies. I use heavy-duty automotive paint and solvents and the hood significantly reduces the odors and airborne particles. It is quiet and efficient and my clients can watch me in action in my paint studio thanks to this great air filtration system!! The sales team is top-notch, just like the products they sell. Thanks for this superb solution to my air filtration needs!

David Humphreys – Tallahassee, Florida
Repairing Aircraft and Aircraft Simulator Components
The ductless [spray] hood added a great degree of employee satisfaction. We were having issues with solvent odor/smell during spray painting.[…] Easy to assemble. Easy to use. Eliminated all vapor odor/smell that previously forced us to send some components off-site for painting.
About us
Sentry Air Systems offers standard sized and custom-designed Benchtop Spray Hoods for use in controlling aerosol spray. These units are ductless and recirculating, so they do not require costly exterior ducting or replacement air. They are equipped with a unique internal spray filter and high-quality HEPA [up to 99.97% efficient on particles 0.3 microns and larger] and Activated Carbon filtration.
How Do Ductless Spray Hoods Work?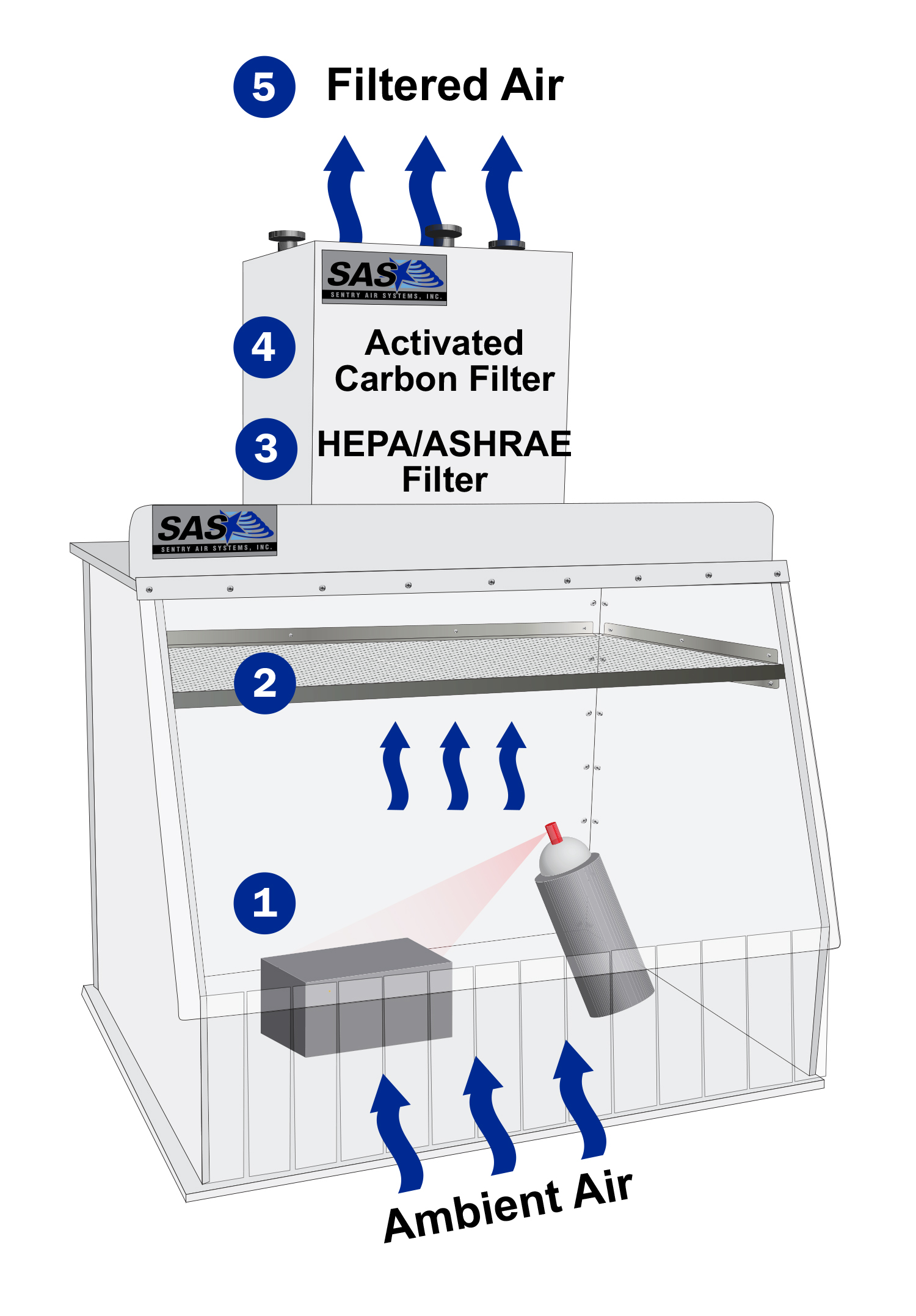 – Step 1 –
User sprays paint onto objects under the hood. This process generates overspray and the fan brings the overspray and ambient air into the filtration system.
– Step 2 –
The air passes through the Internal Spray Pre-Filter Rack inside the hood where most of the overspray is captured and removed from the airflow.
– Step 3 –
The HEPA Filter (up to 99.97% efficiency on particles 0.3 microns and larger) or ASHRAE Filter (up to 95% efficiency on particles 0.5 microns and larger) captures the remaining spray particles and aerosols that weren't removed by the pre-filter.
– Step 4 –
The final step of filtration is the 10 lb activated carbon filter which removes VOC's and solvent vapors remaining in the airstream.
– Step 5 –
Filtered air is released back into the surrounding room.
Contact Us Today!
For more information, please call us at 1.800.799.4609, email us at sales@sentryair.com, or fill out this form to receive more information.
Additional Information:
PDF Brochure: 30″ Wide Ductless Spray Booth
Industrial Hygiene Report: "Spray Paint Use in Ductless Hood; Measurement of LEL" [PDF]