About Sentry Air Systems, Inc.

Founded in 1983, Sentry Air Systems, Inc. engineers clean air through the design and manufacturing of high quality air purification systems. Our patented line of quiet, compact and durable air cleaners offers simple and effective solutions to fume control and extraction.
Our line of floor, bench top, mounted and portable units serve a variety of applications including welding, soldering, manufacturing, laboratory and pharmaceutical operations. We offer several types of filter media including: ULPA, HEPA, ASHRAE, Carbon, Acid Gas, and specialty blended filters. At Sentry Air we stringently test our filter media against a variety of chemicals - view our staff chemist.
SAS Builds a New Home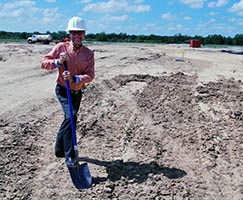 President of Sentry Air Systems at the ground breaking ceremony
In 2015 Sentry Air Systems moved into new headquarters in northwest Houston, Texas. This 44,000 SQFT state-of-the-art facility symbolizes our continued growth and expansion as a company, and will be the cornerstone on which we build our future. Sentry Air Systems looks forward to what lies ahead while continuing to provide excellent customer service and superior air filtration products.

Corporate Overview | Testimonials | Blog | Global Sales | Letter From the President