- Our Mission -
Providing Simple Solutions for Cleaner Air (Since 1983)
Our Core Principles of Sales and Customer Service

Satisfaction
Our team is dedicated to exceeding every customer's expectations.

Respect
We will remain professional, honest and helpful throughout every engagement with each customer.

Integrity
We hold our business to the highest standard, and adhere to the toughest regulations set by OSHA, NIOSH and various governing boards.

Flexibility
Our team has over 30 years of knowledge and will be able to find the most suitable solutions to fit your air filtration needs.

Expertise
We continue to be industry leaders committed to growing our knowledge through certifications and education.

Reliability
We will provide consistent support throughout the lifetime of your product, whether it is the initial assessment, maintenance, or filter replacement.
Overview
Founded in 1983, Sentry Air Systems engineers clean air through the design and manufacturing of high quality air purification systems. Our patented line of quiet, compact and durable air cleaners offers simple and effective solutions to fume control and extraction.
Partial Client List
ABC (American Broadcasting Company)
American Airlines
Dow Chemical
EPA (United States Environmental Protection Agency)
Exxon Mobile
GE (General Electric)
Hallibutron
Harvard
Intel
Lockheed Martin
NIOSH (National Institute for Occupational Safety and Health)
NASA Johnson Space Center
Texas A&M University
UCLA
United States Navy
Owned & Operated in Houston, TX
In 2015, Sentry Air Systems moved into new headquarters in northwest Houston, Texas. This 44,000 SQFT state-of-the-art facility symbolizes our continued growth and expansion as a company, and will be the cornerstone on which we build our future. Sentry Air Systems looks forward to what lies ahead while continuing to provide excellent customer service and superior air filtration products.

Global Sales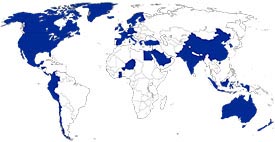 At Sentry Air Systems our Global Sales team is committed to providing the same quality service and products to all countries across the world.
All international products are designed and manufactured in our Houston based warehouse and distributed through our global network of our Value Added Resellers (VAR) and a selected network of independent distributors around the world.