Fume Extractor Arms
Our standalone fume extraction arms are built for a wide array of applications that require the removal of airborne fumes and particulate. Fume extraction arms and exhaust hoses can be used in combination with the majority of Sentry Air Systems' air purification units, but may also be used as an attachment to your existing fume extraction equipment or exterior ventilation systems.
The Exhaust Hose and Heavy Duty Fume Extractor Arm are capable of 180-degree rotation and feature a self-supportive and flame-retardant flex arm. These exhaust hose options are suitable for applications including welding, soldering, chemical fume control, epoxy fume control, laboratory use, and a variety of processes performed in the manufacturing, laboratory, general construction, and medical industries.
Exhaust Hoses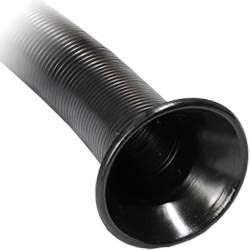 Flex Sentry™ exhaust hoses can be a very useful fume extraction accessory in several capacities. It can easily transform your existing fume extraction equipment into a source-capture configuration, serve as ducting between two objects, or function as an exhaust hose. This semi self-supportive, flame-retardant exhaust arm can be used with an optional round inlet hood for those seeking to extract fumes at the source of emission. It can also be used as flexible ducting to connect existing machine ports to fume extractors or mist collectors during applications such as CNC machining and laser etching.
Heavy Duty Fume Extractor Arms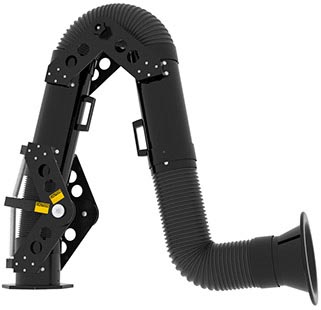 The Heavy Duty Fume Extractor Arm is designed to operate with industrial-sized fume extractors. These heavy-duty arms transform your fume extractor into an industrial-grade, source-capture piece of equipment. Stringently built and tested, the Heavy Duty fume extractor Arm works to direct contaminated air into the fume extractor's filter chamber before the operator's breathing zone is compromised.
The HD Extractor Arm extends between 7-12 feet from the center of the duct and features a dual flexible segment for increased hold and flexibility. The added arm length allows greater access for fume extraction equipment in hard-to-reach workstations. Additionally, the HD Extractor Arm features a 360° swivel rotation from the center and dual handles allow greater control and ease of movement.
Size Availability
Heavy Duty Fume Extractor Arms - 7' | 10' | 12'
Exhaust Arms - Standard | Fire Retardent | Python | Table Mounted | Wall Mounted
Applications
| | |
| --- | --- |
| Manufacturing | Laboratory |
| Construction | Chemicals & Solvents |
| Food & Beverage | Forensics |
| Laboratories | Medical |
| Soldering | Pharmaceutical |
| Plastics | Product Testing |
Resources