Laboratory Fume Control
Respiratory safety engineering controls can improve safety and increase productivity for a wide variety of processes that are performed in laboratories. Sentry Air Systems offers negative and positive pressure fume extraction and air purification that can assist, and may be required, in a wide selection of applications for laboratory fume control. These systems can be easily integrated with existing lab space and can be transported without difficulty if renovations are needed. Available configurations include benchtop units, laboratory fume hoods, floor and portable models, wall-mounted units, and customizable fume extractors.
Laboratory Fume Hoods
A laboratory fume hood is a specific type of air ventilation system that primarily functions to enact as a safety engineering control and provide protection from fumes, particulate, and dust against personnel. Secondarily, these fume hoods are built to protect users from application hazards such as fires, chemical spills, and adverse reactions.
Laboratory Clean Rooms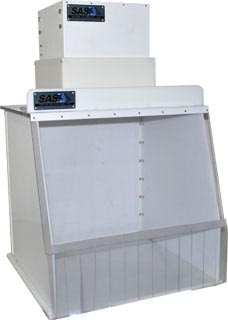 Typically used in scientific research or chemical mixing, laboratory clean rooms are compact, positive pressure air filtration systems that are used in various applications that may cause certain levels of pollution such as fumes, particulate, dust, microbes, and vapors.
Our ISO 5-rated laboratory clean rooms create a particulate-free enclosure that helps to protect the process from airborne contaminants. This air filtration system utilizes a dual stage filtration process which consists of a MERV8 pre-filter and a HEPA filter with an efficiency rating up to 99.97% efficient on particles .3 micrometers and larger. Higher efficiency filters available upon request.
Laboratory Clean Rooms
Portable Fume Extractors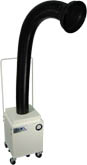 A Portable Fume Extractor is an ideal source capture air filtration system for laboratory fume control. Flexible and modular, this respiratory engineering control is specifically built for the removal of airborne fumes and particles that are generated through the various laboratory applications.
Accompanied by multiple high-quality filtration media, these systems are designed to work with a variety of applications where fume and particulate need to be captured and purified. Typical filtration combinations include HEPA and Activated Carbon filters or specialty-blended media [Acid Gas, Mercury, Aldehyde, Ammonia]. These compact units allow significant operator control through mobility and source-capture placement.
Resources
Size Availability
Ducted Fume Hood - 18" | 24" | 30" | 40" | 50" | 60" | 70"
Ductless Fume Hood - 18" | 24" | 30" | 40" | 50" | 60" | 70"
Portable Clean Room -
&nbsp&nbsp&nbsp&nbsp&nbsp- Vertical Laminar Flow Hood - 12" | 18" | 24" | 30" | 40"
&nbsp&nbsp&nbsp&nbsp&nbsp- Horizontal Laminar Flow Hood - 8"