Even though the USA Olympic Hockey teams left Sochi without gold medals, they definitely earned gold for safety.
During the games, some members of the hockey teams wore high performance, cut-resistant socks. This is just another example of the growing trend in hockey to better protect players from blade lacerations on the calf muscles, Achilles tendons and feet.
Cut-resistant clothing has been around for many years, but only until recently has technology created specialty fabric blends that are up to 5 times stronger than steel but as soft and wearable as cotton and wool.
Professionals in a variety of industries depend on cut-resistant clothing to protect them from harmful injuries. Some examples include:
Automotive and repair technicians
Glass and sheet metal fabricators
Machinists and industrial workers
Military and law enforcement personnel
Recycling plant workers
Even the manufacturers of cut-resistant clothing need protection; respiratory protection that is.
Inhalation hazards from dust and gases
Companies with their own line of cut-resistant clothing pride themselves on the uniqueness of their fabric blends and materials. However, there are common base materials found in a majority of these products due to their high strength, stability, durability and resistance qualities.
Kevlar® and Twaron® fibers (p-Aramid polymers)
Ultra-High-Molecular-Weight-Polyethylene (UHMWPE) fibers
Olefin fibers
The following text highlights respiratory-related statements from each material's Safety Data Sheet along with recommended engineering safety controls.
DuPont Kevlar® Brand Fiber [MSDS]
Processing and handling can produce airborne respirable fibrils. Animal studies indicate that prolonged overexposure to such fibrils has the potential for lasting lung damage. Use ventilation or a respirator to minimize fibril inhalation.
Fiber dust from processing may be breathed into the nose and throat. Working unprotected in dusty conditions may cause upper respiratory irritation and cold-like symptoms.
Burning Kevlar produces hazardous gases similar to those from wool. These are mostly carbon dioxide, nitrogen oxides and small amounts of hydrogen cyanide, ammonia, aldehydes, aliphatic hydrocarbons and other toxic gases, depending on the conditions of burning.
Use Kevlar fiber only with adequate ventilation. If fumes, fibrils or dust are generated, use engineering controls whenever necessary to control exposures below applicable limits.
Isolation, enclosures, exhausts and ventilation, wetting and dust collection systems may be used.
If ventilation and exhaust air is recirculated, it should be filtered and conditioned to eliminate respirable fibers, dust and fumes.
Twaron® para-Aramid Yarn [MSDS]
Dust may be irritating to the respiratory tract and cause symptoms of bronchitis.
If airborne contaminates are generated when the material is heated or handled, sufficient ventilation in volume and air flow should be provided.
p-Aramid respirable fiber-shaped particulates (RFP) may be released from pulp, cut-fiber and stable fiber or may be formed during abrasive processing of Twaron and it is recommended to keep these levels below 1 RFP per cm3 of air.
Use extraction and ventilation equipment to reduce the occurrence of fiber dust and decomposition products of the finish.
DSM Dyneema® UHMWPE Fibers [MSDS]
This product contains a low percentage of engineered mineral fibers, of which a small part can be released from the product during processing and lead to deposit formation. They may cause mechanical irritation to the eyes, skin and respiratory system.
In case of fire, may produce hazardous decomposition products such as carbon monoxide, carbon dioxide, (dense) black smoke, aldehydes, organic acids.
Use with adequate ventilation.
Emissions from ventilation or work process equipment should be checked to ensure they comply with the requirements of environmental protection legislation. In some cases, fume scrubbers, filters or engineering modifications to the process equipment will be necessary to reduce emissions to acceptable levels.
The fiber is treated with a spin finish which contains components that may cause irritation to eyes and skin after prolonged contact.
Carriff Corporation Polypropylene Yarn/Olefin Fibers [MSDS]
Local exhaust for fiber dust only.
Dust should be considered a nuisance dust, exposure guidelines:

ACGIH TLV 10 mg/m3 total dust
OSHA PEL 15 mg/m3 total dust; 5 mg/m3 respirable dust
Small quantities of fumes evolve at about 225° C. These gradually increase until, at above 300° C, decomposition and oxidative pyrolysis take place.
Above 300° C the heat of oxidation may produce a rapid rise in temperature, which accelerates the pyrolysis. Under these circumstances hazardous substances such as carbon monoxide, formaldehyde and acrolein can evolve.
Ambient Collection Systems with High Efficiency Filtration
Sentry Air Systems has a comprehensive line of fume extractors and air filtration systems. For light fabric dust and room air particulate reduction applications, we recommend our free-hanging ambient room air cleaners. These air cleaners easily mount to or suspend from the ceiling and work to remove respirable dust that enters the ambient air.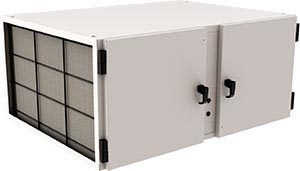 Model 700 Free Hanging Ambient Air Cleaner
Up to 770 CFM
Multiple mounting options
Available filter media, filter stacking available

MERV 7 Pre- and Post-filter
HEPA main filter
DOP95 main filter
8 lb refillable carbon and specialty blends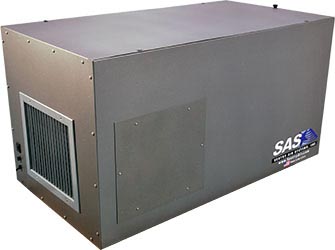 Model 2000 Industrial Ceiling-Mounted Room Air Cleaner
Up to 2,000 CFM
Filter media includes

MERV 7 Pre- and Post-filter
MERV 14 main filter ASHRAE bag

In-house factory testing in a 40,800 ft3 workshop in Houston, TX indicated an 87% reduction in airborne particulate after 50 minutes with two Model 2000 units.
Contact Sentry Air
For more information about respirable dust containment systems or odor extraction units, give Sentry Air Systems a call at 800.799.4609, email sales@sentryair.com, visit our website or fill out the feedback form below.