Free-Hanging Air Cleaner
Ambient Room Air Cleaner
Model # SS-2000-FH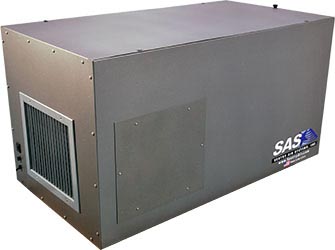 The Model 2000 Free-Hanging Air Cleaner is a highly efficient dual-stage industrial air filtration system that is effective in ambient air cleaning and the removal of airborne pollutants without the assistance of external ducting. This self-contained unit can be conveniently mounted in the customer's desired ceiling location without taking up any floor space. Typical applications include light welding, sanding, buffing, automotive refinishing, grinding applications and is an optimal addition and safety solution for welding workshops, automotive shops, manufacturing areas, woodshops, or any area that produces light amounts of dust, smoke, or certain fumes. It is also suitable for general air cleaning in environments such as community buildings, offices, cafeterias, sports facilities and other commercial arenas.
This free-hanging unit features a four-way adjustable grill, a low-maintenance filtration system, and a design and color that is appropriate for both industrial and commercial settings.
Our Model 700 Ambient Air Cleaner is available with both HEPA and Carbon filtration. Offering up to 725 CFM, this smoke air cleaner helps remove renegade dust, fume and odors found in a room. [Model SS-700-FH].
In-House testing of our Model 2000 workshop air cleaner in a 40,800 ft3 factory in Houston, TX indicated an 87% reduction in airborne particulate after 50 minutes with two model SS-2000-FH units.
EPA: NESHAP Regulations Controlling Air Emissions for
Nine Metal Fabrication and Finishing Source Categories - Is your facility compliant?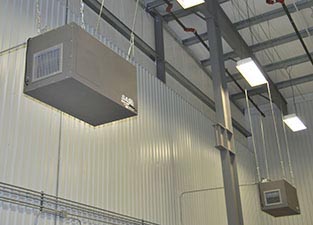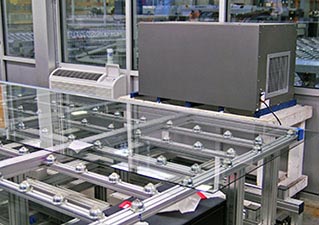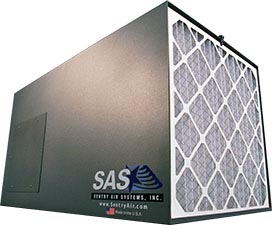 Specifications
Cabinet Dimensions:

45"L x 24"W x 24"H

Weight:

117 lbs.

Cabinet Material:

16 ga. carbon steel w/ polyester epoxy coating on all surfaces

Motor:

Fractional Horsepower 3/4

Available Filter Efficiencies:

*MERV 7 Pre-filter up to 70% efficient at 3 microns and larger
*MERV 14 Main Filter ASHRAE Bag up to 95% efficient at.3 microns and larger

Air Volume:

Variable Speed Control Standard
Up to 2000 CFM

Electrical:

115/1/60, 8.7 amps

Sound Level:

66dba (Low) to 70dba (High) at 6'

Warranty:

Limited two-year warranty from date of shipment on defects due to materials or workmanship.
All specifications are nominal and subject to change without notice. Not intended for explosive or highly flammable applications. (i.e. when the Lower Flammability Limit is exceeded for any given chemical). Please consult the specific MSDS for questions regarding flammability limits. *According to ASHRAE Standard 52.2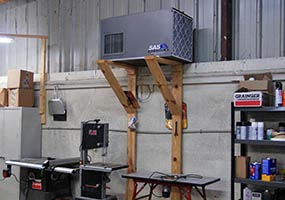 Additional Configuration - Side Exhaust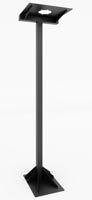 Fume Extractor Stand - SS-091-FES
7.5 ft height stand for elevated mounting.