Cleanable & Reusable Portable Fume Extractor
RuggedAir Mobile Fume Extractor w/ Flexible Python Hose
Model # SS-300-RGD-PYT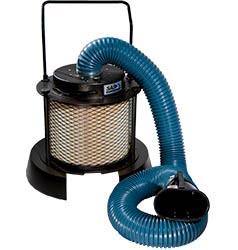 The Model 300 RuggedAir Mobile Fume Extractor is designed to protect the operator's breathing zone from harmful airborne fumes and particulates found in many industrial settings due to welding, metal working, solvents, powder handling and chemicals. Capable of providing up to 530 CFM of air volume this system ensures pollutants are arrested at the source before they contaminate the larger work space. This system is equipped with a cleanable Micro-Pleat Series 2 particulate flter that is cleaned by applying compressed air to the flter while still in the unit's chassis. The operator simply sprays compressed air into the flter media to rejuvenate it while excess dust and waste falls into the internal dust pan, allowing for simple and clean debris removal. Filter options include a 32lb. disposable activated carbon flter. The compact model 300 RuggedAir comes with a sturdy portability handle and four industrial grade locking casters, making moving this unit virtually effortless. Other standard features include a variable speed control. The variable speed control offers an infnite level of power between 0 and 530 CFM
Photos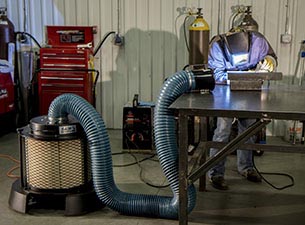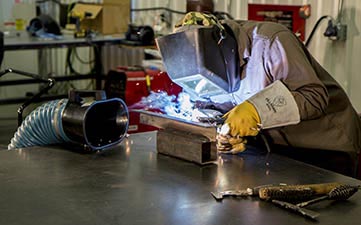 Filter Cleaning
No self-cleaning components - Self-cleaning units often require a handful of parts that are required for the self-cleaning mechanism to work. These parts are often consumables as they tend to wear down and break which adds to the overall lifetime cost.
RuggedAir Benefit: With no self-cleaning components this unit will save thousands in potential lifetime costs.
Quick and quiet cleaning - The mechanism used in self-cleaning units often stores pressurized air then rapidly releases it onto the filter creating loud, distracting noises.
RuggedAir Benefit: Cleaning the filter only requires about 3-5 minutes and the air applied by the operator is relatively quiet when compared to traditional self-cleaning units.
Cleaning Components
Easy to access filter - Many self-cleaning units have the filter enclosed in a chassis which makes accessing the filter difficult and cumbersome.
RuggedAir Benefit: The exposed filter design is protected by a mesh screen which makes accessing the filter to clean it virtually effortless. 
Specifications
Cabinet Dimensions:

30" diameter
27 " height, with plenum attached

Hose Dimensions:

6" Diameter, 12' L Flexible
6" Diameter, 25' Python Hose Available

Weight:

Approx. 100 lbs.

Cabinet Material:

ABS Plastic & Aluminum

Motor:

Fractional Horsepower

Available Filters:

Round MERV 16 Micro-Pleat Series 2 Particulate Filter
32lb Disposable Cartridge w/ Activated Carbon

Air Volume:

Variable Speed Control Standard
530 CFM High


Electrical:

115/1/60, 2 amps
220/1/50, .75 amps

Sound Level:

Approximately 74 dba (High), 48 dba on (low). 3' from inlet

Warranty:

Limited two-year warranty from date of shipment on defects due to materials or workmanship.

Patented Design:

Patent pending 13/463, 347
All specifications are nominal and subject to change without notice. Not intended for explosive or highly flammable applications. (i.e. when the Lower Flammability Limit is exceeded for any given chemical). Please consult the specific MSDS for questions regarding flammability limits. *Results may vary depending on application and appropriate use of equipment.