What is USP <800>?
Throughout the US, 8 million healthcare workers handle hazardous drugs (HDs) and administer over 12 billion doses of HDs each year. Mishandling and improper compounding procedures can result in lasting health effects for the employees, nearby patients, and the environment. Unprotected exposure to HDs may result in cancer formation, fertility changes, and DNA and organ damage. The United States Pharmacopeia (USP) implemented chapter USP 800 to promote patient health, worker safety, and address environmental concerns.
USP 800 details proper planning and procedures for handling hazardous drugs including receiving, dispensing, compounding, administering, transporting, disposing, and cleaning to contain residues and prevent exposure. To become USP 800 compliant, facilities must identify a list of hazardous drugs, understand the types of exposure, and create an occupational safety plan detailing the standard operating procedures of personnel training, facility and engineering controls, and other safe workplace practices.
All facilities that handle HDs such as pharmacies, hospitals, patient treatment centers, physician practices, surgical centers, veterinarians, home health centers, and nursing facilities will be required to be fully USP 800 compliant by December 1, 2019.
High Efficiency Powder Containment Hoods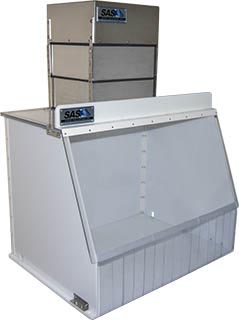 Our line of Higher Efficiency Ductless Fume Hoods offers a portable, economical, and energy efficient solution for non-sterile compounding of hazardous drugs to satisfy USP 800 regulations. The dual HEPA air filters, or redundant HEPA filters, provide up to 99.97% efficiency for particles as small as 0.3 microns in size. Utilizing the specific redundant HEPA filters design, allows simple installation not requiring ductwork from an outside contractor. These units are available in 30" (SS-330-HEMS), 40" (SS-340-HEMS), and 50" (SS-350-HEMS) widths. Our specially designed units combine powerful airflow in a compact enclosure to filter harmful particulate protecting the operator and the environment. These units are available in a transparent version or to your custom specifications.
Becoming USP <800> compliant
List of Hazardous Drugs
- Each facility must identify and assess all hazardous drugs and drugs with hazardous active pharmaceutical ingredient (API) used by employees. This assessment includes completing a dosage risk assessment to determine if the drug manipulations apply to USP 800 compliance.
Types of Exposure
- Understanding the areas where exposure to HDs occurs helps facilities recognize hazards and instill USP 800 compliant procedures in those areas. The following processes may expose employees to HD or contaminate surfaces with HD residue: Receiving/Unpacking, Dispensing, Compounding, Administering Medication, Patient Care, Spills, Disposal, and Transporting.
Trained Personnel
- Every facility that handles HDs must assign a trained team leader in charge of implementing procedures, managing compliance, maintaining a knowledgeable team, and monitoring environmental controls for storage and compounding. Every team member that works with HDs must be trained to understand compliance practices, ways to evaluate current procedures and preserve the quality of HDs to protect patient and personnel safety.
Facilities and Engineering Controls
- General safety measures such as posting hazard signs, restricting access to HD areas, and secluding the locations away from traffic properly protects other personnel, patients, and visitors from HD exposure. Each process involved in handling HDs must take place in a designated area meeting strict USP 800 guidelines.
Receipt – Antineoplastic and HD APIs unpacking area must be neutral or under negative pressure. This area should never be under positive pressure.
Storage – All HDs must be safely stored on secured shelving to prevent breaks and spills. Antineoplastic HDs that need manipulations and HD APIs have to be stored away from non-HDs in an externally ventilated room under negative pressure with 12 air changes per hour (ACPH). Sterile and nonsterile HDs can be stored together but must be separated from the sterile compounding area. Any refrigerated HDs must have a dedicated refrigerator in a negative pressure room with 12 ACPH.
Compounding – Engineering controls for compounding must meet specified guidelines for all primary, secondary, and supplementary devices. The USP 800 requirements for compounding vary depending on whether it is a nonsterile or sterile preparation. In addition to following USP 800 guidelines, nonsterile compounding must be compliant with USP 795 and sterile compounding compliant with USP 797. Containment Primary Engineering Control (C-PEC) entails a continuously operated and ventilated enclosure designed to minimize worker and environmental HD exposure while directly manipulating HDs. Separate C-PECs must be used for nonsterile and sterile compounding with a plastic spill mat. Containment Secondary Engineering Control (C-SEC) is the room that contains the C-PEC and must be externally vented, separated from other areas, meet air exchange guidelines, and have negative pressure of 0.01 – 0.03 inches of water column (wc). Supplementary devices, such as closed-system drug transfer systems, offer an additional level of protection from exposure to HDs. Supplementary devices cannot be used as a substitute for a C-PEC and must have the performance evaluated to ensure containment.
Engineering Controls for Nonsterile/ Sterile HD Compounding
Compounding

Device

USP 800 Device Guidelines

Nonsterile

C-PEC

Externally ventilated or contain redundant HEPA filters
Containment Ventilated Enclosure, Class I or II Biological Safety Cabinet (BSC), or Compounding Aseptic Containment Isolator (CACI).

C-SEC

Externally ventilated
12 ACPH
0.01 – 0.03 wc negative pressure

Sterile

C-PEC

Externally vented providing ISO Class 5 or better air qualit
Class II (type A2, B1, or B2) or Class III Biological Safety Cabinet (BSC) or Compounding Aseptic Containment Isolator (CACI).

C-SEC
ISO Class 7 buffer room with ISO Class 7 ante-room


Externally ventilated
30 ACPH
0.01 – 0.03 wc negative pressure

Or, Unclassified containment segregated compounding area


Externally ventilated
12 ACPH
0.03 wc negative pressure

Follow UPS 797 for the beyond-use date (BUD)
Safe Practices for Handling Hazardous Drugs
Surface sampling every 6 months
Wear personal protective equipment (PPE) and dispose of properly
Communicate Hazards to staff
Implement Standard Operating Procedures for all processes handling HDs including receiving, labeling, packaging, transporting, and disposal
Safely administer drugs by wearing necessary PPE and using appropriate medical devices
Complete thorough cleaning procedures including Deactivating, Decontaminating, Cleaning, and Disinfecting (for sterile only) for all areas using compatible cleaning products
Train personnel for spill control procedures, use appropriate PPE and immediately clean up spills. Document all spills to ensure the health and safety of affected employees
Monitor personnel exposed to HDs regularly
USP <800> Compliance Checklist
Hazardous Drug List
Facility & Engineering Controls
Policies & Procedures
Personnel Training
USP <800> Hazardous Drug List
The USP 800 hazardous drugs list for each facility can be compiled by comparing all medications handled and compounded to the NIOSH list of antineoplastic and other HDs. The facility's list must be reviewed every year and after the introduction of new drugs. To be considered a hazardous drug, the drug must include any HD active pharmaceutical ingredient (API) or any antineoplastic that requires HD manipulation. Drugs may be classified as hazardous if exhibiting any of these characteristics:
Ability to impact or damage DNA/genes
Carcinogenic
Causes reproductive effects such as infertility, fetus and embryo effects, or developmental abnormalities
Leads to organ damage
Similar in structure or function as other hazardous drugs
Certain hazardous drugs with a low-risk assessment that do not require manipulations (such as counting and packaging) may not be required to follow USP 800 guidelines. Drug risk assessment includes considering the type of HD, dosage form, risk of exposure, packaging, and manipulation. Alternative containment can be used but must be documented and reviewed yearly to ensure proper containment.