10' HD Extractor Arm
The 10ft. HD Extractor Arm is designed to operate with the Model 500 Industrial Fume Extractor. This heavy-duty arm transforms your fume extractor into an industrial-grade, source-capture piece of equipment. Stringently built and tested, the Heavy Duty Arm works to direct contaminated air into the fume extractor's filter chamber before the operator's breathing zone is compromised.
The HD Extractor Arm extends 10 feet from the center of the duct and features a dual flexible segment for increased hold and flexibility. The added arm length allows greater access for fume extraction equipment in hard-to-reach workstations. Additionally, the HD Extractor Arm features a 360° swivel rotation from the center and dual handles allow greater control and ease of movement.
Both the 7' and 10' HD Extractor Arm can be used for high heat applications such as welding and soldering, as well as chemical fume control, light powder extraction, and a variety of other processes.
HD ExtractorArm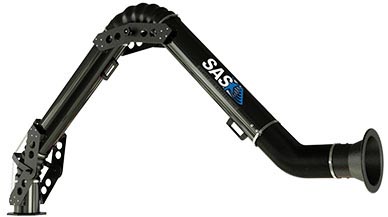 Model # SS-010-HDA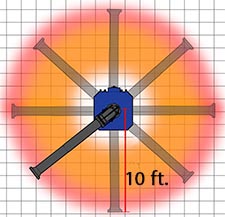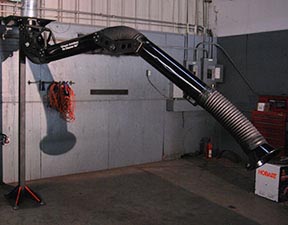 Wall Mounting Bracket Available - PDF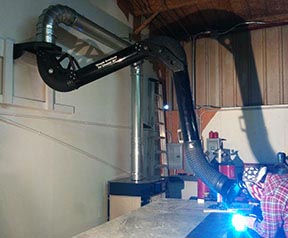 Specifications
Weight:

Approx. 60 lbs

Extended Arm
Length:

10 feet, from the center of the duct

Material:

Rigid segment: Aircraft-grade aluminum, 7" diameter
Flexible segment: Black Flex Sentry™, hose, flame-retardant,
with 13" round aircraft-grade aluminum capture hood
Swivel joint: polypropylene

Radial Access:

360 degrees [on chassis without attached handle]

Air Volume:

1300 CFM maximum with Model 500

Warranty:

Limited two-year warranty from date of shipment on defects due to materials or workmanship. PATENT #5,843,197
Not covered by warranty: consumable parts, which includes the black flex duct at the end of the hose, and the internal support device.