Heavy-Duty Industrial Fume Extractor - Dual Hose
Micro-Pleat Series 1 Particulate Filters
Model # SS-500-PYTD-MP1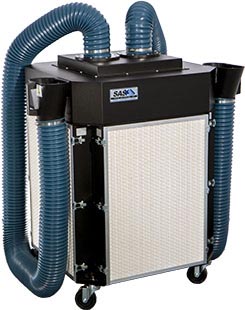 The Dual Hose Model 500 Python Micro-Pleat Fume Extractor (blue discontinued, now available in black only) is engineered for heavy-duty, high-volume fume extraction applications for multiple operators. The system is equipped with two 12'L flexible Python hoses that provide powerful suction. Each Python hose includes a magnet capture hood that allows operators to secure the hose inlet to metal surfaces in hard-to-reach places. This unit provides air volume up to 1300 CFM [cubic feet per minute] -- 650 CFM per hose.

This system comes equipped with cleanable Micro-Pleat Series 1 Particulate Filters and is designed for production applications, including welding (MIG, TIG, Stick, plasma cutting), grinding, powder weighing, some dust collection applications, and fume extraction for classrooms and multiple soldering, welding, and brazing work stations. Extensive research and testing was performed in developing this particulate media filter and is designed for applications that have heavy loading.

The Particulate Filters are engineered to be easily cleaned with pressurized air while they remain installed. The operator simply sprays air into the filters to clean and rejuvenate them. Dust and waste fall into the internal dust pan, making debris removal simple. The included Magnehelic Gage is an excellent tool for determining filter saturation. When the gage shows increasing pressure levels, the operator can clean the filters. The resulting pressure reduction, noted via the gage, indicates the filters are performing as designed.

The Model 500 is highly portable and requires no exterior-ducting or makeup air. Heavy-duty, locking casters make this fume extractor the perfect solution for applications that require a powerful respiratory engineering control with maneuverability. A Variable Speed Controller and Magnehelic Gage are standard with this unit
The Model 500 is highly portable and requires no exterior-ducting or makeup air. Heavy-duty, locking casters make this fume extractor the perfect solution for applications that require a powerful respiratory engineering control with maneuverability. A Variable Speed Controller and Magnehelic Gage are standard with this unit
The Model 500 is also available with Activated Carbon Filtration.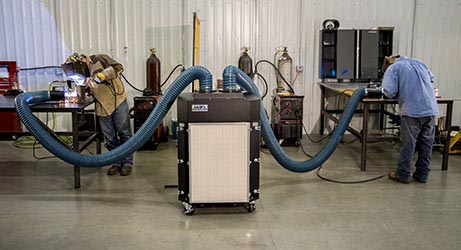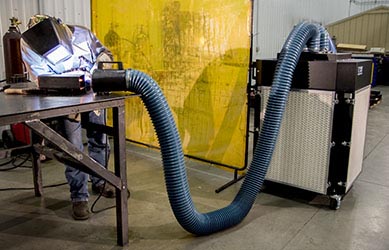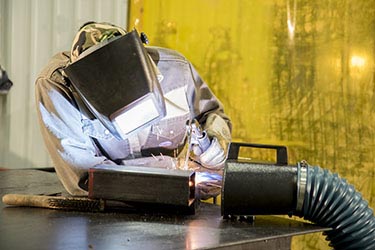 Specifications
Cabinet Dimensions:

30" D x 30" W x 42.5" H

Arm Dimensions:

5" Round x 12 ft. Flame Retardant Hose w/ Magnetic Capture Hood and Handle, Optional 25 ft. Hose Available. Upgraded Python HD hood w/ inlet grill & dual magnets available.

Weight:

Approximately 190lbs without Filters
Approximately 282lbs with Filters Installed.

Cabinet Material:

16 ga. carbon steel

Motor:

1.5 HP

Air Volume:

1300 CFM High (650 CFM Per Hose)
400 CFM Low (200 CFM Per Hose)

Electrical:

115/1/60, Approximately 10.7 amps
220/1/50, Approximately 5 amps

Sound Level:

Approx. 72 dba @ 3' from inlet

Warranty:

Limited two-year warranty from date of shipment on defects due to materials or workmanship.

Patented Design:

U.S. PATENT #61563228 Pending
All specifications are nominal and subject to change without notice. Not intended for explosive or highly flammable applications. (i.e. when the Lower Flammability Limit is exceeded for any given chemical). Please consult the specific MSDS for questions regarding flammability limits. *Results may vary depending on application and appropriate use of equipment.
Accessories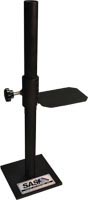 Python Table Stand
SS-000-ATS
Adjustable Height Stand for Elevated Source Capture