Higher Efficiency Ductless Fume Hoods
for Pharmaceutical Compounding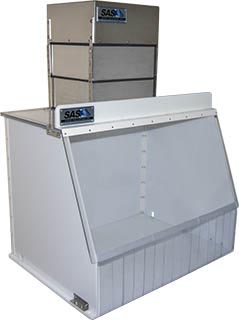 The 30", 40", & 50" Wide Higher Efficiency Ductless Fume Hoods combines powerful air flow with a sturdy and compact enclosure for optimal respiratory and environmental protection. This fume hood is designed to pull harmful particulate up and away from the operator's breathing zone and into the filter chamber. Depending on the application, this chamber houses either HEPA filtration [up to 99.97% efficient on particles 0.3 microns and larger and made with flame-retardant materials], ULPA filtration [up to 99.9995% efficient on particles 0.5 microns and larger and made with flame-retardant materials] Activated Carbon, or specialty-blended filter media [i.e. Acid Gas, Mercury, Aldehyde, Ammonia]. Variable Speed Control and a Fluorescent Light come standard with this unit.
Typical uses for this ductless fume hood include pharmaceutical powder applications that require a dual HEPA filter setup. Alternative applications can include chemical fume control, soldering applications, light dust removal, biological applications, solvent or epoxy use, and many more applications that require the removal of fumes and particulate. The Higher Efficiency Ductless Fume Hood provides a portable, energy efficient, and economical solution for pharmaceutical, commercial, medical, laboratory and industrial applications that require a containment hood. For additional visibility, a transparent version is available at extra cost.
Our line of ductless fume hoods are not intended for sterile compounding applications.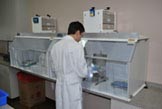 Testimonial from Empower Pharmacy
"I needed to find quality hoods at reasonable prices, without all the frills and useless gimmicks a lot of other companies out there are adding to their products and I found the perfect hoods for my needs with Sentry Air Systems [.] My technicians loved the quality and effectiveness of the hoods and complained only about the small size of the opening where they did their work. Sentry quickly redesigned custom hoods to my needs, took away the old ones and replaced them on the spot. Now my techs are loving the new hoods and I couldn't be happier with the excellent service I received."
Pharmaceutical Powder Containment Hoods
Specifications
Hood Dimensions:

O.D.: 24"D x 32"W x 25"H
I.D.: 23.5"D x 30"W x 24"H

Hood Material:

Sides: .250" White Acrylic
Base: .500" White High Density Polyethylene
Top: .500" Clear Polycarbonate
Front: .250" Clear Polycarbonate

Blower Dimensions:

13" L x 13" W x 17" H

Total Weight:

Approx. 100 lbs.

Motor:

Fractional Horsepower

Available Filter Efficiencies:

HEPA Filter - Up to 99.97% efficient on particles down to 0.3 microns in size.
ULPA Filter - Up to 99.9995% efficient on particles down to 0.12 microns in size.
Activated Carbon & Specialty-Blended Filters - Efficiency varies per chemical.

Approximate Inlet Velocities:

Fan on High: 30" Hood = 153 FPM Average Face Velocity without curtains.

Electrical:

115/1/60, 2 amps
220/1/50, .75 amps

Sound Level:

61 to 66 dba (Blower Speed: Low to High)

Warranty:

Limited two-year warranty from date of shipment on defects due to materials or workmanship.

Max Operating Temperature:

Not to exceed 170 degrees Fahrenheit