Ductless Fume Hood
24" Wide Ductless Fume Hood
Model # SS-224-DCH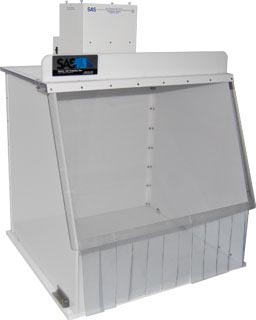 The 24" Wide Ductless Fume Hood is designed to protect the operator and environment from hazardous fumes or particulate generated from applications performed within the hood. Its small structure makes it an ideal solution and addition to a lab or room that has limited space or requires only a small containment area. Typical uses for this fume hood include chemical fume control, pharmaceutical compounding containment, soldering applications, light dust removal, biological applications, and many more applications that require the removal of fumes and dust.
The 24" Wide Ductless Fume Hood uses an energy-efficient fan that pulls fumes and particulate from the hood into the filter chamber, which is composed of a variety of filter media that is selected depending on the application being performed. This filter media includes HEPA [up to 99.97% efficient on particles 0.3 microns and larger], ASHRAE [up to 95% efficient on particles 0.5 microns and larger], Activated Carbon, and specialty-blended filtration [i.e. Acid Gas, Mercury, Aldehyde, Ammonia].
The 24" Ductless Fume Hood can provide an effective and economical solution for many commercial, medical, laboratory and industrial applications that require a relatively small containment area. For additional visibility, a transparent version is available at extra cost.
University of California, Davis
(For SS-218-DCH with Outlet Plenum)
"I am using the Sentry Air unit to conduct tissue extraction in an outdoor field setting. I work with a very powerful fixative solution that I use when I extract brain tissue, and the unit has proven to be both protective and efficient in containing the chemical within the hood. The system is also portable and easy to move, which has proven to be of great importance as I move between field sites frequently. Assembly and disassembly is very simple, and the unit has proven to fit my needs as a molecular biologist working outdoors under a variety of conditions, be it changing weather or terrain. I would highly recommend this fume hood to any biologist or chemist that requires protection and portability, as it has proven to be both durable and reliable."
Dr. Baraban's Dental Lab
(For SS-324-DCH)
"I use to suffer headaches every time I smelled Methyl Methacrylate and the entire office smelled of it. Now that I have my hood, I never have a headache and absolutely no smell in the office or lab area. Worth every penny! It is of great comfort that I am also not exposing myself and office staff to a potential carcinogen. I highly recommend this product to all my friends that make Maxillary Anterior Guided Orthotics or any splints for that matter."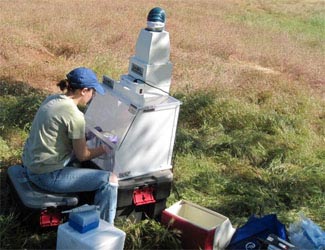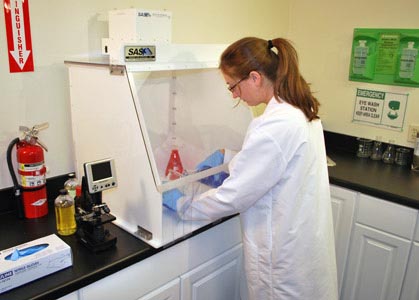 Specifications
Hood Dimensions:

O.D: 24" D x 26" W x 25" H
I.D.: 23.5 "D x 24"w x 24" H

Hood Material:

Acrylic

Blower Dimensions:

11" x 8" x 9"

Total Weight:

Approx. 35 lbs.

Motor:

Fractional Horsepower

Available Filter Efficiencies:

HEPA Filter - Up to 99.97% efficient on particles down to 0.3 microns in size.
ASHRAE Filter - Up to 95% efficient on particles down to 0.5 microns in size.
ULPA Filter - Up to 99.9995% efficient on particles down to 0.12 microns in size.
Activated Carbon & Specialty-Blended Filters - Efficiency varies per chemical.

Approximate Inlet Velocities:

Prefilter & 99.97% HEPA Filter – 100 FPM
Pre-filter & Heavy Duty Carbon Filter - 60 FPM

Electrical:

115/1/60, .3 amps
220/1/50, .2 amps

Sound Level:

Approx. 55 dba @ 3' from hood inlet

Warranty:

Limited two-year warranty from date of shipment on defects due to materials or workmanship.

Max Operating Temperature:

Not to exceed 170 degrees Fahrenheit

Patented Design:

U.S. PATENT #5,843,197
All specifications are nominal and subject to change without notice. Not intended for explosive or highly flammable applications. (i.e. when the Lower Flammability Limit is exceeded for any given chemical). Please consult the specific MSDS for questions regarding flammability limits.
Accessories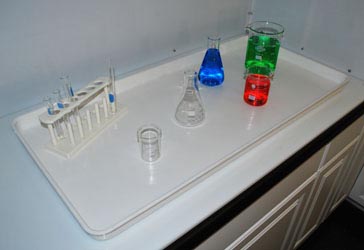 Fiberglass Spill Tray
Available in a variety of
sizes and specifications.
More Info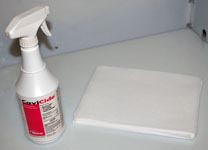 CaviCide w/ 25 Wipes
SS-025-CSW
Surface disinfectant
and decontaminant cleaner.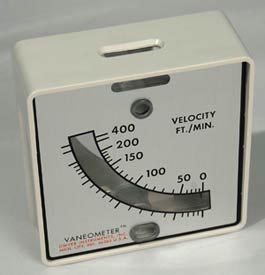 Velometer
SS-000-VEL
Measures air flow
in feet/minute.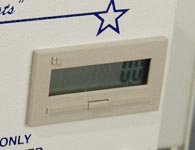 Hour Counter
SS-000-HC
Displays hours unit has
been in operation.
REPLACEMENT
FILTERS