Vertical Laminar Flow Hood
Vertical Laminar Flow Hoods, or portable clean rooms, provide a compact, positive-pressure environment for applications that require a clean workspace. This ISO Class 5 workstation creates a particulate-free enclosure that helps to protect the process from airborne contaminants.
This system utilizes a vertical laminar flow pattern and houses a dual-stage filtration system comprised of a pre-filter and either a HEPA or ULPA filter. Sentry Air's HEPA filters are up to 99.97% efficient on particles 0.3 microns and larger, while the ULPA filter is up to 99.9995% efficient on particles 0.12 microns and larger.
What is laminar air flow?
Laminar air flow is when a stream of constant air is provided with the same speed and direction, with no crossover of air stream.
Select Your Size:
12"
18" ISO Pure
18"
24"
30"
40"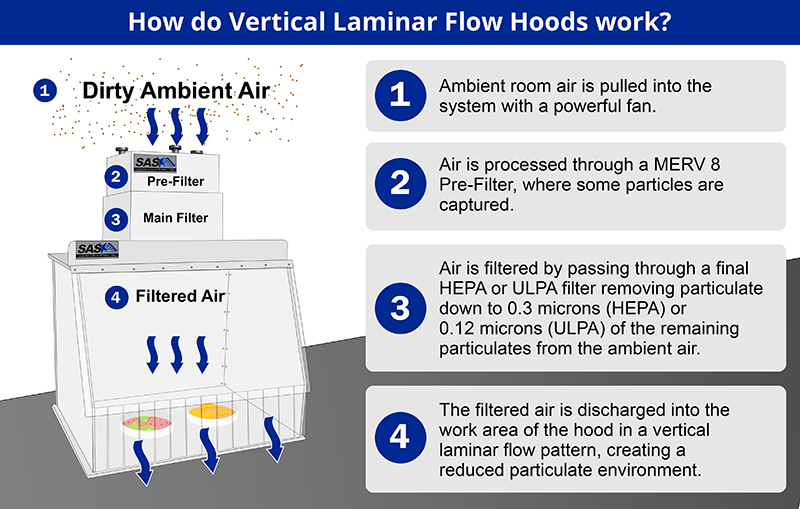 Vertical Laminar Flow Hood features and benefits
Protection from contamination
Improve functionality and quality of application
Positive Pressure
Portable and lightweight
Reliable and long filter life
Easy to use and install
Iso Class 5 workspace
Adhere to industry regulations
Custom hood options available
Applications
Data Recovery

Platelet Rich Plasma

Blood/Urine Analysis

Stem Cell and Tissue Culture

Plant Tissue Culture

Medical Device Assembly

IV Bag Preparation

Cleaning Optics and Lasers

Topical Pharmaceutical Compounding
Resources