Portable Clean Rooms and
Fume Extraction Systems
for Veterinary Applications
Sentry Air Systems Portable Clean Rooms and Fume Extraction units allow veterinarians and technicians to safely perform laser and other veterinary procedures, compound, weigh, or measure prescription dosages and remove harmful anesthetics gases from the operating room. 
Fume extraction units utilize a powerful fan and filtration system that pulls harmful airborne particulate away from the operator's breathing zone and directly into the HEPA filter, which is up to 99.97% efficient on particles 0.3 microns and larger. Various filter media is used depending on the chemical vapors/and or particulate that are generated (such as HEPA filters, Activated Carbon, or specialty-blended media like ammonia, mercury, acid gas, and aldehyde). Sentry Air Systems' line of Portable Clean Room Hoods (Laminar Flow Hoods) are HEPA or ULPA-filtered positive-pressure environments designed for applications that require a clean work space.
Sentry Air offers ISO Class 5 Hoods in a variety of standard sizes. Portable Clean Rooms utilize a powerful fan to draw in ambient air and purify it with high-quality filtration media to provide exceptionally clean, purified airflow inside the hood.
Typical applications may include laser plume removal, non-sterile compounding medication, mixing of disinfectant, removal of anesthetics gases and veterinary oncology practices. Our line of portable clean rooms is not intended for sterile compounding applications.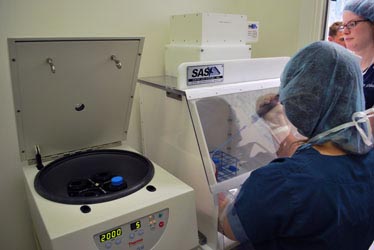 Testimonial from Stemlogix, LLC
"We are currently using the hoods [18" Wide Portable Clean Room Hoods] in Veterinary and Physician offices to separate stem cells from fat tissues. The doctors need something that is portable, light weight and requires minimal space. The Sentry Air Systems portable cleanroom hood allows us to ensure sterility of the samples we produce."
REQUEST A QUOTE
Veterinary Fume Hoods & Portable Clean Rooms
Portable Fume Extractors
Benchtop Fume Extractors