Flexible, Flame-Retardant Fume Extraction Arm with Optional Circular Hood
Black Flex Sentry™ flexible arm can be a very useful fume extraction accessory in several capacities. It can easily transform your existing fume extraction equipment into a source-capture configuration, serve as ducting between two objects, or function as an exhaust hose. This semi self-supportive, flame-retardant exhaust arm can be used with an optional round inlet hood (shown in the pictures above) for those seeking to extract fumes at the source of emission. It can also be used as flexible ducting to connect existing machine ports to fume extractors or mist collectors during applications such as CNC machining and laser etching.
Black Flex Sentry™ can be used for high heat applications such as welding and soldering, as well as chemical fume control, light powder extraction, and a variety of other procedures performed in laboratory, manufacturing, construction, and medical industries.
For complete fume extraction and air purification systems, please visit our Product Gallery page.
Flexible Fume Extraction Arms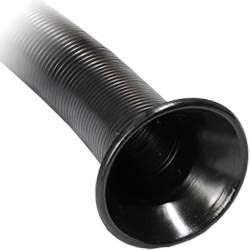 4" Diameter Flex Arm
48" Length
Model # SS-004-BH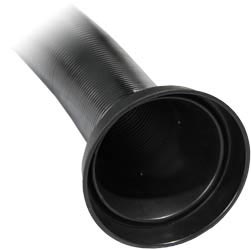 5" Diameter Flex Arm
68" Length
Model # SS-005-BH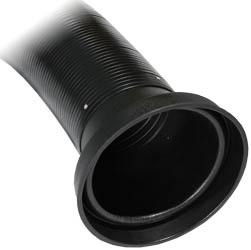 6" Diameter Flex Arm
72" Length
Model # SS-006-BH
Specifications
Material:

Substantially Constructed of PVC (hose) & ABS (hood)

Bend Radius:

7"

Capture Zone:

3" to 7" depending on conditions

Warranty:

Limited two-year warranty from date of shipment on defects due to materials or workmanship.