Laser Fume Hazards
The particulate and fume by-products of laser engraving and laser cutting operations can be hazardous to both the operator and the laser system itself. Conditions vary depending on the material being marked or cut, but many of these processes can produce respiratory hazards that may lead to acute or long-term negative health effects.
Some hazardous materials include:
• Heavy Metals from Etching
• Benzene from Cutting Polyvinyl Chloride
• Cyanide, Formaldehyde and Synthetic and Natural Fibers associated with other Processes
You can find an extended list in this blog entry on the topic of laser fume extraction. This list is originally quoted from the Environmental Health & Safety Department website at Princeton University (Ref. 1).
The performance and accuracy of the laser system itself can also be compromised if particulate build-up occurs on the optics. Proper ventilation and extraction can help to prevent this.
Laser Fume Extractors
Many laser system manufacturers recommend an exhaust system with the use of their products. Epilog Laser, for instance, notes the following under ventilation system specifications for one particular line of laser engravers: "350 – 400 CFM external exhaust to the outside is required. There is one output port, 4[inches] in diameter." Some of their units are equipped with a 6″ diameter output port as well.
State regulations may also affect your ventilation strategy. Depending on your location and operation, regulations may state that you cannot vent materials directly outdoors.
Laser Fume Extractor Options
Model 300 Stationary Floor Model
The stationary model featured below has the following features:
• Air Volume: up to 350 CFM
• Compact Base Unit: 15.5″L x 13″W x 14.5″H
• 4″ Diameter, Flame-Retardant Flexible Hose
• Variable Speed Controller
• High-Quality Filtration Media: A typical combination for laser fume control is a HEPA Filter (up to 99.97% efficient on microns 0.3 microns) for particulate containment and an Activated Carbon Filter for VOC removal.
• Recirculating Air Pattern: No exterior-venting required.
Model 300 Portable Floor Model
Aside from the addition of heavy-duty casters and a portability handle, the portable model pictured below is identical to the stationary model featured above. This model is useful for those who frequently travel or attend trade shows.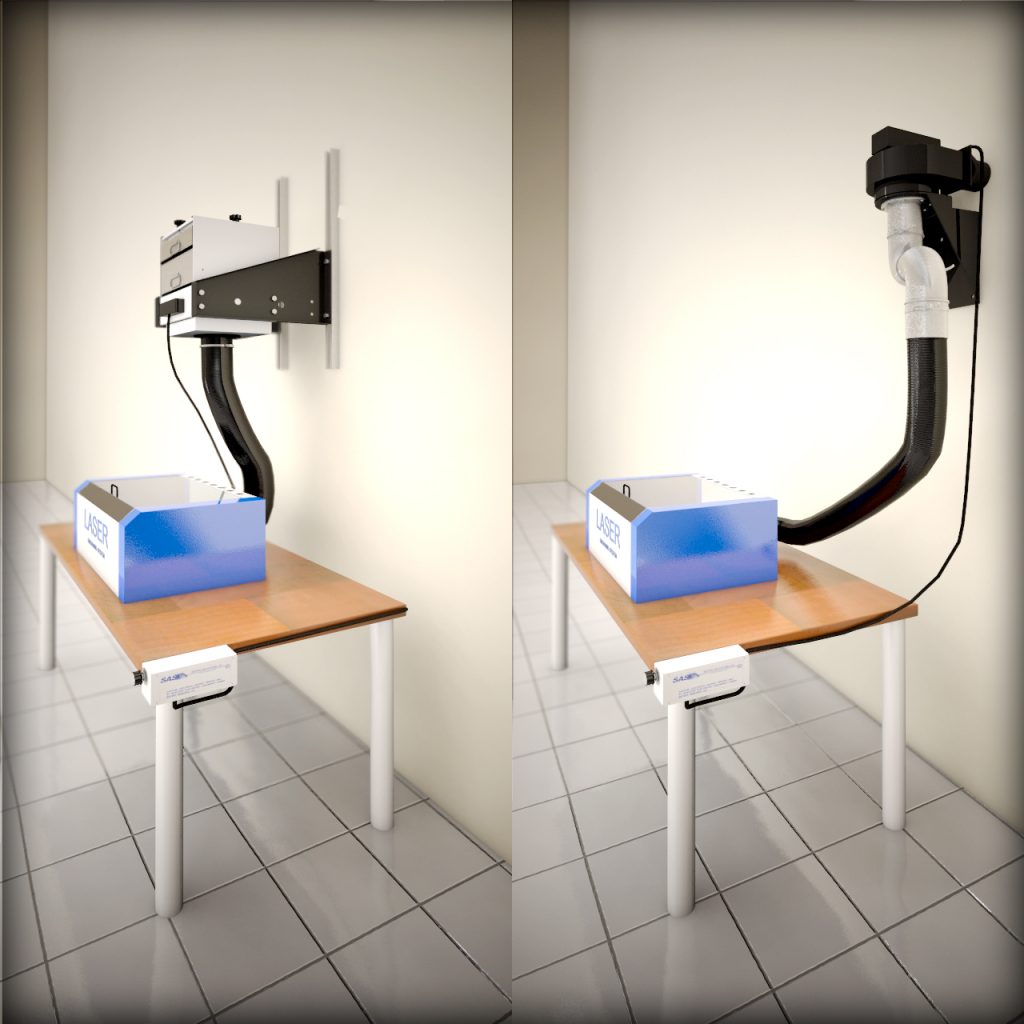 Wall-Mounted Laser Fume Extractors: Recirculating or Exterior Exhaust
The wall-mounted unit featured on the left side of the picture above includes a fan/filter unit that allows for a recirculating air pattern. A flame-retardant flex hose is utlized as the connection medium. Wall-mounting hardware is also included.
The wall-mounted unit on the right side is an external-venting option. As opposed to the unit on the left, this model does not contain filter media. It features a fan (up to 250 CFM) and four exhaust configuration options to exhaust directly outside or into an existing ducting system.
Direct-Mount Laser Fume Extractors
SS-300-MS

Laser systems with exhaust ports located on the top side may allow a direct-mount configuration. This option is featured in the video link below.
---
---
Sources
1. Princeton University. "Laser Safety Training Guide." Environmental Health and Safety (2007, Sept). https://ehs.princeton.edu/sites/ehs/files/media_files/Laser%20Training%20Guide%202007%2013-08.pdf.