Mounted Fume Arm
Table Mounted Extractor Arm
Model # SS-004-MFA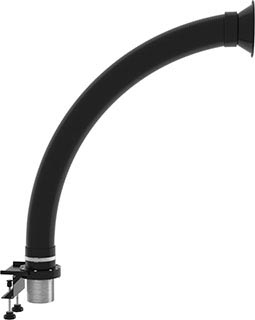 The SS-004-MFA mounted fume arm is an easily portable extraction arm that is lightweight and can quickly be adapted to a remote work area where a conventional fume extractor may not be practical. When connected to a Sentry Air Systems portable fan unit or shop exhaust, the mounted fume arm can be clamped to a table or used in other makeshift or temporary work areas. The mounted fume arm utilizes a fre retardant 4" diameter hose and is designed for soldering, brazing, TIG Welding or other light particulate/chemical fume removal. Connecting a multi-station 4" Mounted Fume Arm operation to a central exhaust or large fltration air handler is another excellent choice.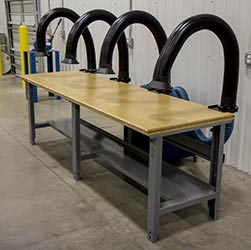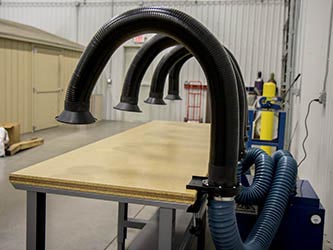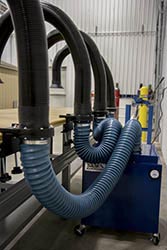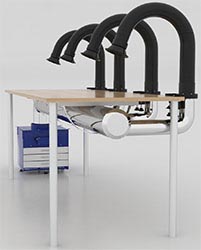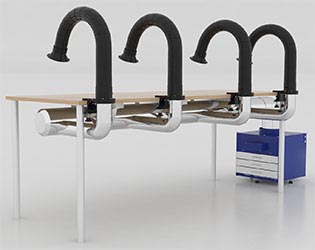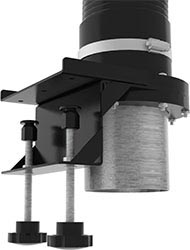 Specifications
Flex Arm:

4"Dia. Self Supporting fire retardant assembly with 6" O.D. Round Source Capture Hood


Dimensions:

45.75" Height, 20" Wide, 12.5" Deep

Weight:

Approximately 16 lbs.

Warranty:

Limited two-year warranty from date of shipment on defects due to materials or workmanship.
All specifications are nominal and subject to change without notice. Not intended for explosive or highly flammable applications. (i.e. when the Lower Flammability Limit is exceeded for any given chemical). Please consult the specific MSDS for questions regarding flammability limits.