Flexible Fume Extraction Arm
with Optional Round Hood
White Flex Sentry™ flexible arm can be affixed to a variety of existing fume extraction systems to provide a more precise method of fume capture. The optional round hood inlet (pictured above) increases capture efficiency for operators that want to use this hose as a source-capture extraction arm. It can also be used as flexible ducting between two objects or as an exterior exhausting duct.
This particular model is an excellent choice for those seeking an extraction hose for chemical fume control because of its ability to withstand most harsh chemicals. White Flex Sentry™ also works well for biological applications, pharmaceutical powder control, general dust removal, and epoxy fumes.
For a flame-retardant extraction arm option, try our Black Flex Sentry™.
For complete fume extraction and air purification systems, please visit our Product Gallery page.
Flexible Fume Extraction Arms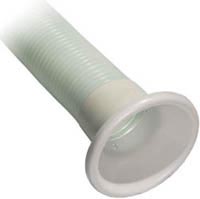 3" Diameter Flex Arm
43" Length
Model # SS-003-WH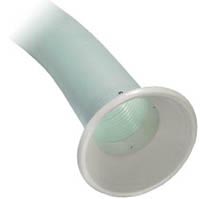 4" Diameter Flex Arm
48" Length
Model # SS-004-WH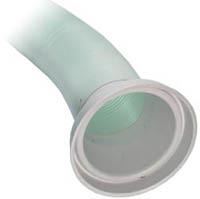 5" Diameter Flex Arm
68" Length
Model # SS-005-WH
Specifications
Material:

Substantially Constructed of PVC (hose) & ABS (hood)

Bend Radius:

7"

Capture Zone:

3" to 7" depending on conditions

Warranty:

Limited two-year warranty from date of shipment on defects due to materials or workmanship.