Ducted Mounted Fume Extractor
Mounted Sentry with Outlet Plenum
Model # SS-300-MSP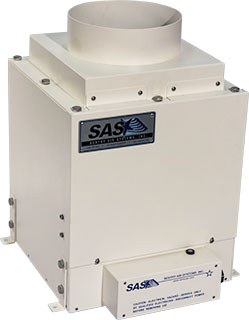 The Model 300 Mounted Sentry with Outlet Plenum is primarily used to exhaust filtered air to a remote location or to create a positive pressure environment. The 6" diameter exhaust collar allows filtered air to be exhausted outside or into your central exhaust system or ducting. When this unit is combined with HEPA or ULPA filtration, it can also be utilized to create positive pressure where clean air flow is required on enclosures or compact clean rooms. This system has the option of remaining ductless to recirculate filtered air back into the immediate area.
Typical applications for this unit include: Laser Marking, Printing Fumes, Soldering Fumes, Fume/Vapor Source Capture, Positive Pressure Airflow, Positive Pressure Clean Room, Pharmaceutical Powder Control, Chemical Fume Exhaust, Enclosed Machinery Mounting, and many other applications that produce particulate, smoke, dust, and fumes.
High-quality filter media for this unit is customized depending on the application being performed, but typically includes HEPA filters [up to 99.97% efficient on particles 0.3 microns and larger], ULPA filters [up to 99.9995% efficient on particles 0.12 microns and larger], ASHRAE filters [up to 95% efficient on particles 0.5 microns and larger], Activated Carbon, and specialty-blended filtration media [i.e. Acid Gas, Mercury, Aldehyde, Ammonia]. The Mounted Sentry with Outlet Plenum allows multiple filter media to be housed inside the filter chamber for applications that emit both particulates and fumes.
The Mounted Sentry is available in a smaller model [SS-200-MSP], larger model [SS-400-MSP], and without the outlet plenum [SS-300-MS].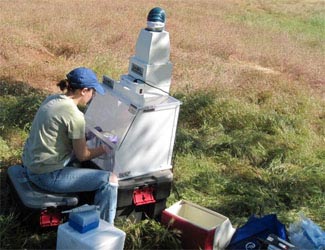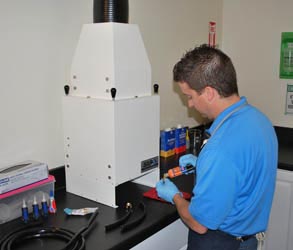 Specifications
Cabinet Dimensions:

15.5"L x 13"W x 31.25"H

Weight:

65 to 75 lbs.

Cabinet Material:

16 ga. carbon steel w/ polyester epoxy coating on all surfaces

Motor:

Fractional Horsepower

Available Filter Efficiencies:

HEPA Filter - Up to 99.97% efficient on particles down to 0.3 microns in size.
ASHRAE Filter - Up to 95% efficient on particles down to 0.5 microns in size.
ULPA Filter - Up to 99.9995% efficient on particles down to 0.12 microns in size.
Activated Carbon & Specialty-Blended Filters - Efficiency varies per chemical.

Air Volume:

Variable Speed Control Standard
350 CFM High, Down to 25 CFM Low


Electrical:

115/1/60, 2 amps
220/1/50, .75 amps

Sound Level:

61 to 66 dba (Blower Speed: Low to High)

Warranty:

Limited two-year warranty from date of shipment on defects due to materials or workmanship.

Patented Design:

U.S. PATENT #5,843,197
U.S. PATENT #8,353,745
All specifications are nominal and subject to change without notice. Not intended for explosive or highly flammable applications. (i.e. when the Lower Flammability Limit is exceeded for any given chemical). Please consult the specific MSDS for questions regarding flammability limits.
Accessories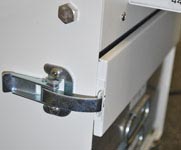 Quick Change Pre-Filter
SS-300-QCPF
Allows easy access to pre-filters.

Remote Control Box
SS-300-RCB
Controls unit operation remotely.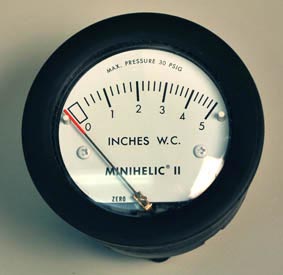 Magnehelic Gage
SS-300-MAG
Monitors filter saturation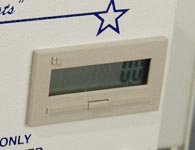 Hour Counter
SS-000-HC
Displays hours unit has
been in operation.
REPLACEMENT
FILTERS