Extractor Arm Without Fan
Extractor Arm
Model # SS-000-EA4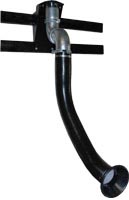 Sentry Air Systems' Extractor Arm (without fan) is an optimal fume extraction accessory for applications that require exhaust without filtration. It can easily transform your existing fan and ductwork into a source-capture configuration for more efficient fume capture and control. A wall-mounting bracket and 4" diameter exhaust collar are included for easy installation.
This flame-retardant, self-supportive flex arm is capable of 180° rotation and be can used in conjunction with a fan for a variety of applications including welding fume control, solder fume removal, chemical fume extraction, laboratory fume control, and a variety of fume and particulate-producing processes in manufacturing, medical, laboratory, and pharmaceutical settings. This unit is a standalone arm and does not include a fan.
This extractor arm is also available with a fan and four exhaust options [Model SS-250-PEA4].
Specifications
Flex Arm:

4"Dia. Self Supporting fire retardant assembly with 7" O.D. Round Source Capture Hood
4" Dia. Exhaust Collar

Flex Arm
Working Area:

62.5" Swivel Radius when unit is mounted
52" above work surface

Weight:

Warranty:

Limited two-year warranty from date of shipment on defects due to materials or workmanship.
All specifications are nominal and subject to change without notice. Not intended for explosive or highly flammable applications. (i.e. when the Lower Flammability Limit is exceeded for any given chemical). Please consult the specific MSDS for questions regarding flammability limits.