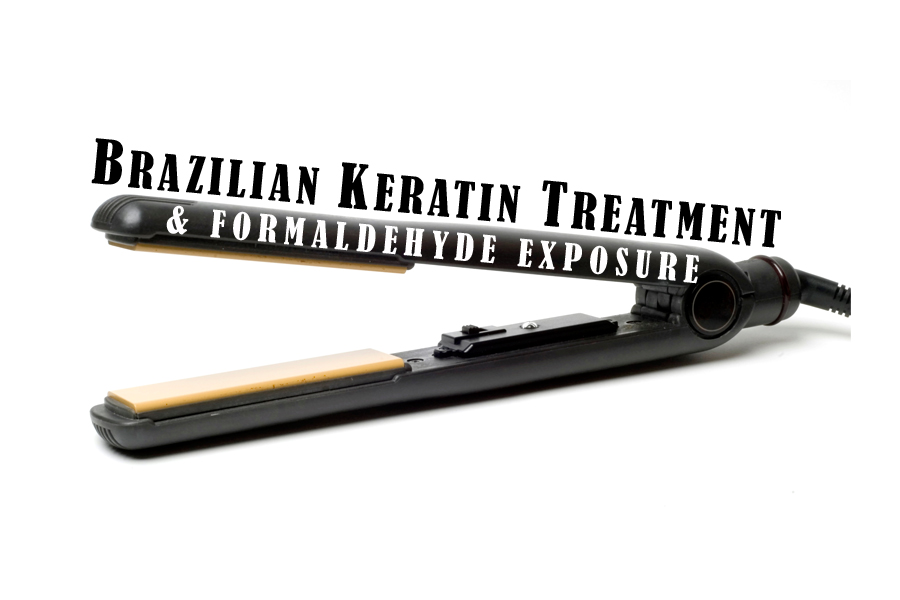 The Brazilian Keratin Treatment is a hair-straightening process that promises straight, smoother, and shinier hair that can last anywhere from six weeks to a few months. This process can take up to four hours and includes multiple steps. According to salontoday.com[1], researchers in Brazil discovered this treatment more than 10 years ago and because of its success in maintaining straight hair, many stylists in the United States have adopted it.
How It Works

Salontoday.com[1] explains that original Brazilian researchers discovered this technique when they learned that keratin (a natural protein) and cosmetic-grade formaldehyde (which cross-links proteins in hair) could be applied to the open hair cuticle. After this formula is applied thoroughly to the hair, a 450 degree flatiron is used to seal it. This step may be repeated several times, until the keratin is thoroughly infused. During this process, the heat from the flatiron can release fumes.
Fumes
These fumes can possibly contain formaldehyde, a well-known chemical that is considered a carcinogen by many health and safety organizations, including the International Agency for Research on Cancer. It is considered a probable human carcinogen by the Environmental Protection Agency (EPA):
"Formaldehyde, a colorless, pungent-smelling gas, can cause watery eyes, burning sensations in the eyes and throat, nausea, and difficulty in breathing in some humans exposed at elevated levels (above 0.1 parts per million). High concentrations may trigger attacks in people with asthma. There is evidence that some people can develop a sensitivity to formaldehyde. It has also been shown to cause cancer in animals and may cause cancer in humans. Health effects include eye, nose, and throat irritation; wheezing and coughing; fatigue; skin rash; severe allergic reactions. May cause cancer." (http://www.epa.gov/iedweb00/formalde.html) [2]
Even if the product you're using claims to be formaldehyde-free, it is important to check the ingredients or MSDS (Material Safety Data Sheet) of the product as it might contain chemicals that are just as potent and dangerous as formaldehyde.
As reported on CBSnews.com[3], there are no existing studies that conclude the total effect of the inhalation of fumes via Brazilian Keratin Treatment [UPDATE 11/1/10– Check out the latest research from Oregon OSHA], but The Cosmetic Ingredient Review Panel, a group of scientists and doctors dedicated to evaluating and establishing recommended standards for cosmetic ingredients, suggested that a safe level of formaldehyde is .2%. Allure magazine[4] tested Brazilian Keratin Treatment samples from United States salons that contained at least ten times more than that number.
Formaldehyde fumes have the potential to harm the client, the applicator, and people in fairly close proximity to the source.
Formaldehyde Exposure to Employees & The Law

The Occupational Safety and Health Administration (OSHA) enforces formaldehyde overexposure regulations:
According to OSHA standard 1910.1048 , the current permissible exposure limit (PEL) for formaldehyde is 0.75 part of formaldehyde per million parts of air (ppm) as a time-weighted average over an 8-hour period. The short-term exposure limit (STEL) is 2 ppm for any 15-minute sampling period. Engineering controls should be taken if your action level is 0.5 ppm.
To determine this you will need to conduct sampling. It is recommended to use a Certified Industrial Hygienist to conduct this testing.
Ventilation

As said on Salontoday.com: "Vent, Vent, Vent." Source capture ventilation is an optimal technique for assisting in the removal of formaldehyde fumes. To do this, a fume extractor would be placed at the source of the fumes (in fairly close proximity to the client's hair) to quickly pull them into an Activated Carbon filtration system and then released back into the room.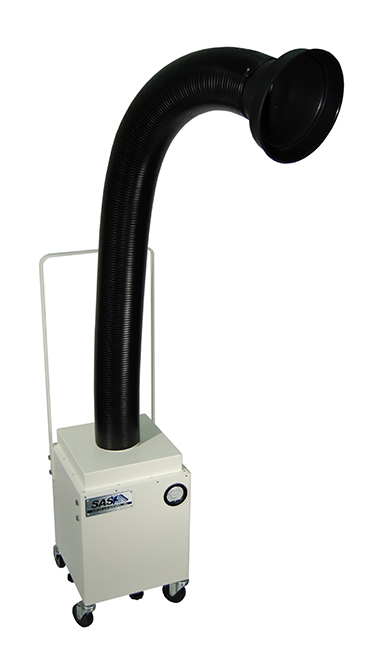 Sentry Air Systems recommends the Portable Floor Sentry [Model SS-300-BKT] for assistance in the removal of Formaldehyde fumes during Brazilian Keratin Treatments.**
This fume extractor is portable, lightweight, quiet, and equipped with a self-supportive flex hose so the operator can position the source capture area in the most effective position.
The video below is a demonstration of a Sentry Air System fume extractor being utilized at a salon during a Brazilian Keratin Treatment.
**Please note that it is the individual's responsibility to use multiple safety controls while performing Brazilian Keratin Treatment. Sentry Air Systems and its equipment is not deemed a determining source of whether or not your facility or operation is "safe" or meets any federal, state, or any additional authority's guidelines concerning formaldehyde control in correlation with Brazilian Keratin Treatment. According to the National Cancer Institute, Formaldehyde is a known human carcinogen and is associated with lung disease and other serious illnesses. It is the individual's sole responsibility to confirm the suitability of the equipment for their particular application. Proper maintenance, which entails changing the carbon filter on a frequent basis, is essential to ensure the equipment is functioning correctly. There is no guarantee that containment with this system will be 100% effective. If you are allergic or sensitive to formaldehyde and/or other chemicals used in the Brazilian Keratin Treatment, please consult a health professional. **
For further information on this unit and how it can decrease potential health threats to yourself and your clients, please call us at 800.799.4609, or email us at sales@sentryair.com.
Helpful Links

[1] SalonToday.com, "Salon Today Investigates Brazilian Keratin Services": http://www.salontoday.com/ArticleLanding/tabid/130/Default.aspx?tid=1&ContentID=237839
[2] U.S. Environmental Protection Agency, "Formaldehyde": http://www.epa.gov/iedweb00/formalde.html
[3] CBSNews.com, "Health Alarm Over New Hair Straightener": http://www.cbsnews.com/stories/2007/10/26/earlyshow/health/main3414868.shtml
[4] Allure Magazine, "Scared Straight": http://www.allure.com/magazine/2007/10/scared_straight?currentPage=1
National Cancer Institute, "Formaldehyde and Cancer Risk": http://www.cancer.gov/cancertopics/factsheet/Risk/formaldehyde#a4
Livestrong.com, "Brazilian Keratin Treatment": http://www.livestrong.com/article/69316-brazilian-keratin-treatment/
United States Occupational Safety and Health Administration, "Formaldehyde": http://www.osha.gov/SLTC/formaldehyde/