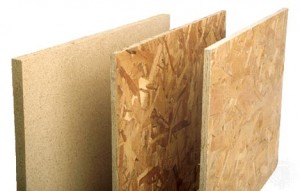 Update 7/26/19: As of December 12, 2016 – the EPA finalized the Formaldehyde Emission Standards for Composite Wood Products to restrict the emissions from composite wood products. Learn more here
---
In 2010, the Formaldehyde Standards for Composite Wood Products Act was signed into law. This Act set limits on how much formaldehyde fumes may be emitted from composite wood products including hardwood plywood, medium-density fiberboard (MDF), particleboard and finished goods containing these products.
The EPA is now responsible for developing regulations to implement these limits and ensure they are being met.
Proposed Rules
The EPA is currently proposing two rules to help implement this law.
Rule 1: Set limits on how much formaldehyde fumes may be released from composite wood and finished goods containing those products that are sold, supplied, offered for sale, manufactured or imported in the US.
Rule 2: Establish a third-party certification framework designed to ensure that manufacturers of composite wood products meet the Toxic Substances Control Act (TSCA) formaldehyde emission standards by having their composite wood products certified through an accredited third-party certifier.
Emission Standards
In the proposal, the EPA uses identical emission standards that are already in place under the California Air Resources Board's Airborne Toxic Control Measure (ATCM). The below chart was taken from Section 93120.2(a) of the ATCM.
California Air Resources Board's Airborne Toxic Control Measure Emission Standards — Phase 1 and Phase 2 Formaldehyde Emission Standards for Hardwood Plywood (HWPW), Particleboard (PB), and Medium Density Fiberboard (MDF)1
Phase 1 (P1) and Phase 2 (P2) Emission Standards (ppm)
Effective Date
HWPW-VC
HWPW-CC
PB
MDF
Thin MDF
1/1/2009
P1: 0.08
–
P1: 0.18
P1: 0.21
P1: 0.21
7/1/2009
–
P1: 0.08
–
–
–
1/1/2010
p2: 0.05
–
–
–
–
1/1/2011
–
–
P2: 0.09
P2: 0.11
–
1/1/2012
–
–
–
–
P2: 0.13
7/1/2012
–
P2: 0.05
–
–
–
1Based on the primary test method [ASTM E 1333-96(2002)] in parts per million (ppm). HWPW-VC = veneer core; HWPW-CC = composite core.
Effect on the composite wood industry
• Does your business manufacture composite wood products such as hardwood plywood, MDF and particleboard?
• Do you use any of these composite materials to create finished goods?
• Do you sell, supply, offer for sale, manufacture or import any of these products in the United States?
If you answered "Yes" to any of these questions, you will be required to meet the EPA's proposed rules (once enacted). This means you will be required to work with third-party certifiers (those accredited and audited by EPA-recognized accreditation bodies) as they perform audits of your products to verify you comply with the formaldehyde emissions standard.
The future of formaldehyde in composite wood
Once enacted, the EPA estimates that formaldehyde concentrations in new and renovated homes will be reduced by 9% – 25%. They also anticipate a growing trend by the industry towards switching to no-added formaldehyde resins in products.
The EPA's proposal also covers certain laminated products where a wood veneer is attached to a compliant platform with a formaldehyde-based resin. As a result, the EPA projects a 45% – 90% reduction in formaldehyde emissions from laminated products.
---
Protecting the workplace from formaldehyde exposure
Formaldehyde vapors are extremely hazardous to one's health. The Department of Health and Human Services, National Toxicology Program says formaldehyde is known to be a human carcinogen based on suffi­cient evidence of carcinogenicity from studies in humans and sup­porting data on mechanisms of carcinogenesis. Exposure has been known to cause damage to the eyes and may cause cancer. Even at low concentrations in the air, workers are at risk of exposure.
Whether you manufacture composite woods or use these products to construct finished goods like furniture, residential or commercial buildings or other goods, you may be exposed to formaldehyde fumes. It is important to provide adequate ventilation and fume extraction to avoid hazardous exposure levels.
Sentry Air Systems offers fume extractors that utilize a powerful fan and specially-treated aldehyde carbon filters that work to pull harmful formaldehyde vapors away from the operator's breathing zone and directly into the filter.
Our aldehyde carbon filters have been tested by a third-party industrial hygienist and found to be very effective in capturing formaldehyde fumes. Results from that test are documented here.
---
Protect against workplace formaldehyde exposure by contacting an application specialist today to select the best solution for your application!



Call us today at 1-800-799-4609
---
Resources:
• Formaldehyde Standards for Composite Wood Products Act
• EPA: Proposed rules on controlling formaldehyde emissions from composite wood products
• Airborne Toxic Control Measure (ATCM)
• US Department of Health and Human Services, National Toxicology Program: Formaldehyde