Soil is the bedrock on which we build the world around us. Before highways, buildings or roadways are constructed, the soil must be tested to measure strength, stability, and possible contaminants.
Civil engineers, geo-technical engineers, environmentalists and the like rely on these tests to make decisions and plans about if and how to build on a piece of land.
Hidden hazards
Due to environmental and human factors, soil can be exposed to a host of contaminants including: lead, pesticides, heavy metals, fungus, bacteria, and hydrocarbons.
When a soil sample is ground down to fine particulate, these contaminants pose a respiratory hazard to laboratory technicians.
According to OSHA, long-term exposure to organic dust can lead to congestion, coughing or wheezing, sensitivity to dust, and frequent infections, such as colds, bronchitis, and pneumonia.
In addition, excessive exposure to inert dust – or "nuisance dust" – may reduce visibility, cause unpleasant deposits in the nasal passages, and potentially injure the mucous membranes.
OSHA even has a set permissible exposure limit on inert dust set at 15 mg/m3 TWA per 8-hour shift.
Sieving, Shaking & Compacting
A soil sieve analysis – also known as a gradation test – assesses the particle size distribution of a soil sample. To conduct this test, a series of mesh screen sieves are ordered from largest mesh size (top) to finest mesh size (bottom).
The sample is poured into the top and the stack of sieves is moved onto a shaker. The shaker then agitates the soil for a specified amount of time.
The goal of the shaker is for each mesh canister to contain only that particle size of material for which that canister is designed to capture.
A proctor compaction test is performed to determine a soil's optimal moisture content at which the maximum dry density is achieved.
The test compacts soil with a known moisture content into a 4-inch diameter cylindrical mold. Three layers of soil are added to the mold with each layer being compacted. A compaction machine drops a 5.5 lb. hammer from 12 inches 25 times. This process is then repeated for various moisture contents and the dry densities are determined for each.
During both sieve analysis and compaction, fine dust is generated.
To avoid breathing nuisance dust, as well as maintaining a clean work environment, it is a good idea to place these machines in a negative-pressure enclosure during operation.
Negative Pressure Enclosure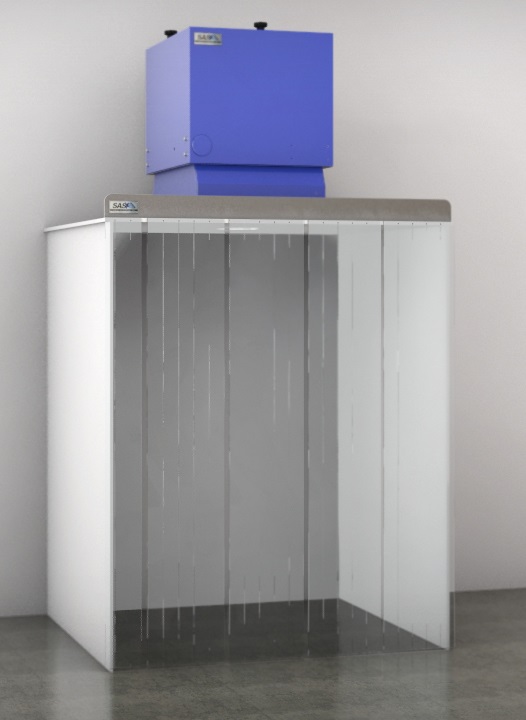 Sentry Air Systems designed this custom enclosure using our standard Model 400 Mounted Sentry with dust plenum coupled with a custom-sized hood with clear sash opening.
This configuration allows operators to house their sieving and compacting machines within the enclosure while still having easy access to them.
The Model 400 air cleaner draws contaminated air from within the enclosure through the multi-filter chamber before recirculating cleansed air into the surrounding room.
The dust plenum is designed to capture larger particles before they have a chance to clog the main HEPA filter. The HEPA filter is 99.97% efficient at capturing particles down to 0.3 microns in size.
Grinding, Mixing, Weighing & Handling
In order to separate and break down soil components for further analysis, samples are usually hand ground with a pestle and mortar then poured and brushed into individual containers. This process generates fine particulate matter that can become airborne and generate a plume of soil dust.
In order to avoid breathing this, technicians would benefit from a workstation that doubles as a source-capture particulate extractor.
Source-capture Workstations
Sentry Air Systems offers a variety of workstations that arrest airborne contaminants at the source of emission. Our most popular solution is a Ductless Containment Hood.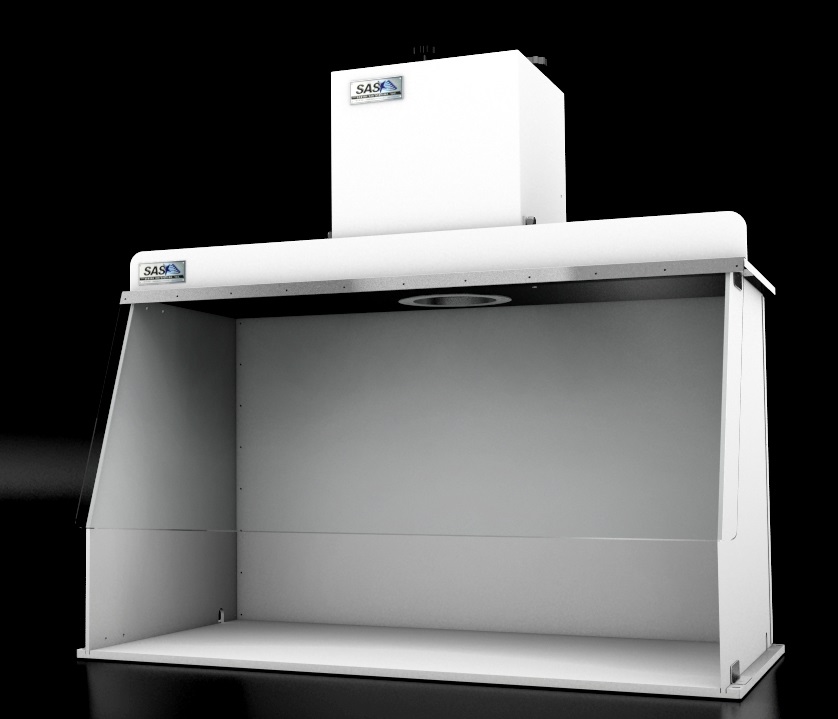 Features:
Standard widths ranging from 12-inches to 70-inches
Depth fits most standard countertops, tables and lab benches
Takes up zero floor space
Quiet, minimal vibration motor
Customizations available
Fluorescent light kit
Approximate inlet velocity up to 130 FPM (High)
Benefits:
Contained area in which to perform work
Easily assimilates into most laboratory environments
Requires zero external exhaust
Light kit illuminates interior of hood
For applications that require greater portability, we suggest our Model 435 Portable Downdraft Bench.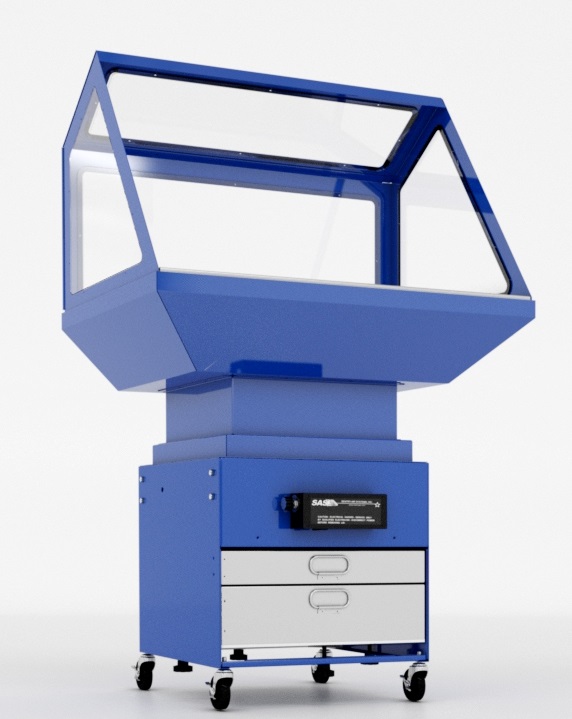 Features:
Available in sitting or standing heights with choice of clear or solid surround
Up to 700 CFM
Heavy-duty locking casters
Durable perforated metal work surface holds up to 120 lbs.
Benefits:
Compact Design – only 35" wide
Portable – Easy maneuvers over carpet or hard surfaces
Air is pulled down and away from the operator.
Contact Sentry Air
If your soil analysis lab could benefit from a source-capture dirt containment solution, give Sentry Air a call at 800.799.4609, email sales@sentryair.com, visit our website or fill out the feedback form below.
Photo Source
1 http://downloads.smilinggardener.com