The testimonial below was written by Tony Dummett, who utilizes a Sentry Air Systems 24″ Wide Portable Clean Room Hood during the design and assembly of cinema projection lenses:
"My business is the design and assembly of ultra high quality XEIT brand anamorphic cinema projection lenses.
One of the critical quality benchmarks is to keep microscopic dust contamination of internal surfaces to a minimum. The smallest dust particle back-lit by a powerful projection beam, will "light up" like a Christmas tree. While not necessarily affecting on-screen optical quality, too much dust inside a lens looks unprofessional and untidy in a precision device. Therefore, assembling the lenses in a normal workroom is simply not good enough. The workshop air itself needs to be HEPA filtered during assembly. As I could not justify, and did not need a full "clean room", I picked a Sentry Air SS-324-PCR (24″ model) to provide the "clean" environment I needed, where I needed it.
I had seen a 30″ model in use at Panavision Australia (which Panavision use worldwide for servicing dust-sensitive CCD sensors). After visiting the Sentry Air web site and watching their informative on-line video, I immediately ordered my own 24″ model. The establishment of a "zero" particulate environment within 60 seconds, as demonstrated in the video, was the clincher for me.
I have cut a porthole in my
SS-324-PCR
to allow for a bright, collimated beam from an external digital projector to enter the dust-proof chamber, as a way of emulating a regular lens use. Projectors and their fans are inherently "dusty" (and bulky), so the need for an external source of light for inspecting lens surfaces prior to final sealing was critical. I have also added an external fluoro light and variable motor speed control.
Included inside the clean bench-top are jigs of my own design for holding individual lens elements in place during cleaning, plus an Omron bi-polar air ionizer. The ionizer is directed at the surface to be cleaned to instantly discharge static electricity generated by wiping the glass lens surfaces with lint-free cotton cleaning cloths or by blowing compressed air against them. This permits dislodged dust to be removed by the SS-324-PCR's powerful fan, instead of immediately re-attaching to the glass surface after inspection or compressed air cleaning.
My lens assembly has been designed so that once it is assembled and sealed it can be removed from the clean bench-top area and calibrated in a normal room atmosphere, secure in the knowledge that the assembly sealed inside the SS-324-PCR, will remain internally dust-free.
Lastly, the SS-324-PCR is light enough and small enough to pack inside an ordinary SUV for transport to any new workshop location that I may relocate to in the future. It is easy to assemble, clean and remarkably sturdy in construction: an eminently practical solution, where space and cost considerations do not permit a full "clean room" set-up.
I have not seen another unit like the SS-324-PCR anywhere, from any manufacturer, that incorporates such light weight, easy access, portability and reasonable cost. I have had great success with the SS-324-PCR and commend Sentry Air for their product, their prompt service, and their product support."
TONY DUMMETT
XEIT OPTICS
Sydney, Australia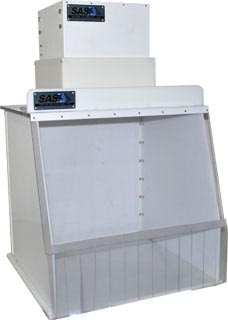 If you're interested in hearing more about Sentry Air's line of Portable Clean Room Hoods, call a Sales Representative at 1.800.799.4609, email us at sales@sentryair.com, or request more information or a quote here. For International Customers like Tony Dummett, Sentry Air offers 220V options.