Sentry Air Systems carries a wide selection of Ductless Fume Hoods ranging from 12" in width up to 70" wide. These versatile hoods have been utilized in many applications over the years, including: particulate extraction, dust and powder control, soldering, volatile organic fume capture, and several other industrial processes. Ductless Fume Hoods offer simplicity and sturdiness for industrial applications. They are made out of materials that offer great strength, durability and cost effectiveness (acrylic sides, high density polyethylene base, and a clear polycarbonate front and top.
Additionally, Sentry Air Systems recognizes the wide variety of applications that are used with Ductless Fume Hoods. Some of these applications may require special materials of construction for the hoods. Therefore, we offer additional options for customers based on their specific needs. SAS often receives requests for different types of chemical-resistant Ductless Containment Hoods. The customers need hood materials that are resistant to aggressive chemicals such as hydrochloric or sulfuric acid, methylene chloride, and cyclohexanone. Most of the time, however, the customer does not know what materials would be adequate in resisting these chemicals.
Sentry Air Systems employs a chemical specialist that can discuss the specific needs and requests of customers and then recommend special hood material for their application if needed. The chemical specialist then works with the engineering team to design and construct a chemically-resistant containment hood that will meet the customers needs. Sentry Air has access to various materials that will each have unique resistance properties for the different chemicals being utilized. In addition, we can change the material of any of our standard Ductless Containment Hoods so they are anti-static or safe to electrostatic dissipation, or able to resist heavier loads or higher temperatures. Sentry Air has also built several hoods out of stainless steel or can even include a stainless steel work-surface for those applications where sterility is a major concern.
The subsequent pictures show a sample of the chemically-resistant hoods Sentry Air has built:
18″ Wide Stainless Steel Exhaust Hood
18″ Wide Polypropylene Exhaust Hood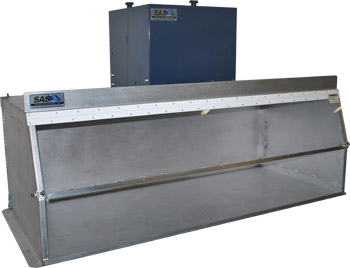 70″ Wide Aluminum Fume Hood
For more information on Sentry Air's line of Chemically-Resistant Fume & Exhaust Hoods, please call us at 1.800.799.4609, email us at sales@sentryair.com, or fill out this form for more information.