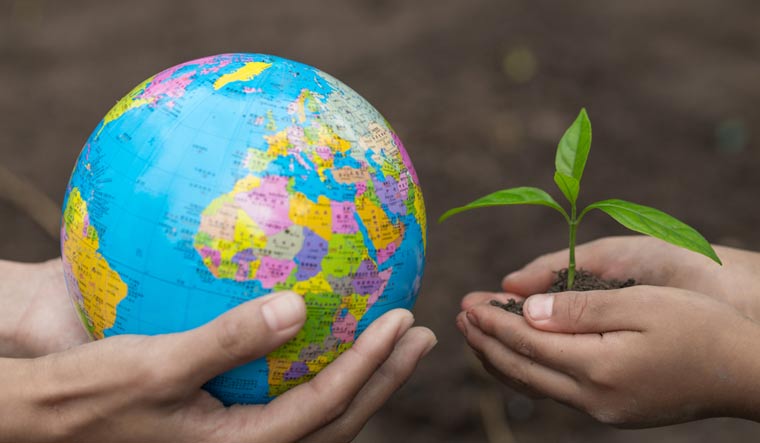 At Sentry Air Systems, Earth Day is important to our mission as we strive to provide solutions for cleaner air in the workplace. Our systems help provide improved workplace environment by creating a safer breathing space, offering ductless systems that filter out contaminates instead of ducting externally, cleanable and reusable filters, and reusing or recycling CNC oil through oil mist collection. In honor of the 50th anniversary of Earth Day, celebrate Earth Day with Sentry Air Systems by learning about the importance, how Earth Day started, fun facts, and how you can celebrate Earth Day at home.
What is the Importance of Earth Day?
Earth Day creates a discussion of environmental issues in order to help bring awareness, spread knowledge, and encourage ways that everyone can help save the planet (Ref. 1). Earth Day was created in 1970 by Senator Gaylord Nelson in order to mobilize large groups of people to spread environmental concerns and knowledge (Ref. 2).
Prior to this environmental movement, Americans were unaware of the environmental and health effects of pollution. America had inefficient automobiles using leaded gas as well as an abundance of industry pollution. Pollution was seen as a sign of progress and did not raise concerns until 1962 when a widely popular book called the Silent Spring by Rachel Carson addressed the link between pollution and public health. This book increased concern for living organisms and the environment.
After Senator Gaylord Nelson witnessed the effects of a massive oil spill in Santa Barbara in January 1969, he decided to create an initiative to bring awareness of environmental issues to protect the natural world. Senator Nelson wanted to use the enthusiasm and support from Vietnam war demonstrations to bring forth attention and change for the environmental movement. He worked with Republican congressman Pete McCloskey and a young activist Denis Hayes to nationally align groups to form the environmental movement (Ref. 2). Over 20 million Americans went to the streets to demonstrate against the impact from 150 years of industrial developments. This included thousands of colleges and universities which held protests.
The first Earth Day was largely successful and brought about important legislation addressing clean air, water, toxic substances, and endangered species (Ref. 3). To this day, Earth Day Network works to continue the original mission of Earth Day by recruiting future generations to become educated about environmental impact and issues.
When is Earth Day?
Earth Day is celebrated on April 22 every year. This date was originally chosen to encourage the participation of college students with the date in between spring break and finals (Ref. 2). Earth Day's founders wanted to entice future generations to participate in order to bring about real change. Earth Day is not the same as the Vernal Equinox but both days do encourage taking care of the earth (Ref. 3 ).
5 Major Earth Day Facts
1. The First Earth Day was widely celebrated in the United States – 20 million Americans celebrated the first Earth Day in 1970 which was about 10% of the American population. This group included people from both political parties, a wide range of organizations, colleges and universities, and religious groups (Ref. 2).
2. Earth Day brought about the passing of important environmental legislation and creation of vital government agencies including: (Ref. 2)
• Environmental Protection Agency (EPA) – responsible for conducting research and enforcing environmental standards.
• National Environment Education Act – requires the EPA to provide leadership to improve environmental awareness and education.
• Occupational Safety and Health Administration (OSHA) – sets and enforces standards to ensure the safety and health of working conditions.
• Clean Air Act (1970) – controlled pollution on automobiles
• Endangered Species Act – protects threatened and endangered plants and animals including their habitat
• Federal Insecticide, Fungicide, and Rodenticide Act – regulates pesticides in order to protect the health and safety of people and the environment.
3. Worldwide recognition in 1990 – Earth Day was recognized worldwide in 1990 with 200 million people in 141 countries celebrating Earth Day (Ref. 2). This huge movement improved recycling efforts and helped bring forth the 1992 United Nations Earth Summit.
4. Largest Secular Observance in the World – Earth Day is the largest worldwide celebrated holiday that spans across different religions and political parties.
5. Earth Day's focus changes yearly – In the year 2000, Earth Day focused on promoting clean energy. For Earth Day 2020, ways to combat climate change and global warming will be the main focus.
5 Earth Day Activities you can do at home
1. Educate – Educate yourself and your family about environmental issues by learning about renewable energy (Ref. 4), watching online webinars (Ref. 4), and assessing your own carbon footprint and ways to reduce your own impact (Ref. 5).
2. Create a compost – Reduce the amount of organic waste by creating a compost for your garden (Ref. 5).
3. Plant a tree – Reduce energy consumption by planting a tree. Trees reduce energy consumption by stopping winter winds, providing shade in the summer, and a shelter for birds (Ref. 1).
4. Plant a garden – Reduce your impact on the food supply by growing your own food. Planting a garden not only helps you have fresh food on demand but can also be a fun activity for children (Ref. 1).
5. Enjoy Nature – Lastly, celebrate Earth Day by enjoying nature through a variety of activities including going for a walk or having a picnic (Ref. 5).
---
Sources
1. Sima, Kathy. "10 Fun Earth Day Activities for Families." We Have Kids, 10 April 2019. https://wehavekids.com/parenting/10-Earth-Day-Activities-for-your-Family.
2. "The History of Earth Day." Earth Day. https://www.earthday.org/history/.
3. Richards, Alex. "10 Earth Day Facts You Probably Never Knew." Real Simple, 23 March 2020. https://www.realsimple.com/holidays-entertaining/earth-day-facts.
4. Kummer, Frank. "How to Celebrate Earth Day's 50th Anniversary while following stay-at-home orders." The Philadelphia Inquirer, 17 April 2020. https://www.inquirer.com/science/climate/earth-day-2020-coronavirus-covid19-activities-events-20200417.html.
5. Elliot, Sara. "10 Earth Day Activities for Families." How Stuff Works. https://science.howstuffworks.com/environmental/conservation/conservationists/10-earth-day-activities-for-family3.htm.