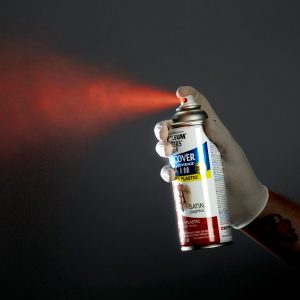 Everyone knows that the inhalation of spray paint fumes has negative effects on your health, but just how hazardous are they?
What is in Spray Paint?
Many standard professional-grade spray paints contain Volatile Organic Compounds (VOCs). VOCs are emitted as gases from certain solids or liquids and include a variety of chemicals, some of which may have short- and long-term adverse health effects. VOCs are emitted by a wide array of products including paints, lacquers and paint strippers. [1]
Click here to see EPA's complete list of VOCs.
Spray Paint Ingredients
Each brand can differ but some of the common spray paint ingredients include:
• Acetone
• Liquefied Petroleum Gas
• Xylene
• n-Butyl Acetate
• Methyl Ethyl Ketone
• Propylene Glycol Monobutyl Ether
• Ethylbenzene
• Magnesium Silicate
• Carbon Black
The most common VOCs found in spray paints include Acetone, Xylene and Toluene.
The below chart outlines exposure limits, symptoms and organs affected by these VOCs. [2]
| | | | |
| --- | --- | --- | --- |
| VOC | Exposure Limits | Symptoms | Organs Affected |
| Acetone | NIOSH REL: TWA 250 ppmOSHA PEL: TWA 1000 ppm | Irritation to the eyes, nose and throat; headache, dizziness, central nervous systems depression; dermatitis | Eyes, skin, respiratory systems, central nervous system |
| Xylene | NIOSH REL: TWA 100 ppmOSHA PEL: TWA 100 ppm | Irritation to the eyes, skin, nose and throat; dizziness, excitement, drowsiness, incoordination, staggering gait; corneal vacuolization; anorexia, nausea, vomiting, abdominal pain; dermatitis | Eyes, skin, respiratory systems, central nervous system, gastrointestinal tract, blood, liver and kidneys |
| Toluene | NIOSH REL: TWA 100 ppmOSHA PEL: TWA 200 ppm | Irritation to the eyes, nose; weakness, exhaustion, confusion, euphoria, dizziness, headache; dilated pupils, lacrimation; anxiety, muscle fatigue, insomnia; paresthesia; dermatitis; liver, kidney damage | Eyes, skin, respiratory system, central nervous system, liver, kidneys |
Spray Paint Health Effects
Whether your exposure to VOC fumes is minimal or extended, there are definite risks and side effects once the fumes are inhaled. Short-term side effects may include eye, nose and throat irritation; headaches, loss of coordination, and nausea. Long-term side effects may be as hazardous as damage to the liver, kidneys, and central nervous system. Some organics are even suspected or known to cause cancer in humans. [1] Key signs or symptoms associated with exposure to VOCs include conjunctival irritation, nose and throat discomfort, headache, allergic skin reaction, dyspnea, declines in serum cholinesterase levels, nausea, emesis, epistaxis, fatigue, dizziness. [1]
Spray Paint Exposure Reduction Methods
1. Make a habit of reading warning labels
Let's take a closer look at the Rust-Oleum's® Professional High Performance Enamel Semi-Gloss Spray warning label.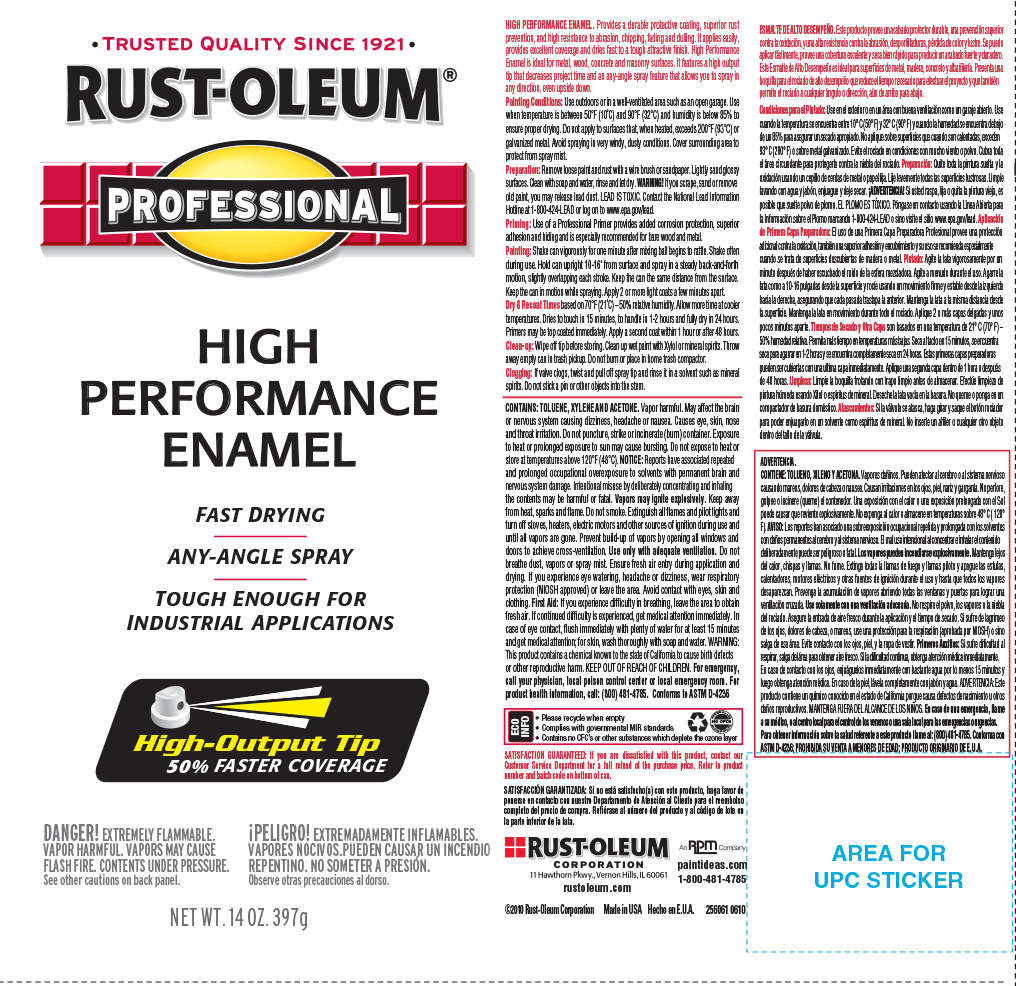 • Painting Conditions: Use outdoors or in a well-ventilated area such as an open garage. Use when temperature is between 50°F (10°C) and 90°F (32°C) and humidity is below 85% to ensure proper drying. Do not apply to surfaces that, when heated, exceeds 200°F (93°C) or galvanized metal. Avoid spraying in very windy, dusty conditions. Cover surrounding area to protect from spray mist.
• Preparation: Remove loose paint and rust with a wire brush or sandpaper. Lightly sand glossy surfaces. Clean with soap and water, rinse and let dry. WARNING! If you scrape, sand or remove old paint, you may release lead dust. LEAD IS TOXIC. Contact the National Lead Information Hotline at 1-800-424-LEAD or log on to www.epa.gov/lead.
• Contains: TOLUENE, XYLENE AND ACETONE. Vapor harmful. May affect the brain or nervous system causing dizziness, headache or nausea. Causes eye, skin, nose and throat irritation. Do not puncture strike or incinerate (burn) container. Exposure to heat or prolonged exposure to sun may cause bursting. Do not expose to heat or store at temperatures above 120°F (48°C).
• Notice: Reports have associated repeated and prolonged occupational overexposure to solvents with permanent brain and nervous system damage. Intentional misuse by deliberately concentrating and inhaling the contents may be harmful or fatal. Vapors may ignite explosively. Keep away from heat, sparks, and flame. Do not smoke. Extinguish all flames and pilot lights and turn off stoves, heaters, electric motors and other sources of ignition during use and until all vapors are gone. Prevent build-up of vapors by opening all windows and doors to achieve cross-ventilation. Use only with adequate ventilation. Do not breathe dust, vapors or spray mist. Ensure fresh air entry during application and drying. If you experience eye watering, headache or dizziness, wear respiratory protection (NIOSH approved) or leave the area. Avoid contact with eyes, skin and clothing.
• Warning: This product contains a chemical known to the state of California to cause birth defects or other reproductive harm. KEEP OUT OF REACH OF CHILDREN.
2. Wear Recommended Personal Protective Equipment (PPE)
Follow OSHA guidelines and/or your employers Health and Safety standards in regards to wearing PPE. Typical PPE may include safety glasses, face mask or respirator, and gloves. PPE depends on application type, amount of use and workspace.
3. Use appropriate spray enclosures and fume extractors when working
Follow OSHA guidelines and/or your employers Health and Safety standards in regards to proper spray paint booth enclosures and exhaust/ventilation systems. When choosing the most appropriate system, items to consider include ductless or ducted ventilation, filter requirements, workspace size and amount of air volume needed.
Spray Paint Fume Extraction with Ductless Spray Paint Hoods

Sentry Air Systems' line of ductless spray hoods and paint booths are built with stringent quality control measures and superior craftsmanship. Our portable spray booths are highly compact and extremely energy efficient. Typical uses may include light spray painting, aerosol sprays, epoxy overspray, and a variety of other processes. Our systems come in a variety of sizes and mounting options and utilize powerful fans. Strong suction at the inlet provides an effective source capture and containment of overspray particulates. This protects the operator's breathing zone and prevents unwanted spray particulate and odors from entering the general work area.
All of our ductless spray hoods come equipped with HEPA and Activated Carbon filtration media. We utilize the HEPA filter to control the particulate and respirable particles. The Activated Carbon filter is utilized as a sorbent media that filters out harmful VOCs. Sentry Air System's application specialists will help assess your specific spray application and ensure the proper filtration media is included with your ductless spray hood.
In addition to our standard portable spray booths, we offer custom spray booths built for those customers who have specific application requirements.

Industrial Hygiene Reports and Product Testing
Sentry Air Systems designs and manufactures high-quality air purification and fume extraction systems. To demonstrate how effective our products are at removing hazardous fumes from workspace air, we use third parties to test our products. The industrial hygiene reports listed below were specifically tested on commonly used VOCs in spray paint.
• Toluene Report
• Xylene Report
• Acetone Report
• Methyl Ethyl Ketone Report
The reports below detail how our ductless spray hoods stand against rigorous testing.
• Ductless Spray Hood HEPA Filter Longevity Spray Report
• Spray Paint LEL Report
Product Video Demonstration: http://www.youtube.com/watch?v=bvGMDf5FYtw
Contact us Today to get started!
For information on options for controlling spray paint fumes in your operation, give us a call at 1.800.799.4609, email us at sales@sentryair.com, or fill out this online contact form to have a Sentry Air Systems Applications Specialist contact you to discuss your application.
Sentry Air Systems, Inc. provides this information as a customer service, and cannot be held responsible for its accuracy or completeness. It is recommended that competent legal authorities, as well as safety and hygiene professionals, be consulted.
---
Resources
[1] "An Introduction to Indoor Air Quality: Volatile Organic Compounds (VOCs)." EPA. Environmental Protection Agency http://www.epa.gov/iaq/voc.html
[2] "NIOSH Pocket Guide to Chemical Hazards" CDC. Center for Disease Control http://www.cdc.gov/niosh/npg/