The Occupational Safety & Health Administration (OSHA) recently released a new webpage outlining safety precautions of toluene exposure. On this webpage, OSHA provides resources to educate employers and workers about the health hazards associated with toluene and how to prevent them.
Toluene
Toluene [tol-yoo-een], also known as "Methyl Benzene", "Phenyl Methane" or "Toluol" is an aromatic, clear liquid that occurs naturally at low levels. It is a common solvent with a relatively high volatility creating the opportunity for accumulation of flammable and toxic fumes.
Toluene can be found in a wide variety of products including but not limited to:
Paints and paint thinners
Crude oil
Varnishes and lacquers
Metal cleaners
Fingernail polish
Adhesives
Dyes and inks
Gasoline and other hydrocarbons
Occupational Exposure Limits
Exposure Limit

Limit Values

Occupational Safety & Health Administration (OSHA) Permissible Exposure Limit (PEL) – General Industry

200 ppm Time Weighted Avg.
300 ppm Ceiling
500 ppm Peak (10 minutes)

National Institute for Occupational Safety and Health (NIOSH) Recommended Exposure Limit (REL)

100 ppm (375 mg/m3) Time Weighted Avg.
150 ppm (560 mg/m3) STEL

American Conference of Governmental Industrial Hygienists (ACGIH) Threshold Limit Value (TLV)

20 ppm (75 mg/m3) Time Weighted Avg.
A4; BEI
Health Hazards, Organs Affected
Prolonged exposure to toluene fumes commonly results in headaches, irritation to the eyes and mucous membranes, and skin irritation. Long term effects of high concentration exposure may lead to problems in the liver, kidneys, bloodstream, central nervous system, upper respiratory tract, and female reproductive system.
Reduce Toluene Fume Exposure
According to OSHA, employers must use engineering controls and implement work practices first that reduce toluene exposure. For stationary work, OSHA recommends using local exhaust ventilation. Exhaust systems can be an expensive option and oftentimes situations do not allow for the infrastructure of a local exhaust system. When these situations arise, quality ductless options like the Snorkel Sentry or Sentry Ductless Containment Hoods with carbon filters are suitable alternatives.
In addition to engineering controls there are a series of substitution methods, work practices and personal protective equipment (PPE) that, when used in combination, provide optimal exposure reduction.
For more detailed information on OSHA standards for regulating toluene in the workplace, visit their toluene webpage or view their toluene fact sheet.
Sentry Air Systems, Recommended Products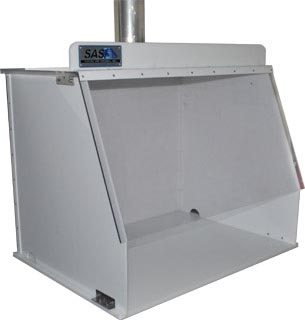 Exhaust Ventilation
Best when ventilating outdoors.
30-inch Wide Ducted Exhaust Hood
Model # SS-330-E
Comes in a variety of sizes, customizable features available.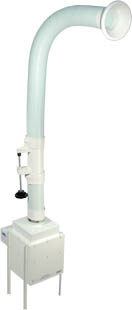 Snorkel
Best if needing adjustable height.
Snorkel Sentry
Model # SS-200-SS
Multiple filter options available, up to 100 CFM.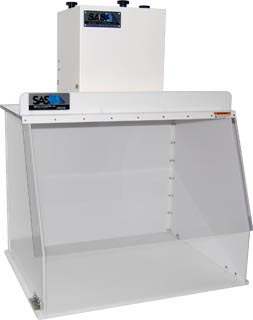 Ductless Containment Hood
Best when recirculating air indoors.
30-inch Ductless Fume Hood
Model # SS-330-DCH
Comes in a variety of sizes, multiple filter options available.
**Read our Industrial Hygiene Report on Controlling Toluene Vapors in a lab setting using this product.**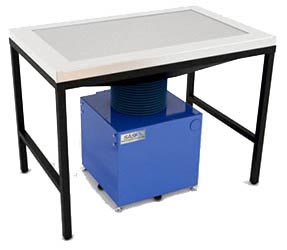 Downdraft Work Table
Best when needing a flat, open work area.
Industrial Downdraft Bench
Model # SS-440-DDB
Comes in a variety of sizes, multiple filter options available.
Give Sentry a Call
For information on options for controlling toluene fumes in your operation, give us a call at 1.800.799.4609, email us at sales@sentryair.com, or fill out this online form to have a Sentry Air Systems Applications Specialist contact you to discuss your process.