Similar to non-sterile pharmaceutical compounding for human medication, veterinary pharmacists use their vast knowledge and technical skill to create custom medications for each of their animal patients.
One popular option is encapsulated medication, where a drug in powder form is enclosed in a non-flavored, hard, gelatinous shell that is easy for animals to swallow.
These capsules come in a variety of sizes and strength and are filled with the precise medication needed.
Technicians need to protection too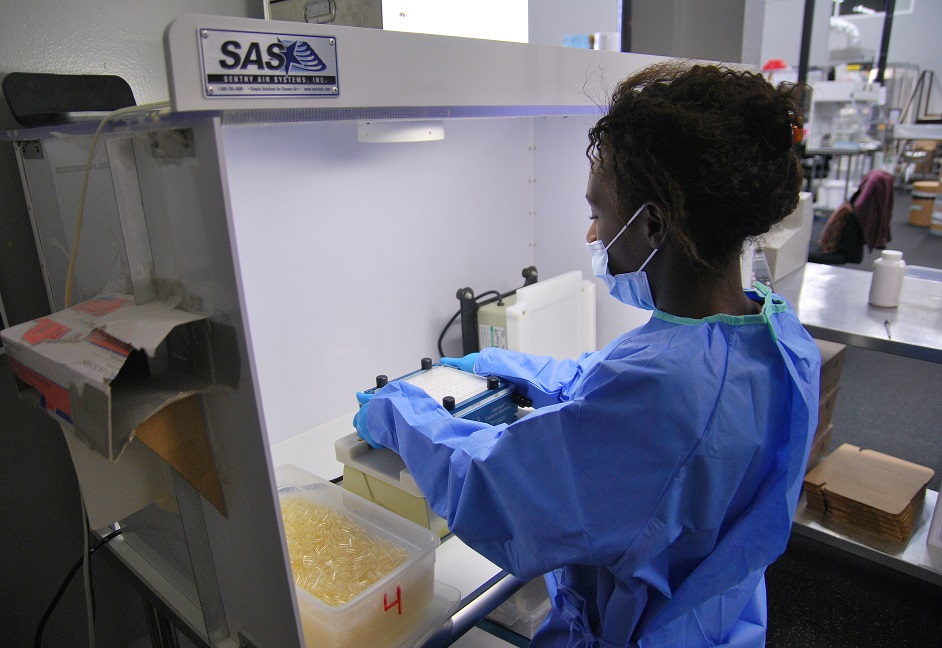 The National Institute for Occupational Safety and Health (NIOSH) says veterinary workers may be exposed to hazardous drugs when they handle drug vials; compound, administer or dispose of hazardous drugs.
During the encapsulation process, ambient pill dust is generated and, when not properly contained, enters the operator's breathing zone.
Depending on the type of medication being compounded, this dust poses potentially harmful health effects once inhaled.
In order to reduce the amount of pill dust entering the open work space, NIOSH recommends using a proper containment device during drug preparation and handling.
Custom solution for dust containment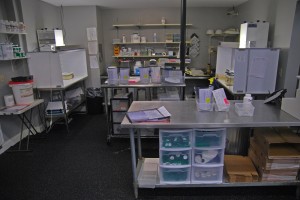 Sentry Air recently supplied a cost-effective solution to control ambient pill dust at a local veterinary pharmacy.
Our technical sales reps recommended our Powder Containment Hoods.
Equipped with a powerful fan and filtration system, our ductless hoods pull renegade compounding dust away from the operator's breathing zone, directly into a HEPA filter that is up to 99.97% efficient on particles 0.3 microns and larger.
By selecting a ductless system, the pharmacy is able to save thousands in costly ductwork and is able to move the hoods around in the event their lab is reconfigured.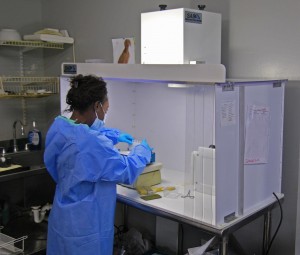 For this pharmacy in particular, Sentry Air custom modified two of our Model 300 ductless hoods. Each hood is 46″ W x 23.5″ D x 24″ H with a flat front opening and fluorescent lights for greater access and visibility to the interior work space.
Now, pharmacy staff and technicians are able to better protect their respiratory health while they compound and encapsulate medication that helps save so many animals.
In addition to ductless containment hoods, Sentry Air carries an extensive line of air filtration systems for the veterinary industry. If you would like more information about powder containment or any of the products mentioned in this blog, give us a call at 800.799.4609, email sales@sentryair.com, visit our website, or fill out the feedback form below.