When attached to a Sentry Air Systems fume extraction unit, our flex arms and hoses offer source-capture containment of airborne fume and particulate.
Even when they are not paired with one of our units, these arms offer several solutions to circulation and ventilation issues, including:
Ducting between two objects
Ducting between an object and existing fume extractor
Tie directly into an exhaust system
Attach to existing fume extraction equipment
Below is a sample of images depicting the variety of uses of our flex arms and hoses.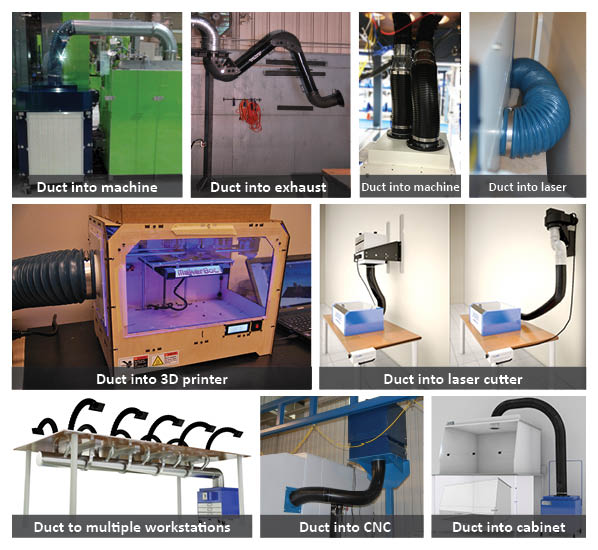 One size doesn't fit all
Our catalog of flexible arms and extraction hoses come in a variety of sizes and diameters and include materials that are flame-retardant and/or chemical-resistant, with either a semi self-supportive or fully self-supportive design.
In addition, our arms have multiple mounting and installation options for easy integration into most working environments.
Our most popular options are the White Flex Sentry, Black Flex Sentry, and "Python" style Hose.
Both Flex Sentry arms can be positioned with varied bends and angles to accommodate tight or awkward spaces.


The "Python" style hose is ultra-flexible and can twist and turn around hard-to-move objects.
The graphic below summarizes some of the key features and size options for the Flex and Python hoses.

Industrial-grade Arm Systems
For environments with rougher conditions and heavy-duty applications, our Wall Mount Exhaust Arms, Hybrid Arm, and HD Arm are durable, lasting solutions.
The Wall Mount Exhaust Arms come in either a powered or non-powered configuration and feature a blend of our Black Flex hose and stainless steel swivel duct.
The Hybrid Arm seamlessly combines our Black Flex Sentry material with a rigid aluminum segment. A hinge at the base allows for vertical and horizontal swivel movement. A conveniently placed handle allows operators to navigate the arm with one hand and the arm can extend up to 7' from the center of the base platform.
The HD Arm extends up to 10' from the center of the base platform and utilizes two hinges for even greater positioning. A majority of the tubing is constructed of aircraft-grade aluminum and the tip of the hose uses flex material to better manipulate the location of the capture hood. The arm can extend up or down, side to side and to and away from the base plate.
The graphic below summarizes some of the key features and size options for the Wall Mount Exhaust Arms, Hybrid Arm and HD Arm.

Benefits of Source Capture Fume Extraction
Inhaling dust, fume, smoke, and odors generated during a specific work process is not only a short-term nuisance, but it could have lasting negative effects on your health.
A table or floor fan simply move (contaminated) air around. By the time contaminates enter ambient room air, surrounding workers could be exposed.
If wearing a protective mask isn't required for your application, consider using a fume extraction arm or hose coupled with a fan system to pull the contaminated air away from your breathing zone before you have a chance to breathe it.
Below are some images of our fume arms working to pull hazardous particulate and fume away from the operator.

Contact Sentry Air                                                                                                
If your application or workplace is in need of connecting hose or exhaust arms, contact a Sentry Air applications specialist today. Call 800.799.4609, email sales@sentryair.com, visit our website or fill out the feedback form below.