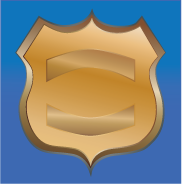 Refinishing and applying coatings to firearms is very detailed and can at times be cumbersome.
With several small and large parts, it is important that each step of the process be done accurately in order for the finished product to be blemish free.
The process requires several steps and each step creates its own respiratory risk to workers. Whether its chemical odors, dust particulate, or aerosol spray particles, workers should utilize engineering safety controls to help protect them from overexposure.
Firearm Degreasing
Cleaning the parts of a firearm is a critical first step when preparing to apply a coating. A deep, thorough clean is required in order to avoid blemishes and fingerprints on the final product.
Many coating manufacturers recommend soaking the parts in a non-water based degreaser like acetone or other similar cleaning agent.
The soaking process can expose operators to heavy chemical odors which can lead to short term side effects like headaches, nausea, and drowsiness.
In order to better contain these chemical odors, it is recommended that the soaking process be conducted within a well-ventilated area or filtered enclosure.
Sentry Air Systems line of Ductless Fume Hoods are often used for such applications.
These hoods utilize a high-powered fan and activated carbon filtration to adsorb harmful chemical molecules generated within the hood.
In the picture below, we tested one of our most popular Ductless Fume Hoods [SS-340-DCH] for an ultra-sonic cleaner application to study organic vapor containment of glycol ether, specifically Ethylene Glycol Monobutyl Ether.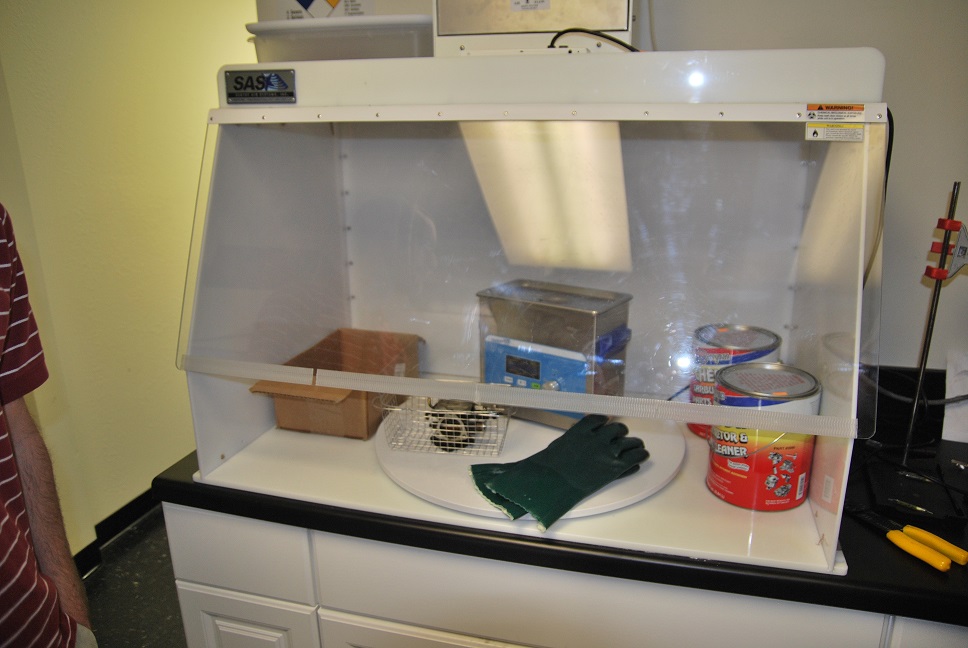 This test is very similar to other parts cleaning applications like the one required in firearm parts preparation. (Test results posted on our website)
If you decide to use acetone as your degreaser, you may want to consider pairing your ductless fume hood with our acetone gas sensor.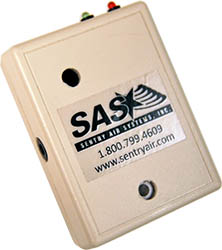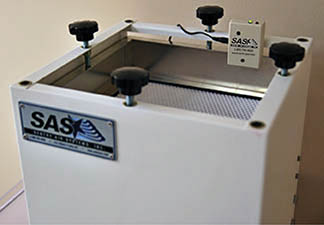 The acetone gas sensor is a device used to detect gas concentrations near the surface of the filter outlet.
It is factory calibrated based on current OSHA and NIOSH exposure limits (in PPM) for acetone.
If the sensor detects concentrations above a certain level, the alarm will sound to alert the operator.
This is a great tool for applications that solely use acetone and want to better protect operators from over exposure.
Blasting
Once the parts are cleaned, the surfaces must be prepped via abrasive blasting to allow the spray coatings to better "stick".
Usually this is done by evenly applying aluminum oxide or garnet sand grit through a pressurized nozzle.
This process can generate heavy amounts of fine dust and sand particulate that is easily inhaled. To avoid inhalation, this work can be conducted on a downdraft bench to will help contain and capture the excess dust.
Sentry Air offers a portable downdraft bench solution with a "doghouse" enclosure that is the perfect size for small parts cleaning and blasting. Our "sit/stand" version, shown below, comes in two heights with optional clear or metal surround. The perforated work surface allows dust to fall into the HEPA filtration chamber below.
Spraying
Once all of the preparation is complete, the next step is to apply several spray paint coatings to each part. Manufacturers of the spray coatings recommend that this be done in a well-ventilated booth and to follow the safety recommendations outlined in the product's Safety Data Sheet.
Sentry Air Systems standard line of Ductless Spray Hoods come in widths of 30", 40", 50" and 60".
A highly-effective fan/filter housing mounts atop the hood and pulls hazardous aerosol overspray into the filter chamber before exhausting cleansed air back into the room.
This results in protecting the operators breathing zone as well as preventing unwanted spray particulate and odors from entering the general work area.
A spray pre-filter rack is installed within the interior of the hood to capture larger particulate, thus extending the life of the main filters within the fan/filter unit.
Standard features include a Model 300 Mounted Sentry (fan/filter unit), clear anti-static vinyl strip curtains, and a variable speed controller.
Available accessories include a magnehelic gauge, hour counter, velometer, and spill tray.
In 2009, Sentry Air commissioned a study on the effectiveness of our Ductless Spray Hoods. The study found that under normal spray operations, our Ductless Spray Hoods effectively contained aerosol particulate and did not exceed the recommended 50% of the Lower Explosive Limit (mixture of air and VOCs). The full report is on our website.
If your spray application has unique requirements, Sentry Air Systems is able to make several customizations to our hoods. Some examples include: construction material, dimensions, cutouts, multi-hinged lid, and blower size.
Custom spray hoods
Contact Sentry Air
For more information about our dust and odor containment solutions, give our applications specialists a call at 800.799.4609, email sales@sentryair.com, visit our website or fill out the feedback form below.