Pretzels, Inc. has been in the baked snack food business for over 30 years and produces a multitude of pretzel products as well as flavored corn products.
Why Pretzels, Inc. Needed an Oil Mist Collector
"The application I used the [Model #] SS-300-MIST unit for was at the entrance of our oil applicator for the seasoned product lines. We apply a mist of oil to the product as it travels through the tumbler so that the dry seasoning powders will stick to the product. The oil misting creates a fog that escapes from the tumbler and collects on the exterior of the drum or on the floor creating an unsafe condition and would allow the drive rollers to slip on the exterior of the drum causing a buildup of product inside the drum." (Marcus Wagner, Pretzels Inc.)
The Mist Collector
Pretzels, Inc. utilizes the Model 300 Mist Collector [Model # SS-300-MIST], shown below in their facility.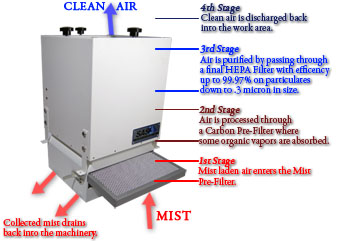 Air Flow Pattern
—
Cabinet Dimensions: 15.5″ L x 13″ W x 21.25″ H
Weight: Approx. 55-60 lbs.
Cabinet Material: 16 ga. carbon steel w/ polyester epoxy coating on all surfaces
Motor: Fractional Horsepower
Filters: MIST Pre-Filter, HEPA Filter (up to 99.97% efficient on particles 0.3 microns and larger) or ASHRAE Filter (up to 95% efficient on particles 0.5 microns and larger).
Air Volume: 300 CFM (high) to 50 CFM (low)
Electrical: 115/1/60, Approx. 2 amps
Sound Level: 61 to 66 dba (blower speed: low to high)
—
Animated Demonstration of Mist Collector on CNC Machine:
Typical Hours of Usage
"Depending on customer requirements we run the system 12-16 hours a week on average."
Before & After Statement
"The oil mist would collect on the exterior of the drum which would cause the drive roller to slip. When the drum would stop, the product would continue to feed and overflow the drum spilling onto the floor. This not only created waste product it caused a safety hazard from the oil on the metal decking. I had prior experience in the metal cutting industry and was familiar with the oil mist collection equipment and felt it may work for our application. When I contacted Sentry, they were willing to send me a unit on trial since they had not tried it in a food application previously. We mounted the compact unit to the tumbler frame and installed a small collection hood and hose to the entrance of the drum and have had no issues with the excessive oil mist collecting on the exterior of the drum or deck plate."
Sentry Air Systems Mist Collection Line