Deryn Mentock's jewelry is layered, textured and multi-faceted.
So is she: jewelry artist, teacher, writer, photographer, and social media maven.
Jewelry-making Classes & Workshops
She says she's doing 'only' 3-4 in-person workshops this year in addition to her online workshops. Turns out, each workshop requires a significant amount of time and preparation because Deryn always makes samples for her students to examine and emulate. Because she provides instruction on several different techniques, she builds new sample pieces for each workshop.
Students come to Deryn's workshops at varying stages of skill development. In her recently completed class in Tucson, many of the students in the jewelry soldering class were beginners. When she speaks of them, it is obvious she enjoyed introducing them to hand soldering. Today, Deryn is preparing for her next class just outside of Washington D.C., where she'll be teaching her students how to make cuff bracelets like the one shown above. In addition to leading jewelry-making workshops, Deryn also offers tutorials and workshops online.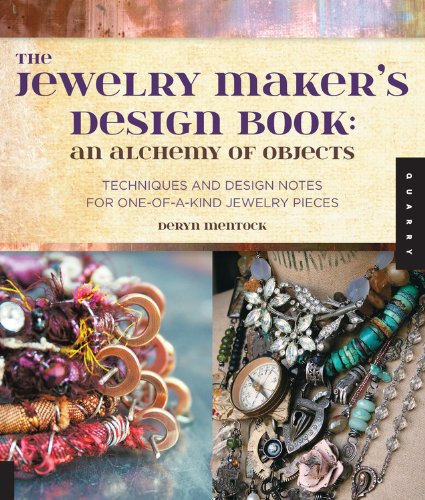 Beautifully illustrated book
In The Jewelry Maker's Design Book: the Alchemy of Objects, Deryn writes about her jewelry-making obsessions: technical skills, design and found objects.
She wants each of her students to develop the skills they need to create the wonderful objects they see in their minds.
Each page of the book has the layered feel of Deryn's most evocative pieces.
And, yes, Deryn took most of the photographs in the book.
Jewelry-Making Safety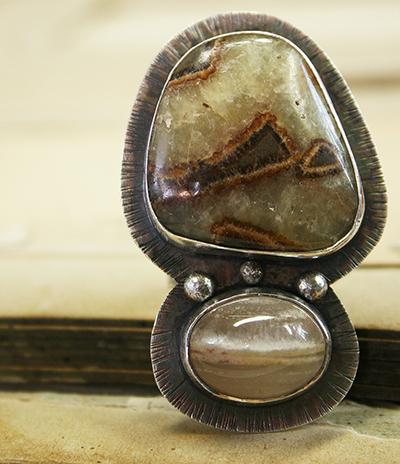 Many people would be surprised by the hazardous materials sometimes used in traditional art-making.
Deryn is not only not surprised, she's taken steps to protect her health.
She soldered the ring shown on the right and she knows that soldering produces hazardous fumes that shouldn't be inhaled.
Winged Sentry for Soldering Safety in Jewelry-Making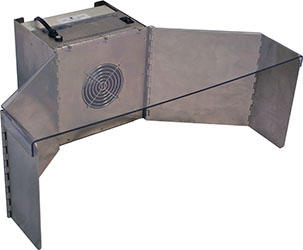 Sentry Air was introduced to Deryn when she made a video about using our Winged Sentry SS-200-WS, shown below, when she solders.
She's particularly aware that lung damage from soldering and other metal-working fumes is not always immediately noticeable.
Over time, though, the fumes from flux and solder can cause a range of health problems, from asthma to neurological issues.
Deryn's Experience with Sentry Air Soldering Fume Extraction System
We blogged about Deryn a few months ago. And we created a slideshare about her experience, too. Her attention to her respiratory health is right up our alley. And her lively communication style and information-sharing generosity make her just the kind of artist we should celebrate on Jewel Day.
Find Deryn
You can find Deryn in many online locales:
Tutorials and some vintage supplies:
http://www.etsy.com/shop/mocknet
Forthcoming jewelry-making workshop: http://somethingsublime.typepad.com/jewelry_works/the-alchemy-of-objects.html
Blog:
http://somethingsublime.typepad.com/
Facebook:
https://www.facebook.com/somethingsublime
Vimeo:
http://bit.ly/1d0C97m
Pinterest:
http://bit.ly/1jR6FYY
Sentry Air and Jewel Day 2014 on Pinterest:
http://bit.ly/1cRl6EW