Cities across the United States have been ordering shelter-in-place or stay-at-home orders to try to prevent the spread of the coronavirus. These measures have drastically changed the way people work requiring more workers to be able to work from home. Non-essential businesses and factories have been closing but employees still want to work to maintain a consistent paycheck and help the business operate smoothly. Many workplaces that use portable fume extractors and portable fume hoods are seeking compact fume control solutions for welding from home, soldering, and some sterile applications such as hard drive restoration.
Sentry Air Systems offers a wide variety of sizes of portable fume extractors, home fume hoods, and portable clean rooms to enable workers to continue working while staying home. Our units offer portability with a small footprint, energy efficiency, and easy installation.
Home Ductless Fume Hoods
Ductless Fume Hoods create a workspace to contain fume producing applications by filtering out hazardous fumes and particulate. This system creates a recirculating airflow by drawing in air from under the hood into the filtration system and releases filtered air back into the surrounding room.
At Home Uses
• Electronic Repair
• Soldering
• Use of Chemicals and Solvents
Recommended Sizes
12" Mini Ductless Fume Hood
(SS-212-DCH)

18" Ductless Fume Hood
(SS-218-DCH)

24" Ductless Fume Hood
(SS-224-DCH)

---
Portable Fume Extractors for Home Use
Portable fume extractors capture fumes and contaminants at the source of a fume producing application. These systems use an adjustable fume arm or can be placed on the table or workspace area in order to filter the air and protect the operator's breathing zone.
At Home Uses
• Welding from Home
• Soldering for repair of electronics and jewelry-making
• Use of chemicals and solvents.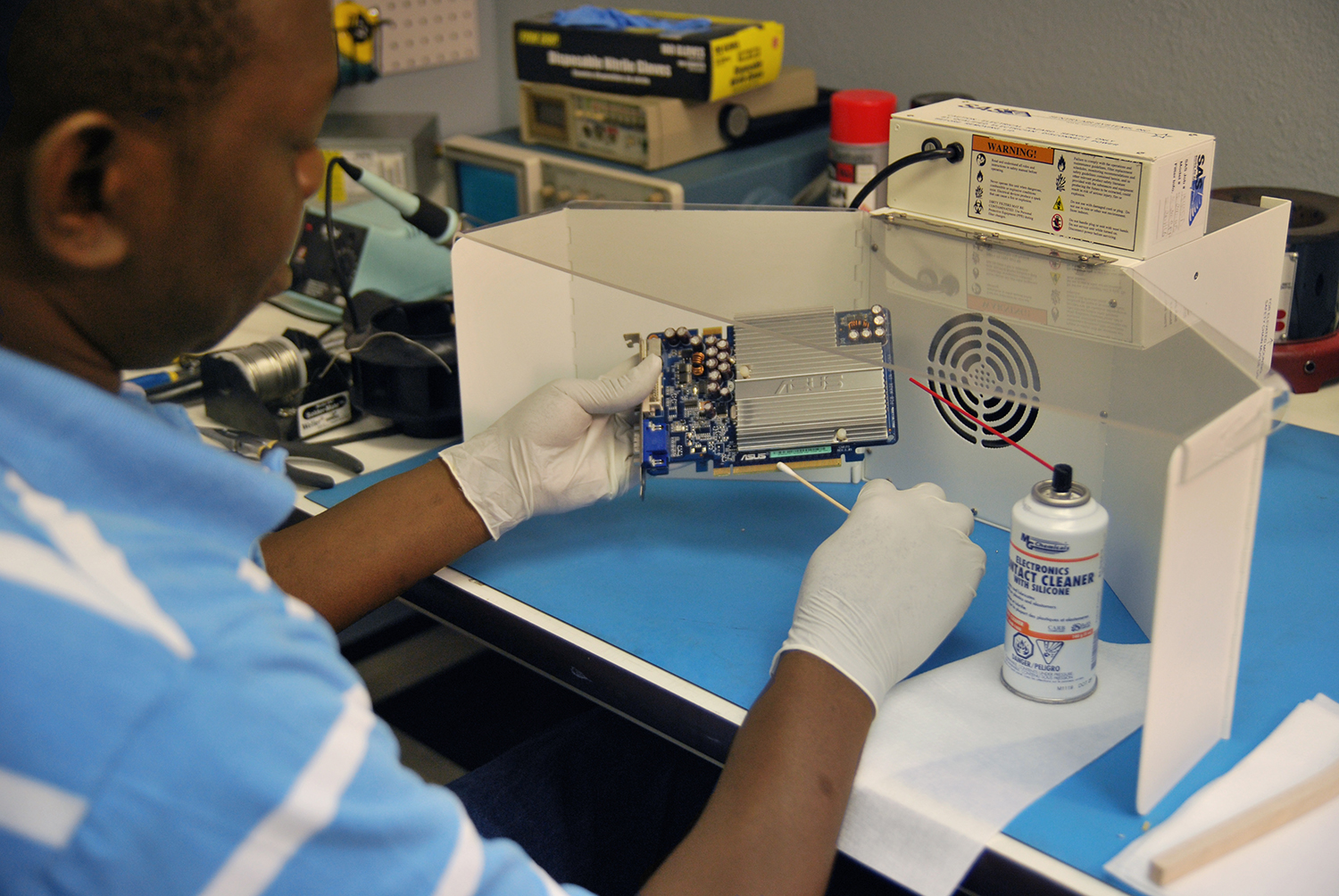 Recommended Sizes
ESD-Safe Benchtop Fume Extractor
(SS-100-SS-ST)

Tabletop Fume Extractor
(SS-200-TS)

Winged Tabletop Fume Extractor
(SS-200-WSL)

Portable Floor Fume Extractor
(SS-300-PFS)
---
Home Portable Clean Rooms
Portable Clean Rooms create a sterile work environment by filtering ambient air and providing the workspace with clean air. Portable Clean Rooms provide an ISO Class 5 Clean room in order to protect the application from contamination.
At Home Uses
• Hard Drive Restoration
• Electronic Repair
Recommended Sizes
12" Mini Portable Clean Room
(SS-212-PCR)

18" Portable Clean Room
(SS-218-PCR)

24" Mini Portable Clean Room
(SS-224-PCR)

---
Contact us today to set up your employees with fume control tools they need to complete their work from home.



Call us today at 1-800-799-4609