French chemist, Jean-Baptiste Dumas, formally named and characterized chloroform in 1834. Since then, the chemical has been used for a variety of applications, including:
Solvent in the laboratory and pharmaceutical industries
Production of dyes
Bonding agent
Reagent in organic synthesis
Anesthetic
Refrigerant
Production of tetrafluoroethylene (TFE) which is used to make polytetrafluoroethylene (PTFE) – a primary component in Teflon®
The most common route of exposure to chloroform is via inhalation.
Due to its sweet, nonirritating odor, some users may not think to use appropriate exposure protective measures.
However once inhaled, multiple bodily organs are affected including the central nervous system, kidneys, liver, and heart.
While little information is available in regards to a direct link to cancer, multiple research agencies list chloroform as a probable human carcinogen.
Carcinogenic Classification

Environmental Protection Agency (EPA)
2B – Probable human carcinogen
National Toxicology Program (NTP)
2 – Reasonably anticipated to be a human carcinogen
International Agency for Research on Cancer (IARC)
2B – Probable human carcinogen
Occupational Exposure Regulations
As you can see in the below chart, many agencies recommend varying levels of exposure limits. The limits are primarily based on duration of exposure.
Exposure Guidelines for Chloroform (Trichloromethane // CAS: 67-66-3)

Agency

Type of Limit

Limit Amount

Occupational Safety and Health Administration (OSHA)

Permissible Exposure Limit (PEL)

50 ppm

240 mg/m3 Ceiling (TWA)

American Conference of Governmental Industrial Hygienists (ACGIH)

Threshold Limit Value (TLV)

10 ppm

49 mg/m3 TWA

National Institute for Occupational Safety and Health (NIOSH)

Recommended Exposure Limit (REL)

2 ppm

9.78 mg/m3 STEL (60 minutes)

Immediately Dangerous to Life or Health (IDLH)

500 ppm
TWA – Time weighted average exposure over an 8-hour time period
TLV – Level to which it is believed a worker can be exposed day after day for a working lifetime without adverse health effects.
STEL – The acceptable average exposure over a short period of time, as long as the TWA is not exceeded.
PPM – Parts per million (i.e. 50 parts of chloroform per million parts of air)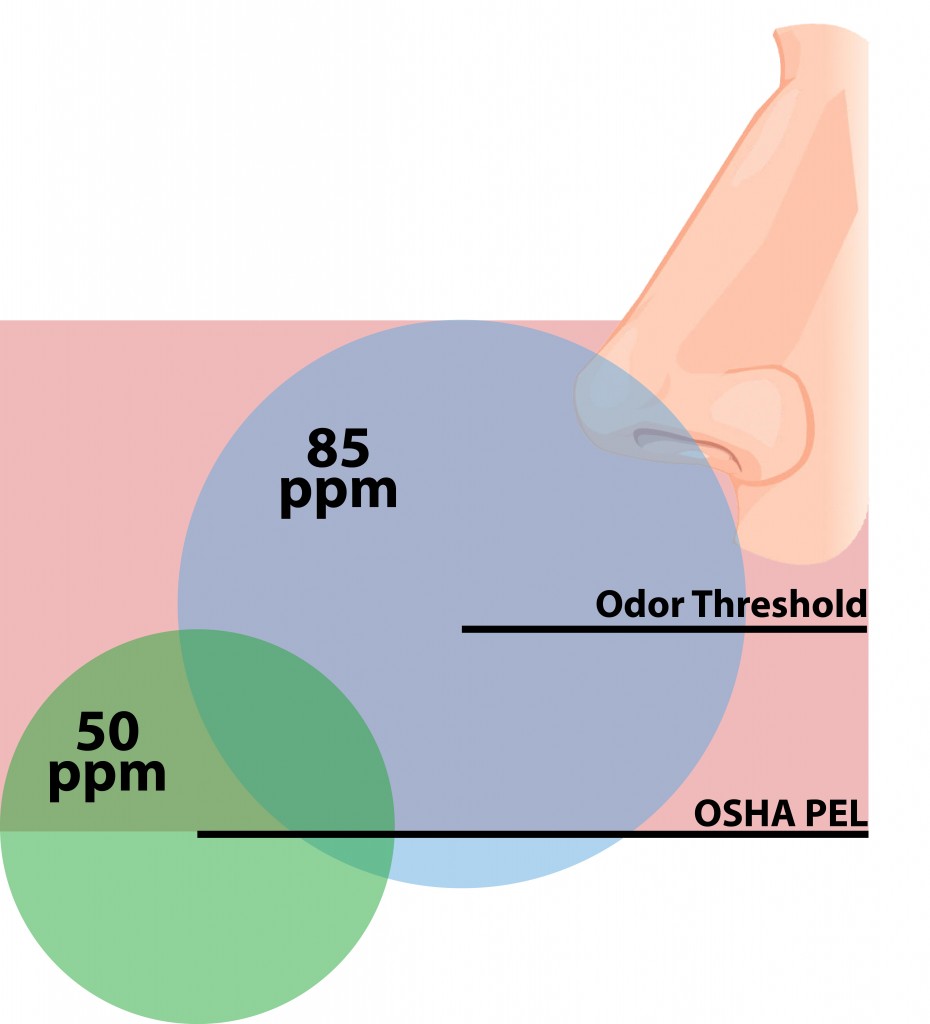 It is important to note that the odor threshold of chloroform is approximately 85 ppm; that is 1.7 times greater than the established PEL of 50 ppm.
An odor threshold is the lowest concentration of a certain odor compound that is perceivable by the human sense of smell.
This means that if you are able to smell chloroform in the room air, you have surpassed the exposure limit guideline.
Chemical Vapor Adsorption
A source capture chemical fume extractor equipped with activated granule carbon filtration, is an excellent solution for chloroform vapor control.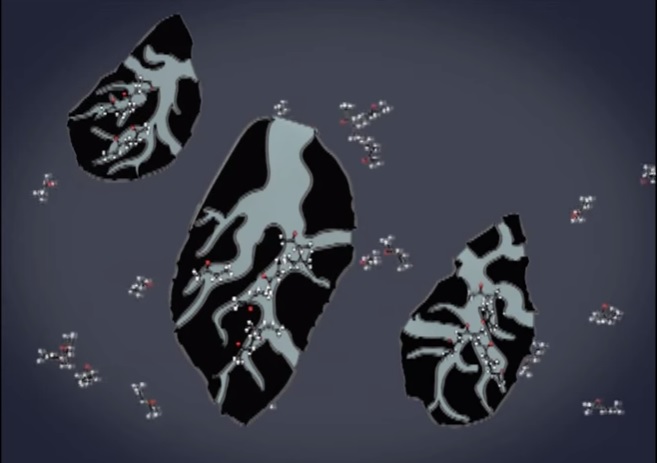 Granule carbon has an intricate porous structure that adsorbs hazardous chloroform molecules before they become airborne and potentially inhaled.
The Agency for Toxic Substances and Disease Registry (ATSDR) developed a ToxFAQs sheet on chloroform, where it states that most of the chloroform in air eventually breaks down, but it is a slow process. This breakdown produces phosgene and hydrogen chloride, which are both toxic.
To ensure chloroform vapors have plenty of time to breakdown and adsorb, a larger carbon filter is recommended.
By increasing filter depth, more carbon granules are added whereby increasing the amount of surface area available for vapor capture and adsorption.
Fume Extraction Systems
Sentry Air Systems offers a complete line of chemical fume extractors that come in a variety of sizes and configurations.
Equipped with a carbon pre-filter and activated granule carbon main filter, these systems protect the operator from the inhalation hazards of chloroform.
Model 300 Series Ductless Fume Hoods

Standard widths: 24", 30", 40", 50", 60", 70"
Carbon Pre-Filter and Activated Carbon Main Filter
Compact, Portable, Zero Ductwork Required

Ducted Exhaust Hoods

Standard widths: 24", 30", 40", 50", 60", 70"
Hood ducts into existing exhaust system
Compact size

Model 300 Winged Sentry

Optional clear lid available
Adjustable side flaps
Carbon Pre-Filter and Activated Carbon Main Filter
Compact, portable, tabletop

Model 300 Portable Floor Sentry

Locking casters and portability handle
Semi-self-supportive, flame-resistant black flex hose
Pulls up to 350 CFM on High
Carbon Pre-Filter and Activated Carbon Main Filter
Our Model 300 Series carbon filter media is appropriately sized to allow ample time for chloroform molecules to "bounce around" and adsorb into the granules; resulting in only highly cleansed air being recirculated back into the room.
Contact Sentry Air
If you work with chloroform, or other chemicals, and seek an air filtration system, contact Sentry Air Systems at 800.799.4609, email sales@sentryair.com, visit our website, or fill out the feedback form below.
Resources: