Styrene is a group of substances known as the volatile organic compounds and is a critical component to a multitude of products.
Styrene enables manufactured products to deliver highly sought after benefits, including strength, durability, comfort and safety.
Common uses of styrene include:
Rigid food and drink storage containers
Appliance housings
Automobile body parts
Wind turbine parts
Boats
Adhesives
Tires
Countertops
Medical Equipment
Synthetic Rubber
Paints and Inks
Other styrene-based materials include:
ABS Plastic
SAN Plastic
SB Rubber (SBR)
SB Latex (SBL)
Because of these benefits, the demand for styrene continues to grow.
Keeping up with demand increases manufacturer exposure
Occupational exposure to styrene mainly occurs in the reinforced plastics and polystyrene industries.
The most common exposure to styrene is through inhalation of fumes and vapor in the work place air.
Styrene has been found in over 15% of 1,699 National Priorities List sites identified by the Environmental Protection Agency (EPA). This is a list of national priorities among the known releases or threatened releases of hazardous substances, pollutants, or contaminants throughout theUnited States.
Just how harmful is styrene fume?
During the production of styrene-based materials, hazardous styrene fume and vapor may emit and enter the operator's breathing zone.
Multiple research and regulating authorities have classified styrene as a possible, or reasonably anticipated, human carcinogen.
| | |
| --- | --- |
| Agency | Carcinogen Classification |
| International Agency for Research on Cancer | 2B; Possibly carcinogenic to humans |
| US Department of Health and Human Services, National Toxicology Program | Reasonably anticipated to be a human carcinogen |
| The Environmental Protection Agency | Evaluating styrene's cancer-causing potential through its Integrated Risk Information System (IRIS) program |
Liquid styrene has a sweet, aromatic scent and, when inhaled over long periods of time, can affect the central nervous system and cause symptoms including depression, headache, concentration problems, fatigue, nausea and drowsiness, irritation of the eyes, nose and throat and chemical pneumonitis.
Repeated exposure has been reported to cause subtle changes in hearing, balance, color vision and psychological performance. Long-term exposure to styrene may also result in the impairment of short term memory, irregular heart beat and changes in the function of the liver.
The Occupational Health and Safety Administration (OSHA) has limited workers' exposure to an average of 100 ppm for an 8-hour workday.
Solutions to controlling styrene fumes
Sentry Air Systems has both portable and benchtop source-capture solutions that can be equipped with carbon filtration to help control styrene fume and vapor.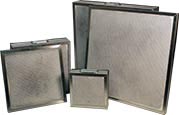 Activated Carbon Filtration
Our granulated activated carbon filters are designed for superior odor and chemical vapor containment. The porous nature of the carbon granules form an internal structure of interconnected capillary passages to adsorb the odors. These filters work exceptionally well at reducing nuisance and potentially hazardous chemical odors such as styrene.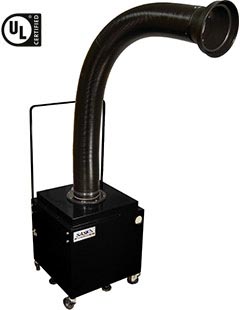 Portable Fume Extraction
The Model 400 Portable Floor Sentry utilizes a powerful motor and fan to pull harmful air contaminants and chemical fume into the filter chamber before recirculating cleaner air back into the workspace.
This unit has a flame-retardant, self-supportive flex arm for precise placement where fumes are generated. The superior filtration system allows multiple filter media to be housed inside for applications that emit both particulate and fume. Up to 700 CFM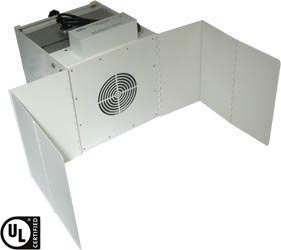 Benchtop Fume Extraction
The Model 300 Winged Sentry is a portable, tabletop fume extractor designed with adjustable wing flaps to assist in directing contaminated air towards the unit's inlet and into the filter chamber while the operator works between the wings. The operator can place these wings in the most effective position for their application, or they can be placed flat against the sides of the unit to conserve space. This unit has an available clear acrylic lid for even greater containment. Like the Model 400, this unit's filter chamber allows multiple filter media for applications requiring both particulate and fume control. Up to 350 CFM
More Information
To learn more about styrene fume exposure and to receive a free fume extraction quote, contact Sentry Air Systems today. Call 800.799.4609, email sales@sentryair.com, visit our website or fill out the feedback form below.
Resources:
The Environmental Protection Agency (EPA): http://www.epa.gov/ttn/atw/hlthef/styrene.html
Occupational Safety and Health Administration: https://www.osha.gov/pls/oshaweb/owadisp.show_document?p_table=STANDARDS&p_id=9993
Scottish Environment Protection Agency: http://apps.sepa.org.uk/spripa/Pages/SubstanceInformation.aspx?pid=86
Health Protection Agency: http://www.hpa.org.uk/webc/HPAwebFile/HPAweb_C/1202115635291
Agency for Toxic Substances and Disease Registry: http://www.atsdr.cdc.gov/toxfaqs/tfacts53.pdf
YouKnowStyrene.org: http://youknowstyrene.org/the-styrene-you-know/uses-and-benefits/
Natural Resource Defense Council: http://www.nrdc.org/living/chemicalindex/styrene.asp