From astronauts to big rig drivers, computer-simulated work environments are key to their professional success.
Other professions also use simulated work environments but they do not rely solely on computers.
Pharmacy simulation training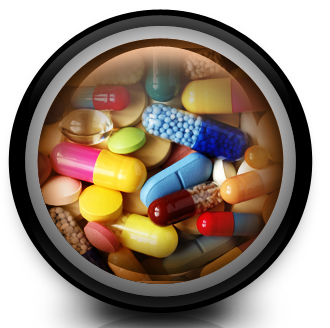 Simulation-based training can increase therapeutic knowledge and enhance student performance in a risk-free environment.1
For example, many university pharmacy schools use computerized manikins as part of their training of pharmacy students.2
But when it comes to the nuts and bolts of an average workday, there's no substitute for an authentically equipped simulated pharmacy.
Practice new skills, build good work habits
Finely tuned hand-eye coordination is the hallmark of a professional pharmacist or pharmacy technician.
Compounding medicines may involve weighing, measuring, and mixing, sometimes with specialized tools, sometimes by hand.
Pharmacy students must learn to perform these tasks within the confines of a containment hood because, in real life, the hood prevents the spread of pharmaceutical ingredients throughout the pharmacy.
Modular design philosophy creates perfect hood for simulated pharmacy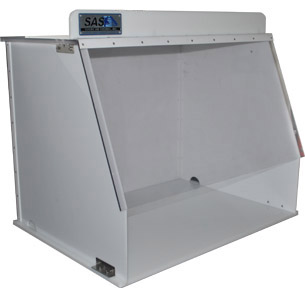 Several universities use our hoods in their simulated pharmacy facilities.
Our Ductless Containment Hoods are used in pharmacies throughout the United States and Canada, so it's appropriate to expose pharmacy students to tools they will use when they graduate.
But there's more to the schools' decision.
Modular design principles guide the development of our hoods and the versions of each we can provide.

We can add or subtract features to meet customers' performance and price requirements.
No fan/filter chassis required
Before they graduate to pharmaceutical ingredients with clinical potency, students in simulated pharmacies develop and practice hand-eye techniques using inert materials that do not present health or safety hazards.
So in the case of simulated pharmacies, the hoods do not require an air blower that, in typical pharmaceutical applications, pulls fumes and particles into a filter for containment. [Such hoods are known as negative-pressure powder containment hoods.]
Our Exhaust Hoods, like the 40-inch wide Model SS-340-E shown above, fill the pharmacy simulation requirements because they:
Eliminate the fan/motor chassis component
Require no expensive specialty furniture
Fit on a standard 24-inch countertop
Accommodate instruments that are standard to the profession
Provide access for the power cords of devices inside the hood
Are lightweight and easy to relocate
Have well-lit interior space; optional lamps are available.
Contact us
If you're developing a pharmacy simulation in your educational facility, and want to explore options, please give us a call at 800.799.4609, email sales@sentryair.com, visit our website or fill out the feedback form below.
1 Assessment of Simulation-Based Learning in Fourth-Year Pharmacy Students While on an Experiential Rotation
http://www.wiser.pitt.edu/sites/wiser/media/pdf/IMSH07_Poster_Seybert3.pdf
2 Seybert, Amy L., Patient Simulation in Pharmacy Education, American Journal of Pharmaceutical Education, 2011 November 10; 75(9): 187
http://www.ncbi.nlm.nih.gov/pmc/articles/PMC3230348/