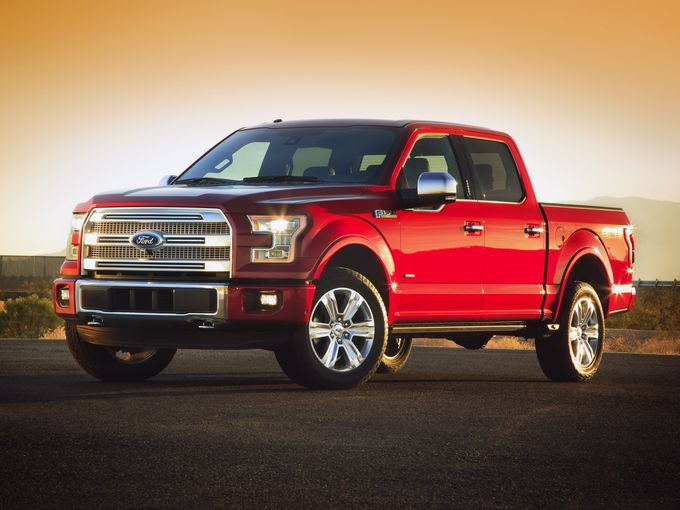 With increasing pressure from federal fuel efficiency standards and consumer demand for vehicles with higher miles per gallon ratings, motor companies are looking for ways to "reinvent the wheel".
In response to this demand, Ford Motor Company unveiled their new 2015 aluminum-bodied F-150 pickup truck (pictured to the left). By replacing the existing steel body with aluminum, Ford was able to reduce the truck's weight by 700 pounds; making it more fuel efficient without degrading strength or durability.
Ford isn't the only motor company utilizing the lighter weight material. In fact, General Motors is also racing to design an aluminum-bodied pickup truck by 2018. With two major car manufacturer's embracing this metal, many auto body shops will be expected to perform maintenance and repair welding on aluminum.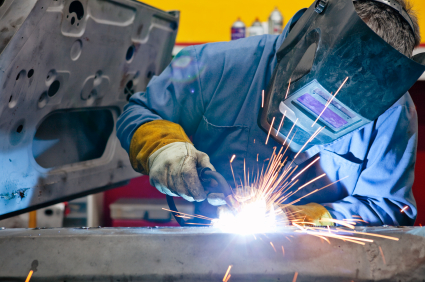 Aluminum Welding Fumes
No matter the technique or metal, the process of welding will emit fumes.
Fumes are formed when hot metal vapors cool and condense into very small particles that stay suspended in the vapor. The particles may be metal or metal compounds, and are often smaller than the width of a human hair. Fumes may be visible or not, but even if the fume can't be seen, its particles are still present.1
Anatomy of Aluminum Welding Fume2

Particle Size

0.01 – 0.1 micrometer

Density

2.702 g/cm³

Molecular Weight

101.96 Daltons

Melting Point

1,220.58° F

Boiling Point

4,566° F
When welders inhale these fumes they run the risk of developing short ― and sometimes long-term ― health effects.
Side effects and health hazards are dependent upon a variety of factors such as type of metal being welded, the amount of material, or length of exposure, among other factors.
Aluminum fumes in particular are known to be a throat irritant when inhaled and can even lead to a host of chronic symptoms including:
Serious Side Effects of Overexposure to Aluminum Fume Inhalation
Decreased nervous system performance
Pulmonary fibrosis
Pneumoconiosis
Bronchitis
Impaired cognitive function
Motor dysfunction
Peripheral neuropathy
Regulatory agencies have set workplace exposure limits to help protect welders from aluminum fume exposure:
| | |
| --- | --- |
| Exposure Limit | Limit Values |
| National Institute for Occupational Safety and Health (NIOSH) Recommended Exposure Limit (REL) | 5 mg/m3 TWA |
| CAL/OSHA PEL | 5 mg/m3 TWA |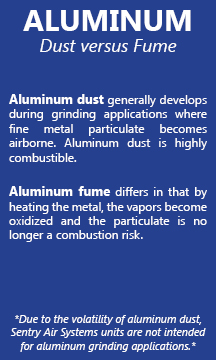 Source-capture Welding Fume Control
By implementing source-capture engineering safety controls, welders are able to protect their breathing zone and surrounding work area by arresting welding fumes at the source of emission.
Sentry Air Systems has a complete line of welding fume extractors and filtration media designed to work efficiently and effectively in environments like auto body and repair shops.
Our Model 400 and Model 450 Welding Fume Extractors are portable, powerful units and are excellent for low level usage, such as 2-3 hours of maintenance MIG/TIG welding per day. Typical filtration media includes a carbon pre-filter pad for large, odorous fume followed by a main HEPA filter for smaller particulate [up to 99.97% efficient on particles 0.3 microns and larger].
Model 500 Heavy-Duty Fume Extractor

Up to 1,300 CFM
4 – Square, Micro-Pleat Series 1 Filters [MERV 16 efficiency rating]
Multiple extraction arms available, also available in a dual arm configuration for multiple operator use.

Model SS-400-WFE / SS-450-WFE

Model 400 up to 700 CFM
Model 450 up to 950 CFM
Both come with a 6″ diameter, 6′ long flame-retardant, semi-self supportive flex arm.

Up to 725 CFM
Round, Micro-Pleat Series 2 Filter [MERV 16 efficiency rating]
Multiple extraction arms available.
For heavier applications where more than 5-6 hours per day are spent welding, we recommend one of our cleanable filter units. Our cleanable filters will save hundreds annually in filter replacement costs and are easily cleaned by applying pressurized air to the surface of the filter. Excess dust and waste falls into the removable internal dust pan for quick disposal.
Contact Sentry Air Systems
For more information about welding fume control or to receive a free quote on our fume extraction systems, give Sentry Air a call at 800.799.4609, email sales@sentryair.com, visit our website for fill out the feedback form below.
Resources:
1 Government of Alberta. Work Safe Alberta. Welder's Guide to the Hazards of Welding Gases and Fumes . 2009. Web. <http://humanservices.alberta.ca/documents/WHS-PUB_ch032.pdf>.
2 Unmack, James. State of California. Department of Industrial Relations. ALUMINUM WELDING FUME: Health-Based Assessment and Recommendation for HEAC. 2012. Web. <www.dir.ca.gov/dosh/doshreg/Al 3-26-12.doc>.