According to The American Orthopaedic Foot and Ankle Society, platelet-rich plasma (PRP) is "a patient's own concentrated platelets (that) contain a large number of growth factors."
Patients with ligament, cartilage, tendon, or bone injuries turn to PRP injections to help reduce pain and stimulate healing in the affected area(s).
Since PRP injections utilize the patient's own blood, practitioners indicate there is minimal risk to negative reactions or infections.
PRP injections are even used in veterinary practice.
Preparation process
To prepare a PRP injection, blood is drawn from the patient, transferred into a tube, placed in a centrifuge, and then the concentrated platelets are injected back into the patient at the affected site.
While this process is straightforward, it is vital that medical practitioners follow proper transferring and cleaning processes to avoid cross-contamination.
Cleanrooms offer a positive-pressure environment that pull ambient room air through high-efficiency filters and into an enclosed area. The filters capture airborne  contaminants. This process helps avoid contaminated air coming into contact with the tools and samples used during injection preparation.
Cleanrooms come in a wide variety of size, installation method, filtration options, and ISO rating; some cost several thousand dollars and require permanent installation.
While these larger systems may work best in research labs and large hospital complexes, the average medical office is usually constrained by space and budget.
Cleanrooms for every budget
Sentry Air Systems designs and manufactures economical, portable, and highly effective clean room hoods that are easy to install and require zero ductwork.
Many of our customers use our clean room hoods for PRP injection preparation as well as tissue culture, stem cell therapy and other applications that require a clean space.
SAS portable clean room hoods utilize a highly efficient HEPA filter to create an ISO Class 5 work environment. If the application requires it, an ULPA filter is also available.
Our standard catalog includes hoods that are 12", 18", 24", 30", and 40" wide; with the most popular sizes being 18" and 24" wide. Each hood comes with a variety of standard and optional features; custom hoods are also available.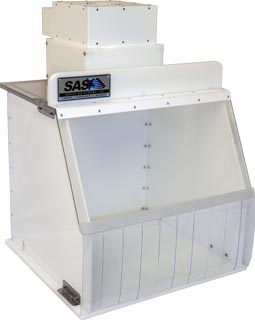 18" Wide Portable Clean Room Hood [SS-218-PCR]
Up to 100 CFM
ISO Class 5
Clear anti-static vinyl curtains, Included
Fluorescent Light, Included
Variable Speed Controller, Optional
Hour Counter, Optional
Removable Spill Tray, Optional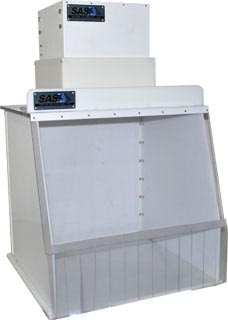 24" Wide Portable Clean Room Hood [SS-324-PCR]
Up to 350 CFM
ISO Class 5
Variable Speed Controller, Included
Clear anti-static vinyl curtains, Included
Fluorescent Light, Included
UV Light, Optional
Magnehelic Gage, Optional
Hour Counter, Optional
Removable Spill Tray, Optional
The following graphic shows in-house testing of our portable clean room hoods for particulate reduction.
Contact Us
For more information about our Portable Clean Room Hoods or to receive a free quote, please contact our technical sales specialists. They can be reached at 800.799.4609, sales@sentryair.com, or by filling out the feedback form below or on our website.